It was like watching a magician pull a seemingly unending chain of fabric out of someone's pocket. But, instead of amusement, the video filled Prashanth Lingam with revulsion. The Hyderabad-based social entrepreneur looked on in horror as veterinarians cut open the stomach of a bull, and hauled out mounds of plastic.
This was 2013. Disconcerted by the video, Lingam decided to do something about plastic waste that is the scourge of Indian cities.
"We were building an office room for our workshop at the time and decided to experiment with plastic," he said. He searched online for information, and built a 15'x15' room using plastic bottles. Soon after, he also put up a water tank and a bus shelter using the same material near his office, where he would see people standing unsheltered in the sun and rain.
Lingam and his wife, Aruna, were at the time successfully running Bamboo House India, a social enterprise that uses bamboo as an eco-friendly component for dwellings and furniture. The initiative also provided livelihood opportunities for rural and tribal women involved in growing bamboo crop and making products out of it for building materials.
Some of his success stories include a gazebo at the US consulate and a boathouse at the Google office in the city. Lingam's accomplishments have been studied by many B-schools in India and abroad, such as Harvard Business School as well as Cornell and Kellogg universities.
Because of his experience with bamboo, Lingam knew there was potential to scale up building with plastic too. But it wasn't possible to do that with the current methodology of using plastic bottles only. One of the challenges was that uniformly sized bottles were required for construction and these were hard to obtain in large numbers.
Lingam then moved on to creating furniture from junked tyres and waste drums. "Basically, we wanted to add value to waste, make use of waste and help the livelihood of people. By now, it was a good business model," he said. So, he approached the Hyderabad municipal corporation, and obtained such tyres and drums to make furniture.
A couple of years later, he revisited the idea of using plastic waste. Lingam met experts around the country and developed a blueprint. This time, he used all kinds of plastic – packaging waste, broken buckets, mugs, printing waste, and other rejected products.
In 2016, using his understanding from erecting bamboo houses, he started making building materials of plastic. Lingam sourced plastic waste from ragpickers. Often the garbage was not segregated, so he had to pay to get the plastic separated from the mixed waste. He then got the segregated plastic chemically washed, dried, shredded and processed into sheets by mixing with either sand or sawdust depending on the end product being made.
Roofing sheets, tiles, plywood substitute sheets, and even washbasins are crafted from plastic mixed with sand or sawdust. "We are trying to match what is running in the market," said Lingam. He has also forayed into the home interior space, creating wardrobes and kitchen units from plastic.
His plastic paver tiles are being used by the Greater Hyderabad Municipal Corporation for pedestrian walkways. Each tile is constituted of 600 polythene bags, plastic bottles and other plastic waste. Lingam has also built a house for parking staff at a metro station, equipped with a kitchen and a bedroom, all made of plastic. Five million plastic bags were used for the roof alone.
Other projects include a farmhouse in Hyderabad and a conference room. A 250 sq ft room with plastic flooring, roofing, walls and some furniture takes a week to build and uses 5,000kg of plastic.
According to Lingam, houses made of plastic are sustainable and long-lasting. "The framework of the house is metal and the processed plastic sheets are fireproof, waterproof and acid-resistant. The best part is the individual panels can be taken out and recycled again and again," he said. The houses also stay cool in the summers and warm in winters.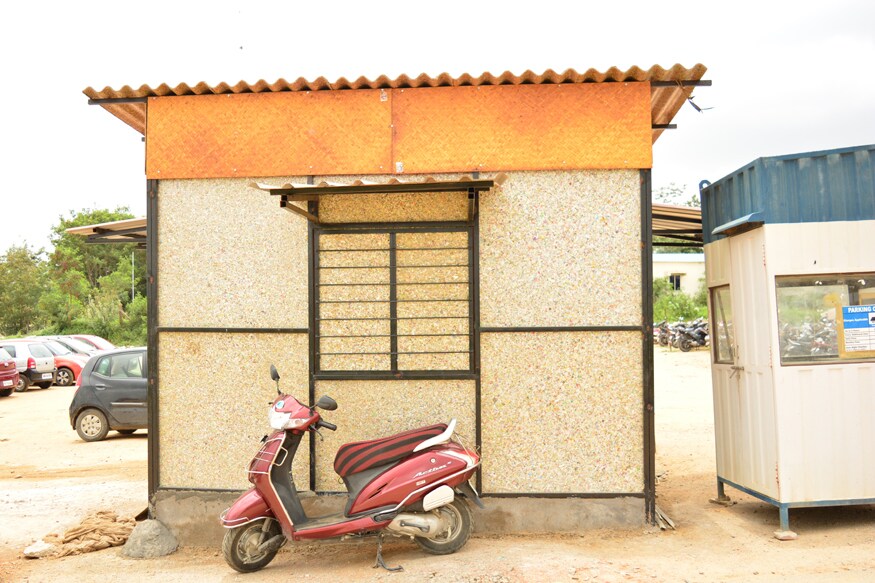 A house that Prashanth Lingam and his wife constructed out of plastic
However, Prof Ananth Ramaswamy from the department of civil engineering at the Indian Institute of Science in Bengaluru cautioned that both the short and long-term durability of these sheets have to be assessed. "To qualify a material as sustainable would require the availability of the material in a renewable framework. The embodied energy in creating these wastes initially plus the energy used in creating the new material may compare favourably with use of natural sand that is depleting rapidly," he said.
Despite these benefits, there aren't many takers for plastic houses. "There is a preconceived notion that plastic is bad, waste is bad. Further, in India, people are not open to prefab constructions. This mindset has to be challenged," Lingam said.
The other deterrent is that the cost of plastic houses is higher than traditional brick-and-mortar houses. "There is a perception that recycled products are cheap. But that is not true. There is the cost of segregation and treatment and processing," said Lingam. "To be fair, a comparison cannot be made with brick-mortar houses."
But Lingam is optimistic that the market for plastic houses will slowly pick up. "We started our journey with bamboo in 2008," he said. "But it's only in the last three years that the demand for bamboo buildings has shot up."
Currently, Lingam is funding the plastic business with the revenue obtained from the bamboo enterprise. He gets several requests a day for bamboo houses and is trying to educate the enquirers about plastic houses in the hope of converting some of them.
Lingam is also looking for key influencers who can promote the plastic story. He has found support in the Greater Hyderabad Municipal Corporation(GHMC) and some local MLAs who have approached him for small projects.
"We are currently planning another 3-4 km of plastic pavement," said Hari Chandana Dasari, zonal commissioner (west), GHMC. "And we are making toilets out of recycled plastic which is cheaper than the regular toilets. Hyderabad is committed to recycling plastic waste. Although costs of some recycled plastic building material are higher, it offsets environmental costs and the cost of transporting waste."
Repurposing plastic waste into innovative sustainable houses and furniture can be a potential solution for India's plastic problem. As Lingam says, we need to change our mindset and look at plastic through a sustainability lens.
(The author is a freelance writer and a journalist)