How One-Line Fax Led to Lalu Yadav's Downfall in Fodder Scam Case
Former Bihar Chief Minister and Rashtriya Janata Dal (RJD) chief Lalu Prasad Yadav was sentenced to three-and-a-half-year in jail by a Ranchi court in the fodder scam case.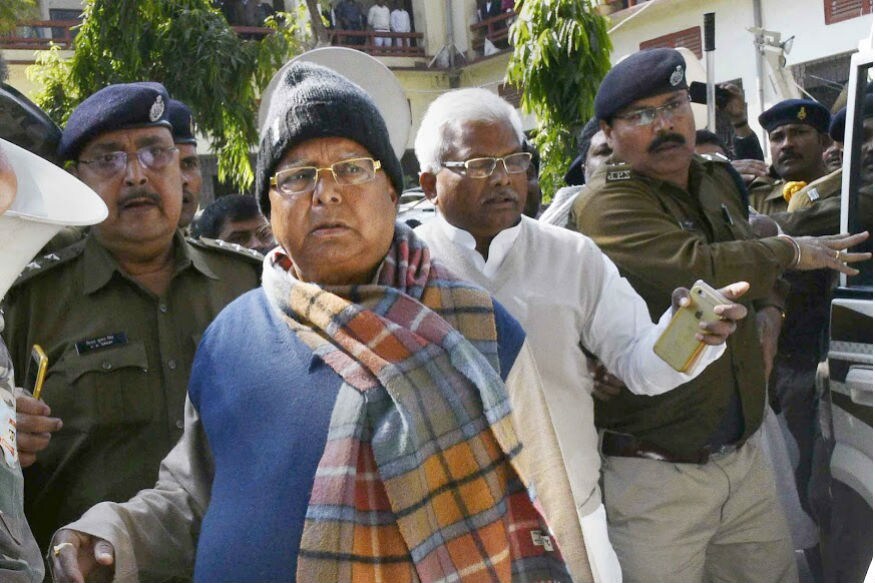 Bihar's former chief minister Lalu Yadav escorted by police officials after appearing at the special CBI court, in Ranchi. (Image: PTI)
New Delhi: When I was posted to the finance department of Bihar as principal secretary in July 1995, things were so bad that government employees were not even being paid salaries. So, I decided to track where the money was going.
Around September or October of that year, we discovered that the animal husbandry department was spending more than five times their budgetary allocation. I thought there was something wrong and decided to make further inquiries.
On Jan 19, 1996, we found that the department had once again exceeded budgetary allocation.
Baffled, I talked to my colleagues and faxed a one-line message that very day to all district collectors. "Please report expenditure under AHD for the last three years," it read.
This was the message that opened the Pandora's box.
The next day, I dispatched an additional secretary to Ranchi and see where the money was spent during the last three years.
On January 21, he reported, "They have not only exceeded budgets but all the vouchers and bills are fake against which money was withdrawn."
I told him to seize all the bills and come back. After scrutinizing all the documents I moved a file to the government the next day detailing how a big fraud has taken place in Ranchi. I recommended filing of an FIR against the suspects.
Though the government kept it under wraps, all district collectors had already started taking action on my instructions. On January 27, 1996, I specifically instructed Amit Khare, the then DC of Chaibasa, to raid the treasury. The findings made headlines all over the country. Soon after the raid, employees and fodder suppliers involved in the scam went underground.
Till then, the government, led by Lalu Prasad Yadav, did not take notice of my recommendations.
The government acted on my recommendations on January 30. During the week in between, all sorts of things were. One can imagine what the political leadership must have tried to do. But during that week, the media widely covered the findings of the raids in Dumka, Ranchi and in other districts.
However, nobody tried to pressure me but people in the government. They certainly tried to delay the investigations, but it was already too late and a scam was evident. In all, the scam was worth more than Rs 100 crore.
Later that year, under pressure from the opposition the state government recommended CBI probe and more than 50 cases were filed. On June 23, 1997, the CBI named Lalu Prasad as one of the accused which forced him to step down from the post of the chief minister.
(As told by Vijay Shankar Dubey to News18's Alok Kumar. Dubey, 74, is a former chief secretary of Bihar and Jharkhand. A 1966-batch IAS officer, he retired in 2002 and went on to serve as vice-chancellor of Nalanda Open University from 2003 to 2009.)
Get the best of News18 delivered to your inbox - subscribe to News18 Daybreak. Follow News18.com on Twitter, Instagram, Facebook, Telegram, TikTok and on YouTube, and stay in the know with what's happening in the world around you – in real time.
| Edited by: Puja Menon
Read full article