Gorakhpur:
No other spot in post-Independent India may have witnessed deaths of as many children with a mind-numbing regularity as has been seen in just one medical institute — Gorakhpur's BRD Medical College.
The deaths of 73 children between August 10 and 14 from Encephalitis, including 42 newborns, outraged the masses across the country. But what if you were told that almost 1600 children have already died of Encephalitis at this college, this year alone? That nearly 10,000 people have died in this hospital of the same disease since 1978, a majority among them children?
Or that over 10,000 children affected by Encephalitis, brought to this institute during these 39 years, have come out of it mentally and physically handicapped?
These are official figures from just one institute in Gorakhpur. And even these numbers would pale in front of the actual figure of victims in this district alone, if one could somehow obtain the number of those admitted in private clinics, those who died on way to medical facilities and those who died even before the journey.
This monumental tragedy becomes even tougher to grasp as one digs a little deeper to find the reasons behind these deaths.
It isn't just the lack of oxygen that's killing the children. There are medical staffers in this college who haven't been paid for the last 27 months. Urgently required funds to set up Encephalitis care units, considering that people from several states and even Nepal come here from treatment, haven't been released for the last several years. Land meant to be allotted for special care units hasn't been released because of which plans to set up specialized units have been hatched and buried. Requests for funds to help save patients, being made for last 10 years by successive principals of the colleges, have been ignored.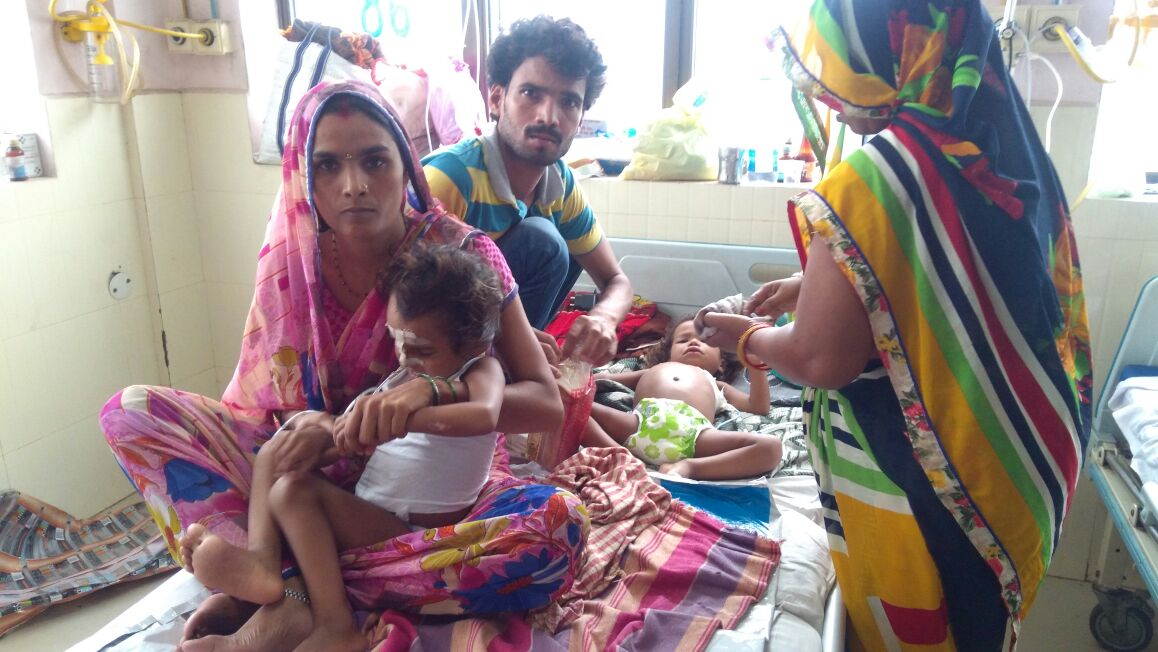 It is the lack of intent to save lives, heaps of false promises piled year on year, that's killing and maiming thousands of children each year.
While the state government shies away from the criticism, hides behind random numbers, the one thing it cannot do is cover bare bones of the medical college with a skeletal staff that's continuously gasping for breath.
BRD college is in Gorakhpur, the Parliamentary constituency of UP's Chief Minister Yogi Adityanath. It has seen one-third of all the Encephalitis cases that have been reported in the country.
Since 1978 it has seen around 41,000 Encephalitis cases of which around 9,900 patients have died. About 30 per cent of all Encephalitis patients admitted in the college do not survive. This year alone around 1600 children have died in the institute.
Every year during three months — August, September, October — between 400 to 700 patients come here each month. But the supply of medicines, the number of doctors, and paramedical staff, the ventilators and oxygen, remain the same. In this institute, which sees one-third of all Encephalitis cases of the country, no separate financial arrangement has been done for the constant battle against Encephalitis that's fought here every day.
The college has for last 10 years requested the government to provide it with Rs 40 crore to create a special unit to deal with Encephalitis cases. But the money hasn't been provided yet.
Except, a 100-bed ward for Encephalitis patients is seasonally made available. But the supply of beds and other medical supplies is dwarfed by the ever increasing demand.
Apart from Encephalitis, children get admitted here for several other diseases also. If one takes figures just for this year, between 600 and 900 children were admitted each month. On the other hand, there are only 228 beds available in the college's paediatrics department.
Most of the patients of Encephalitis, who sometimes have to make long journeys to reach here, are severely out of breath and unconscious by the time they reach the hospital. What they need at this time is ventilator to assist them in breathing.
But paediatrics department has only 50 beds in its ICU department. The Sick Newborn Care Unit (SNCU) has only 12 warmers – a medical necessity for sick newborns — while the need is of at least 50. Because of this, one regularly sees four children being placed on each warmer. This not only reduces the efficacy of treatment, it also exposes the children to each other's infections.
For the last 10 years the hospital administration has been requesting Rs 10 crore to upgrade this department. But the money hasn't come yet.
Several promises have been made. They're made on an annual basis actually, each time a central or state minister makes a visit here. These ministers usually depart the premises with one promise — that no ends will be cut short in providing whatever it takes to help the institute deal with the ever increasing number of Encephalitis cases.
Every time all senior staff members are told to send proposals for Encephalitis treatment. And proposals are sent every time.
Dozens of letters have been written to the state and central ministers and bureaucrats requesting funds since 2010. The recent former principals of the college — professor KP Khushwaha, RK Singh, RP Sharma — had written these letters.
Each time the college principals request that Encephalitis patients need more medical staff, nurses, ward boys, medicines and equipment. Rs 40 crore is the budget. It is promised but the college never hears from the government nominees afterwards.
Only last year, on February 14, 2016, the principal of medical college had formally asked Rs 37.99 crore for these facilities. The principal had sent this letter to the chairperson of National Health Mission, and asked the cost to be added to the year's NHM budget. Not one file moved.
The successive principals of the college have also pleaded that most of the doctors and workers here have been hired on a temporary basis and their salaries are lower than those hired on permanent basis at other medical institutes. This prevents good talent from coming in or eliciting enthusiasm from the current staff. This also results in the college being perennially short-staffed.
The medical system run despite continued apathy of central and state ministers, has saved many lives. But from this college, almost 10,000 children have emerged physically and mentally handicapped after being infected with JE and AES.
Not just the doctors from the hospital, the National Commission Protection of Child Rights (NCPCR) has several times written to the state government to get a survey done of the disabled children to devise a program for their treatment, education, rehabilitation. But even this hasn't happened yet.
The only thing that happened though was that a department was opened to rehabilitate disabled children — PMR division (Physical, Medicine and Rehabilitation).
But after being created, it was not provided with funds. It runs with just 11 medical officers, and even such a small staff has not been paid salaries for last 27 months. Recently 3 medical staffers working here left their jobs.
Patients not just suffering from diseases alone, but suffering various disabilities also come here to get treated. Since 2011-12, 21,210 disabled people have come here to get treatment. But an ongoing tussle between the Centre and the state has meant that this department has been ignored.
Social Justice Ministry had planned to start a Composite Regional Centre for Persons with Disabilities (CRCPD) in BRD College a few years ago. But the program had to be shelved since land for this program wasn't provided by the state.
And the state is failing not just in providing care for those stricken with these deadly diseases. Despite knowing that JE and AES are deadly diseases that leave the survivors handicapped, the state or central government have still not tried to prevent the spread of these diseases.
Despite the availability of cheap Rs 20-22 vaccines produced in China, it hasn't vaccinated children in the area with anti-JE and AES vaccines. It hasn't regulated pig-sties which are the source of this disease. The government hasn't provided deep, 80 feet hand-pumps, to provide uncontaminated water supply for locals. It has not yet connected large swathes of East UP districts with piped water. This has rendered even newly constructed toilets useless.
One undeniable fact of JE and AES is that it primarily affects poor people. So we don't see the sort of outrage we see when someone in Delhi or Mumbai is affected by dengue or swine flu.
One self-help group recently did a survey of the children affected by JE. It was found that 74% of the affected children by these diseases came from families whose monthly income was less than Rs 2000 and 83% were from rural areas. They are children of manual labourers and small farmers and maybe because of this, the outrage is far more subdued.
In his Independence Day speech from Red Fort, Prime Minister Narendra Modi called East India as the focus region of his government. "States like Bihar, Bengal, Assam, North East and Odisha can take India to a new direction," said Modi. Maybe the Prime Minister can begin this by stopping thousands of preventable deaths at BRD Hospital.
(The author is an independent journalist)