How Gender Disparity is Silencing MeToo in Kashmir
Journalism as a profession in itself has been made unwelcome for women in Kashmir, with female journalists having had a hard time to carve their niche.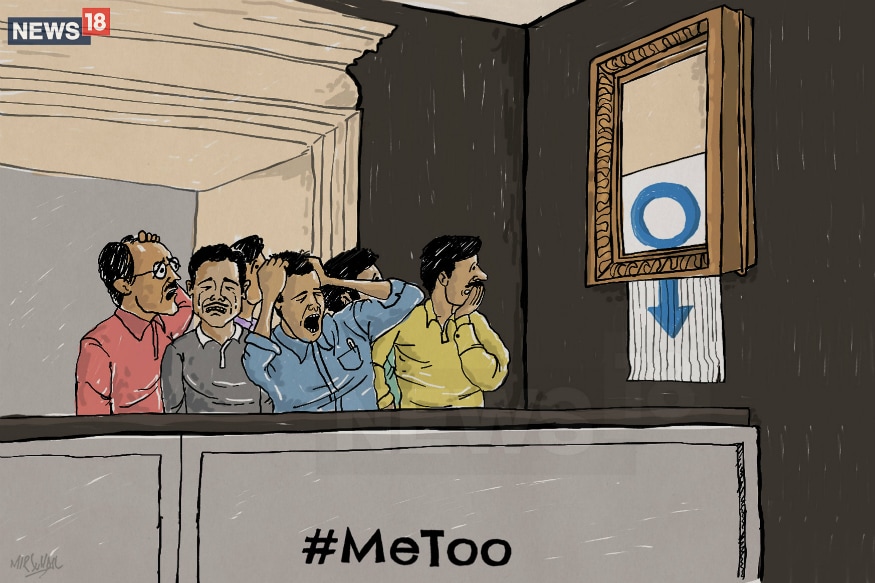 News18 Creative by Mir Suhail
Safe routes and a list of people to avoid were the very first instructions that Iram (name changed) received from the few senior women in the office. She had then just joined a local daily in Kashmir as an intern.
"Before I knew the dangers of reporting from a conflict zone, I knew the dangers of being a woman in a profession that is male-dominated," Iram says, adding, "I was made aware that eyes follow me, I felt nervous. Few times when I was asked to cover a protest, I was conscious of my presence among men."
Such experiences are true for most of the young women who trudge into the field of journalism in Kashmir, a field which has remained male-dominated. Apart from there being few women in the newsrooms, associations like the Press Club and Editor's Guild in Kashmir do not have any female representation.
The gender disparity has affected the way in which local media in Kashmir has covered issues and stories related to women, the most recent being the #MeToo campaign.
When the #MeToo revelations and stories of harassment emerged from media, entertainment, art, literature, and other professions, long hidden skeletons tumbled out from the closets in Kashmir too.
Women alleged harassment at the hands of Kashmiri journalists. While accounts were shared on social media platforms, local media mostly redacted all such reports, which have taken the rest of the country by storm. The rage seemed to be restricted to social media, where the counter narrative seemed stronger – allegations as well as clarifications were available only on social media platforms.
And so, a campaign wherein women took control and narrated their ordeal of facing harassment, over years and ages, fell on deaf ears in Kashmir. Among the media circles in Kashmir, more questions were being raised over the authenticity and credibility of allegations made against certain journalists. Questions like "why now" and "why him" were being asked.
"It is sad that media has chosen to remain silent when it's their fraternity that's involved. So far there has been a deafening silence which makes you ask why should women risk everything you to expose their perpetrators," says Essar Batool, a women's rights activist from Kashmir.
Essar is among the women activists who have been at the forefront of the #MeToo campaign in Kashmir. She says that since the accused are in a position of power, there has been silence on the part of the media and a lack of support for those women who called out their abusers.
Meanwhile, the women reporters say that the revelations did not surprise them as they have long been familiar with the situation. They also feel that the male-dominated media fraternity presents an uncomfortable atmosphere for them, and so not many of them are ready to talk openly about the phenomenon, for fear of backlash.
"All over the globe, the #MeToo campaign was carried out gracefully, unlike Kashmir, where it got maligned for spoiling the image of culprits," says Fajar Shora, a young journalist from Kashmir.
Journalism as a profession in itself has been made unwelcome for women in Kashmir, with female journalists having had a hard time to carve their niche.
One such woman journalist is Farzana Mumtaz, who has been in the media for almost 17 years and now runs the weekly Kashmir News. From being discouraged by in-laws over her career choice to being slut-shamed in the fraternity to finally becoming the editor and owner of a weekly newspaper in Kashmir, Farzana has seen it all.
"I have faced a lot during the early days of my career. I was falsely accused of many things, mostly because I was the only visible female face in journalism in early 2000s," she says. Farzana adds that women need to get up for themselves and claim their space and fight all odds. Despite seeing the worst of male-dominated journalism, she says that it was due to the support of her seniors and some colleagues that made striving easy for her.
"Since men are in majority in this field, so my friendly interaction with them earned me atrocious labels. I was even called a prostitute," she said in an interview with the Free Press Kashmir. She also believes that had there been equal male-female ratio in the newsrooms, the silence around the #MeToo campaign would not have been so deafening.
"Women have started speaking about harassment by editors or men in positions of power but there is silence in newsrooms. And it's scary. I don't know what it means, but it reeks of acceptance," says Qazi Zaid, the editor of the online news portal and weekly magazine Free Press Kashmir. This news portal and weekly magazine is the only newsroom in Kashmir which has an equal number of male and female reporters.
In the leading local daily Greater Kashmir, the numbers stand at nine male reporters to three female reporters. Rising Kashmir has seven female reporters in comparison to 32 male counterparts. The numbers say it all.
Get the best of News18 delivered to your inbox - subscribe to News18 Daybreak. Follow News18.com on Twitter, Instagram, Facebook, TikTok and on YouTube, and stay in the know with what's happening in the world around you – in real time.
Subscribe to Moneycontrol Pro and gain access to curated markets data, trading recommendations, equity analysis, investment ideas, insights from market gurus and much more. Get Moneycontrol PRO for 1 year at price of 3 months. Use code FREEDOM.
Read full article