GET Stock

Quotes


Opinion | How Islamic Nations Are Paying Lip Service To The Cause Of Myanmar's Rohingya Muslims
Saudi Arabia has taken up the cause of the Rohingyas with Myanmar government time and again, but look at its own track record. It has thrown thousands of Rohingyas in its jails on charges of being illegal migrants.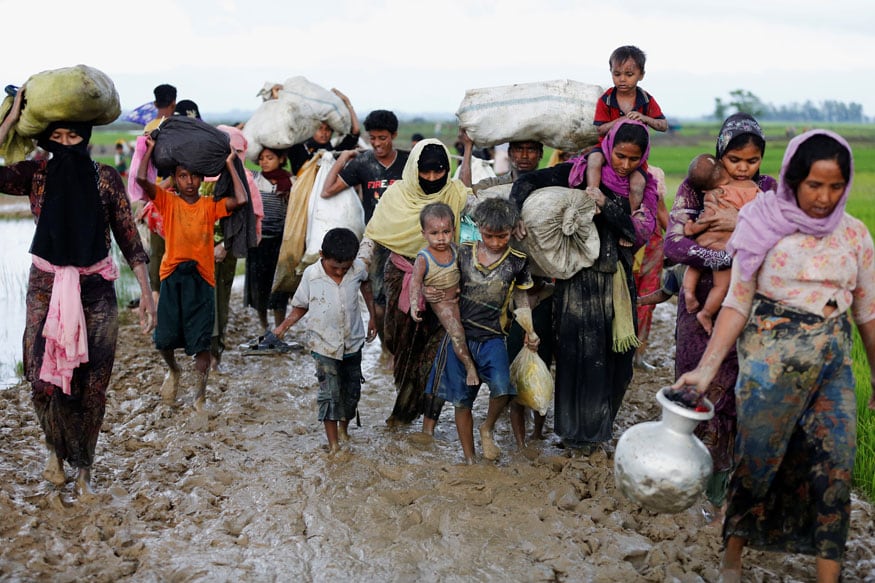 A group of Rohingya refugees walk on a muddy road after travelling over the Bangladesh-Myanmar border in Teknaf, Bangladesh (REUTERS)
Their vociferous protests against the plight of Myanmar's minuscule minority of Rohingya Muslims notwithstanding, most Muslim nations are paying only a lip service to the cause of the Rohingyas while they are busily upgrading their strategic ties with Myanmar.
Take the example of Pakistan for example. Pakistan has had an extremely close strategic partnership with Myanmar since the turn of this century, so much so that Pakistan covertly sent four of its nuclear scientists to Myanmar, who were under the international community's scanner in the wake of the AQ Khan episode.
The Pakistani nuclear scientists lived for long in safe houses provided by the Myanmarese junta in Central parts of the country, away from western intelligence agencies' prying eyes.
Now, Pakistan is in advanced negotiations with Myanmar for licensed production of the third generation fighter aircraft JF 17 which Pakistan is co-producing along with China. Two years ago, Myanmar had decided to make an off-the-shelf purchase of sixteen JF 17 aircraft from Pakistan.
Take the case of Saudi Arabia, a prominent leader of the Islamic world. Riyadh has made noises on the recent persecution of the Rohingyas by Myanmar which has resulted in about 1,20,000 Rohingyas crossing over to Bangladesh after they paid off the thriving human smuggling syndicates from their meagre savings.
The Rohingyas have been living like stateless citizens in Myanmar for years and being forced to flee the country over the years. From a million-strong ethnic community once, they are now reduced to a little over half a million in a nation of 60-million population which has 135 ethnic communities.
Saudi Arabia has taken up the cause of the Rohingyas with Myanmar government time and again, but look at its own track record. It has thrown thousands of Rohingyas in its jails on charges of being illegal migrants.
The case of Gulf countries is no different. Most of them have cried foul on the Rohingyas' persecution and exerted diplomatic pressure on Myanmar. Yet they are keen on milking Myanmar's opportunities since 2011 when Myanmar started its outreach to the world. Kuwait has been paying fifty percent salaries of Myanmar's diplomats stationed there in its newly opened embassy.
Now take the case of Qatar. Some three years ago, Ooredoo, a Qatari company, was one of the two which were granted a telecoms license in Myanmar, one of the largest foreign investments in Myanmar as Ooredoo said it would invest up to $15 billion in two years to bring ninety percent of Myanmar's population on a 3G network. The Qatari license is valid for 15 years.
The Gulf countries are eyeing newer countries for trade and investment opportunities given the highly combustible strategic environment in their region. Myanmar's burgeoning now-open economy and the fact that Myanmar is Southeast Asia's second largest country offer a whale of opportunity to the Gulf countries. At a time when these Muslim countries are jostling for the political and strategic place in Myanmar, they seem to have decided to first consolidate their position rather than getting into sensitive issues like the Rohingyas' plight which can rub Naypyidaw in the wrong manner.
The India Story
Rohingyas have entered in hordes in India and there are at least forty thousand of them living as migrants, mostly in West Bengal but also in places like Delhi-NCR, Jammu, Haryana, UP, Rajasthan and Hyderabad. Since they have similar facial features as Bangladeshis and have picked up the Bangladeshi accent of speaking Bangla, they pass off as Bangladeshi migrants.
The Indian government's stand on the Rohingyas is that it wants to deport them to Bangladesh and Myanmar. New Delhi fears that illegal migrants constitute a security threat as because of their stateless profile and precarious economic condition can be easy prey for terrorist and insurgent outfits.
Minister of state for home Kiran Rijiju outlined the government stand on Rohingyas in parliament. However, the Indian government also assured that it would not persecute or harass the Rohingyas.
India's proposed plan of deporting the Rohingyas has been challenged in the Supreme Court and the matter is listed to come up before the Apex court on September 11. But the problem is that India has no law on refugees as India is not a signatory to 1951 UN refugee convention or its 1967 Protocol.
(Rajeev Sharma is a strategic analyst and columnist who tweets at @Kishkindha. Views are personal)
Also Watch
| Edited by: Sanchari Chatterjee
Read full article