How Long Distance Races in Kolkata are Offering Patients a New Lease of Life
Rishabh Saraogi, a 30-year-old cancer survivor had to take leave from office for 6 months due to chemotherapy sessions. Today, he has a half-marathon finisher's medal after completing the 21km run at the IDBI Federal Life Insurance Kolkata Marathon 2017.
Cancer survivor Rishabh Saraogi runs a 21km race in Kolkata. (Photo: News18)
Kolkata: Marathons are becoming the next big trend in Kolkata. But is it just about events or is there a bigger reason why people are getting motivated to run?
For someone like Rupayan Roy, a professional working with LIC, it was a big achievement to complete the 21km course on October 29 at the 'run for martyrs' - BSF Kolkata Half marathon.
Rupayan had a heart transplant in July 2016 and a little over a year later, he decided to enrol for the marathon as it was for a good cause. The finisher's medal now motivates him to participate in more such races and he hopes to do a full marathon someday.
The 43-year-old runs regularly after work and has made the necessary lifestyle changes to stay fit. "I played cricket and football during my school days and never led a sedentary lifestyle even later. Before I underwent the heart transplant, my doctor would give me pep talks, saying his team will stitch me up and I would be fit again to run a marathon one day. That stayed on in my mind."
Rupayan was diagnosed with dilated cardio myopathy, a cardiac condition where the four chambers get dilated. He was advised by doctors to have a transplant as soon as possible to avoid impacting other organs. He underwent a 12-hour procedure and was in hospital for 24 days. But the recovery process was long and and he was away from work for 7 months.
Like Rupayan, 30-year-old cancer survivor Rishabh Saraogi was on leave for 6 months with support from his organization. A professional with ICICI bank, he underwent 12 sessions of chemotherapy in Mumbai and Kolkata between December 2015 and May 2016 after being diagnosed with Hodgkin's Lymphoma, a cancer of lymph nodes.
Despite his weakness, he began walking to stay fit as his doctor suggested he go outdoors rather than contracting infection by staying only indoors. He combined this with yoga and pranayama to get stronger.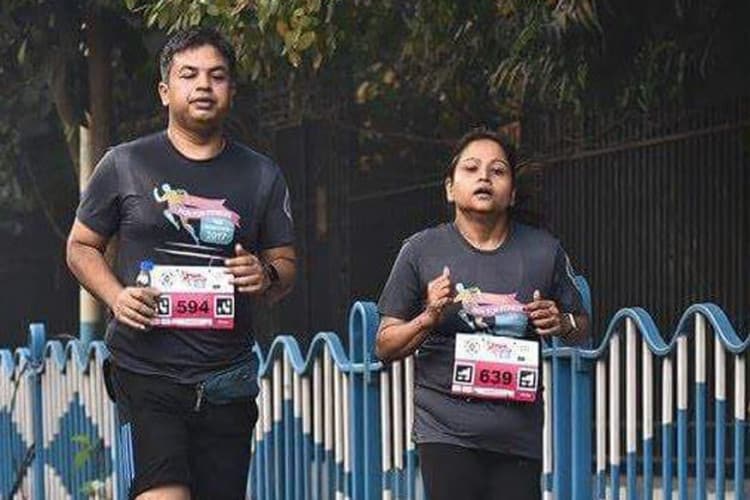 Dr Nabanita Bose runs a 5km race with her husband. (Photo: News18)
Today, Rishabh too has one half-marathon finisher's medal after completing the 21km run at the IDBI Federal Life Insurance Kolkata Marathon 2017. He is set to participate in his second 21km race at the Airtel Run for Education half marathon on November 26.
"After completion of chemotherapy in May 2016, I started with a one-and-half km run and eventually scaled up to 3km and 7km. Running sheds negativity. I do get tired, but when I come back from a run, I feel very positive. It helps me de-stress. I feel very energetic, charged up and get positive in every aspect," says Rishabh.
A fighter in the true sense, Rishabh does not look back with pain but says instead that the process of chemotherapy has made him stronger and he is not scared of anything, definitely not running. He adds "I think every person who comes across such hardships should value their body and that is the utmost priority."
There are also cases where Diabetes Mellitus type 2 and high blood pressure have been reversed due to running combined with other forms of exercise.
Like in the case of UK-based oncologist Dr Nabanita Bose. She moved to the UK from Kolkata with chronic health problems, including psoriatic arthritis, Hashimoto's thyroiditis and Diabetes Mellitus type 2.
So she decided to lose weight and started body weight training, and later, lifting weights. "I lost 26kg over four years. I started running 6 months ago and that added to my achievement of weight loss. As of today, I have reversed my diabetes and am on no medication for high blood pressure too."
During her last visit to Kolkata, she participated in the 5km run at the IDBI Federal Life Insurance Kolkata Full Marathon in 2016 and is planning on running 10km in the same event during her next visit in February 2018.
With more people in Kolkata getting passionate about running, there has been a corresponding increase in the number of running events too. These events not only allow runners to test their fitness levels, but also give some a new lease on life.
Get the best of News18 delivered to your inbox - subscribe to News18 Daybreak. Follow News18.com on Twitter, Instagram, Facebook, Telegram, TikTok and on YouTube, and stay in the know with what's happening in the world around you – in real time.
| Edited by: Aakarshuk Sarna
Read full article