How Upper Caste Anger on Dalit Atrocities Act May Impact Madhya Pradesh Elections
To take the case of Malwa region only, in Mandsaur, Ratlam and Ujjain lakhs of upper castes marched across towns to register their anger against the BJP, led by small, disorganised outfits like Karni Sena and Samanya Pichhda Alpsankhyak Kalyan Samaj (SAPAKS).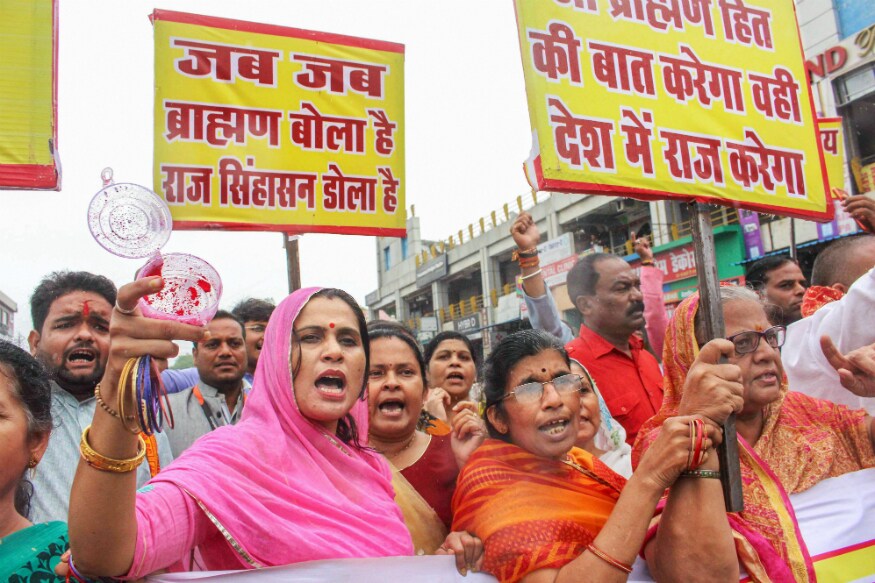 Image for representation.
Mandsaur: In September, one month after the NDA overturned the dilution in SC/ST Atrocities Act by the Supreme Court, protests led by upper castes and OBCs broke out all across Madhya Pradesh.
To take the case of Malwa region only, in Mandsaur, Ratlam and Ujjain lakhs of upper castes marched across towns to register their anger against the BJP, led by small, disorganised outfits like Karni Sena and Samanya Pichhda Alpsankhyak Kalyan Samaj (SAPAKS).
While the visible anger against the BJP, which is trying to win a fourth term in MP, has subsided, this substantial section of society, which in recent elections voted overwhelmingly in favour of the BJP, is looking to exact its 'revenge'.
"Jab Thawarchandji [Gehlot] hamare paas aaye vote maangne, humne unse kaha ki jab aapne hamare bacchon ke baare mein nahi socha to hum aapke bacche ke baare mein kyun sochein?" says Bhairav Singh Solanki, a regional Karni Sena leader.
Union Social Justice minister Thawarchand Gehlot is facing huge backlash from the small but influential section of Rajput voters in Alote, where his son Jitendra Gehlot is fighting for a second term.
Thawarchand has been campaigning here for his son for past several days. On Monday, he welcomed UP Chief Minister Yogi Adityanath to a rally in Taal, in an attempt to assuage the popular dissent. In his speech Adityanath, who himself is a Rajput and has on several occasions talked glowingly about "Rajput pride", talked about bringing in "Ram Rajya" and invoked "Ram Janmabhoomi".
However the widespread anger against the government which is being seen by the upper castes and OBCs as having sided with the SC/ST community is far from over.
"Jab Supreme Court ne ek baar is Act ko sahi kar diya to fir aapko kya zarurat thi usmein ched chad karne ki? Iska seedha matlab to yahi hai ki aapko ek jaati vishesh ke hi vote chahiye. To fir unhi se vote mangiye na," Rajpal Singh Dodia says in Alote.
Gehlot's son has been prevented from entering several Rajput dominated villages here like Negrun, Pipliya Sisodia, Babuniya, Lasudiya. In these villages Rajputs have put up signboards asking BJP candidates to stay away. Such no-entry villages can be spotted not just in Ratlam's Alote but across the Malwa region.
Although it may be premature to predict that the upper castes and OBC leaders are getting automatically polarised towards the Congress. "Hame yaad hai jab sansad mein SC/ST Act pe BJP sanshodhan laa rahi thi tab Digvijaya khamosh the aur Scindia Jee table baja ke uska swagat kar rahe the," says Vijender Singh Solanki, a Raput, in Ratlam town. A lot of local journalists and businessmen too privately express similar emotions.
In some seats like Jaora and Ghatiya, upper castes have decided to show their anger against both the BJP and the Congress by supporting strong Independent candidates as well.
There are 82 reserved seats in MP's 230 seat strong Assembly. In the rest of the seats, the upper castes and OBCs command great influence. It was perhaps with this in mind that CM Shivraj Singh Chouhan prevented release of the film Padmavati, later Padmaavat, and wrote on his official Twitter account the misuse of the SC/ST Atrocities Act will not be allowed.
Around 10 km away from Bhuda, in Mandsaur, a Rajput dominated village called Kittukheri came into limelight earlier this year, when, like several other Rajput dominated villages it put up posters saying they will vote NOTA in the upcoming elections angered by the BJP's support to the stringent provisions of the SC/ST Atrocities Act.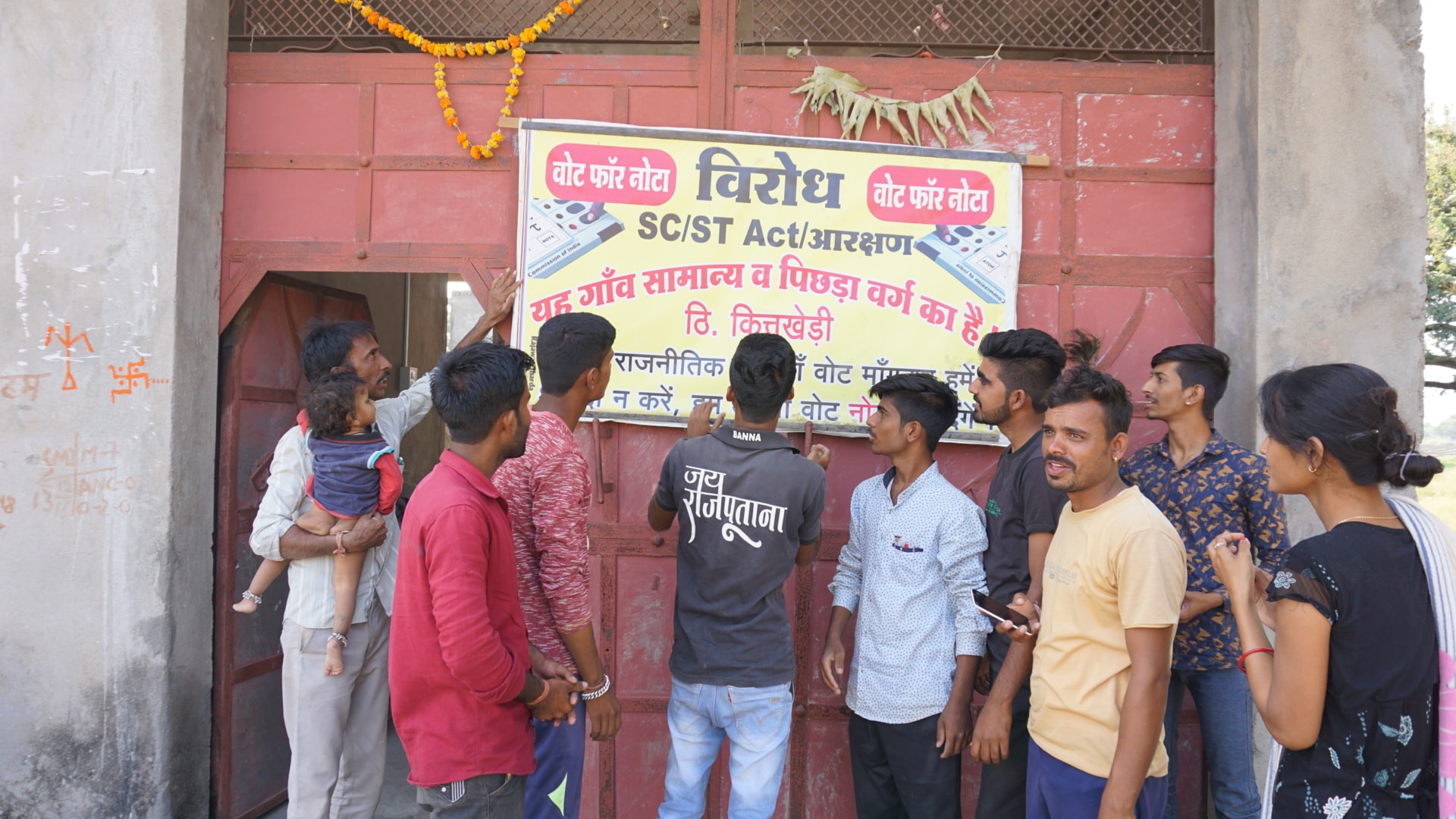 Residents of Mandsaur's Kittukheri village, where BJP candidates aren't allowed​, can be seen putting up a banner asking people to vote for 'NOTA'
"Amit Shah says in Chhattisgarh that till the BJP is in power reservation will not go. If this is the case we have clearly no future under the BJP regime," says Dharampal Singh Rajawat.
"We all voted for Narendra Modi in 2014 because he said he will bring back black money, he will deposit money in our accounts, he will build Ram mandir. What happened to all those promises? If they can ban currency notes why can they not build Ram mandir?" asks Upender Singh.
"And what happened to the Kashmir problem? At least 40-45 people from our village are working in the Army most of who are posted in Kashmir. Does Modi think that Rajputs are born only to be posted on the border and die? We were also part of the Kisan andolan in Mandsaur last year we saw what their police did to our farmers," says Karu Singh Hada.
There are around 7,000 Rajput votes spread across Kittukheri, Munderi, Borkheri, Band Pipliya, Jarha and Aakli—nearby Rajputv villages. Locals here say that they'll do whatever the leaders of Karin Sena ask them to do. "We are not allowing BJP leaders or workers inside our villages. Only Congress people are being allowed and only on the condition that they give us in writing all that they're planning to give us. So on the voting day we will decide between the Congress and NOTA," Rajawat adds.
The BJP candidates did not win by a huge margin in 2013, Rajawat further adds. "Even if they lose just 50 voters per village, compared to last time, the BJP will be routed from here. Last time there were 2 families supporting the Congress and eight supporting the BJP. The situation this time could be exact reverse."
In some sense though, the BJP is suffering a unique, mostly silent anger not just from the upper castes and OBCs but from the SC/ST community as well.
"Look how they treated Chandrashekhar [leader of Bhim Army]. The BJP talks in our favour but have they ever appointed a senior party functionary from our caste? Neither has the Congress actually, but over the past few years one thing we have realised is that "Jai Shri Ram" and "Jai Bheem" don't go together," says Vinod Parihar, a local Bhim army leader in Alote.
There is a widespread polarisation of Dalit voters here because cases of atrocities against Dalits are more frequently reported. Dalit grooms who take out their wedding processions are regularly attacked and in some cases not allowed to sit and eat with upper castes. Recently, a Dalit groom went to his wedding wearing a helmet. His photo became popular on social media.
Parihar says that since Dalit parties are not strong in this region, the Dalits have decided to support the the Congress to defeat the BJP.
Upper caste anger against the SC/ST Atrocities Act is also bringing some other smaller players like SAPAKS (Saamanya Picchada Alpsankhyank Kalyan Samaj Sanstha) into the folds of regional politics.
A local journalist who has been reporting on regional politics here says the whole district was chock-a-block with people. "Even national parties here haven't been able to gather as many people here as this small outfit did. They got huge traction. Which is why being a party focused on upper castes, it is a threat both to the Congress and the BJP."
Sunil Bansal was a local BJP leader who has now joined SAPAKS that became a political outfit in October this year. He goes from door to door asking for votes but without much fanfare. "My party is batting for the rights of 78% people who suffer from the SC/ST Act and reservation politics. My constituency is the government servants and you don't find people around me because I've told them, for their own good, to sit quietly. We will emerge as the kingmakers here, you'll see," Bansal says.
Meanwhile, the RSS is also in full swing here, quietly carrying out a door-to-door campaign while calling it a voter awareness drive.
"There are a couple of things worth noting. After three successive terms of the BJP, people worry about the consequences which is why even those who are fed up of the BJP don't want to say it overtly, fearing consequences if it comes to power again. Secondly, the RSS we have seen kicking in just 4-5 days before elections. But this time they started their work almost a fortnight ago," says the local journalist.
Get the best of News18 delivered to your inbox - subscribe to News18 Daybreak. Follow News18.com on Twitter, Instagram, Facebook, Telegram, TikTok and on YouTube, and stay in the know with what's happening in the world around you – in real time.
| Edited by: Ahona Sengupta
Read full article