Human Rights Panel Directs J&K Govt to Pay Rs 10 Lakh to Man Used as Human Shield
The human rights panel refused to give any direction to the Army, saying it does not have any jurisdiction over it.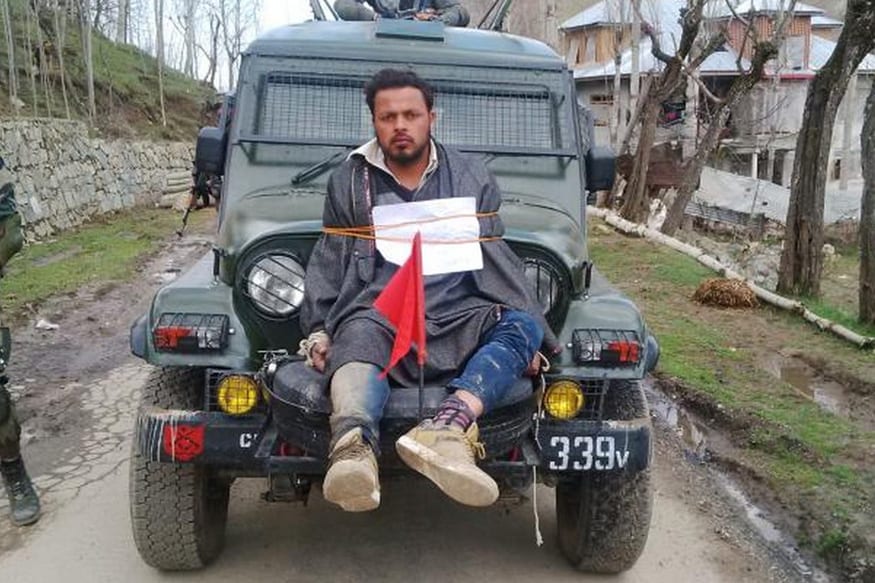 Farooq Ahmed Dar was tied to a jeep and paraded through villages on April 9. (Photo credit: Suhail Bhat/Firstpost)
Srinagar: The State Human Rights Commission has directed the Jammu and Kashmir government to pay Rs 10 lakh compensation to Farooq Ahmed Dar, who was used as a human shield by the Army against stone pelters in April this year.
In a hearing on Monday, Justice Bilal Nazki, said, "The state government should provide Rs 10 lakh compensation to the victim, Farooq Ahmed Dar." The human rights panel, however, refused to give any direction to the Army, saying it does not have any jurisdiction there.
Dar, who is a shawl weaver, was tied to the bonnet of an Army Jeep by Major Leetul Gogoi of 53 Rashtriya Rifles and paraded through several villagers in Budgam district in Kashmir as a deterrent to stone pelters after the clashes during the bypoll in Srinagar on April 9.
A video of the the incident had led to a public outcry, but Army Chief General Bipin Rawat had backed Major Gogoi's action, saying that the innovative action had saved the lives of security officials. The Major was even awarded the Chief of Army Staff's commendation card for his efforts in counter-insurgency operations.
The NHRC had taken cognizance of the incident after a Bhubaneswar-based activist, Mohammad Ahsan Untoo, filed a complaint in April, a few days after the video went viral. Congress leader Saifuddin Soz had also filed a petition in the NHRC.
Dar had also filed a complaint in May, but said that he did not expect authorities to take any action. An FIR was also filed under several sections of the Ranvir Penal Code (RPC) in the case.
Get the best of News18 delivered to your inbox - subscribe to News18 Daybreak. Follow News18.com on Twitter, Instagram, Facebook, Telegram, TikTok and on YouTube, and stay in the know with what's happening in the world around you – in real time.
| Edited by: Aakarshuk Sarna
Read full article