Hundreds Take to the Streets in Assam Against Citizenship to Bangladeshi Immigrants
Hundreds of protesters have taken to the streets in Assam opposing the Citizenship (Amendment) Bill, 2016 — a unification of sorts among various state groups, manifesting anti-bill sentiments and advocating for indigenous rights.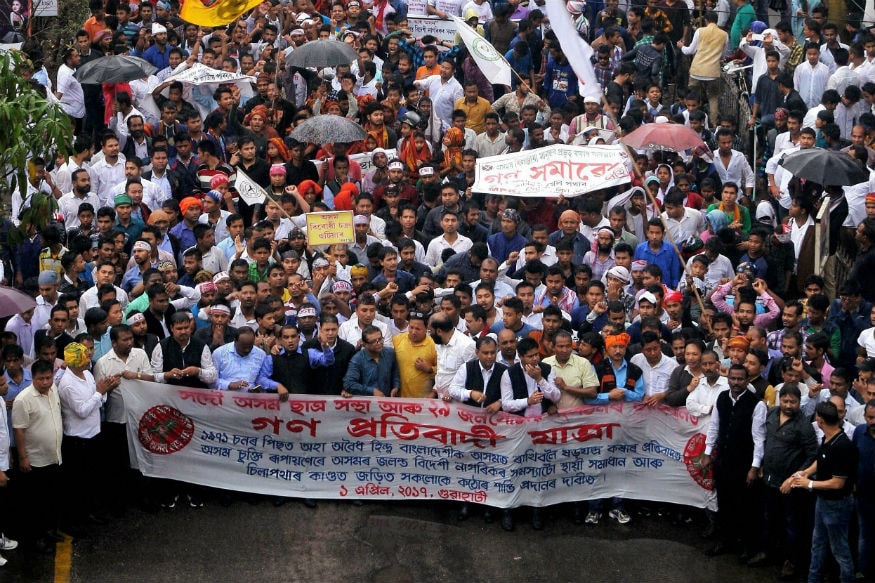 File photo of the All Assam Students' Union (AASU) and other organisations protesting against the central government's move to grant citizenship to Hindu Bangladeshi immigrants. (PTI Photo)
Guwahati: Protests against the Citizenship (Amendment) Bill of 2016 escalated on Saturday with hundreds taking to the streets in Assam, challenging the central government's proposed move to facilitate Indian citizenship to persecuted religious minorities from Bangladesh, Pakistan and Afghanistan. This includes six communities – Hindus, Sikhs, Buddhists, Jains, Parsis and Christians
More than 200 protestors, under the banner of Northeast Students' Organization (NESO), staged a demonstration at Dighalipukhuri area of Guwahati. The protestors represented eight student organisations from seven northeastern states, including Assam.
Sammujjwal Bhattacharyya, chief advisor of All Assam Students' Union and NESO, said they will not allow Northeast to be a 'dumping ground for illegal Bangladeshis'. "We warn the Modi government against this Bill. If required, tens of thousands will be seen protesting in the streets against it," said Bhattacharyya.
The movement against the Citizenship (Amendment) Bill of 2016 has brought a unification of sorts among various state groups, manifesting anti-bill sentiments and advocating for indigenous rights.
Peasant organisation Krishak Mukti Sangram Samiti (KMSS) leader Akhil Gogoi also lent support to the NESO protest.
Asom Jatiyatabadi Yuva Chhatra Parishad (AJYCP) protesters stood their ground and blocked the National Highway 37 in Guwahati for hours. Five other students' organisations staged a protest in front of Raj Bhawan. Protesters said that the Bill would breach the clauses of the 'historic' Assam Accord, which states that all illegal immigrants who infiltrated after 1971 from Bangladesh, irrespective of their religion, have to be deported.
Meanwhile, former Assam Chief Minister Tarun Gogoi took a dig at PM Narendra Modi over his promise, during BJP's election campaign in 2016, of a Bangladeshi-free Assam. "It was Narendra Modi who had said that Assam would be free of illegal immigrants, now, he is ready to give a red-carpet welcome to Bangladeshi infiltrators," said Gogoi.
While praising Meghalaya Chief Minister Conrad Sangma for his decision to oppose the Bill, Gogoi said that the 'spineless BJP politicians' in Assam, including CM Sarbananda Sonowal, have only been bowing to their masters in New Delhi. The Meghalaya Democratic Alliance (MDA) government, of which the BJP is also a partner, took its decision a day before the Joint Parliamentary Committee (JPC) visited the state to hear views from the state government and its stakeholders.
"Meghalaya government's decision has been an embarrassment for the BJP-led government in Assam. Now, they say they would make their stand clear once the NRC exercise is over, which suggests that this government is in support of the Bill," remarked Gogoi.
Meanwhile, the Asom Gana Parishad (AGP), an ally of the BJP-led Assam government, staged a strike at the party headquarters opposing the Bill. Earlier, they had threatened to withdraw support from the government, if the Bill is introduced.
The 16-member Joint Parliamentary Committee headed by BJP MP Rajendra Agrawal, recently met around 300 organisations and individuals from three districts in the Bengali majority-Barak Valley and about 135 groups, individuals in the Brahmaputra valley, before deciding on a report to be presented before Parliament.
In wake of widespread discontentment, the JPC is likely to have a tough time reviewing the Bill — that has seemingly divided the people of Brahmaputra and Barak valleys — from various angles
Protesters in Brahmaputra valley, opposing the proposed amendment to the Citizenship Act of 1955, see it as a move to endorse Hindus from Bangladesh who migrated to Assam after 1971.
Assam BJP spokesperson Rajdeep Roy said that 99% of people in Barak valley are in favour of the Bill. "The Bill is being brought about by the government, in line with the ideologies of the BJP. Those from the minority community who had fled to India, to escape persecution in Bangladesh or erstwhile East Pakistan need to be protected by law," said Roy.
Hundreds filled the streets of Silchar during the two-day JPC visit, carrying placards pledging support to the Bill. "Hindus from Bangladesh have been living here for long. Many of them who have been working as daily wage labourers don't even have citizenship rights. We want the government to treat them equally and give them full citizenship rights," said a supporter in Barak valley on condition of anonymity.
Elsewhere in Brahmaputra valley, an anti-Bill protester viewed it as a movement against Bangladeshis, and not 'Bengalis'.
"People in Assam have a fear psychosis of becoming a minority in their own state. In 1837, the British had declared 'Bangla' as the state language, which was later challenged by many, including Christian missionaries. In the wake of the Bill's passage, there is still a lurking fear that Bengali might become the official language in Assam," said a protester, who did not wish to be named.
Get the best of News18 delivered to your inbox - subscribe to News18 Daybreak. Follow News18.com on Twitter, Instagram, Facebook, Telegram, TikTok and on YouTube, and stay in the know with what's happening in the world around you – in real time.
| Edited by: Aditya Nair
Read full article