I Am 'Bhagidar' of Poor People's Pain, Says PM Modi As He Pushes Development Agenda Ahead of 2019
PM Narendra Modi said 5Es — Ease of living, Education, Employment, Economy and Entertainment — would further develop smart cities.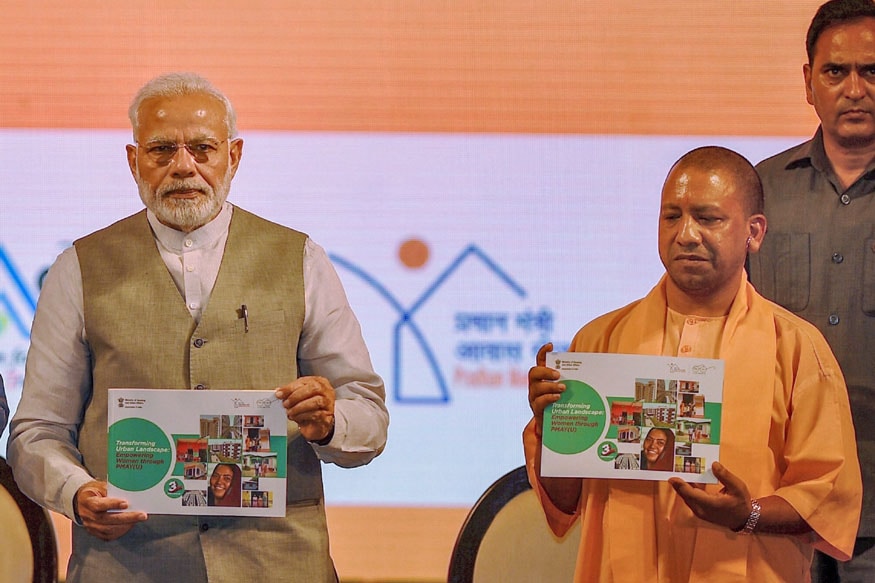 PM Narendra Modi with Uttar Pradesh CM Yogi Adityanath in Lucknow on Saturday. (PTI)
Lucknow: Prime Minister Narendra Modi on Saturday set development as the agenda for the 2019 general elections, even as he attacked the Opposition for "insulting the thought of bhagidari".
Modi was in Lucknow to mark the third anniversary of three key government initiatives related to urban development — Pradhan Mantri Awas Yojana (Urban), Atal Mission for Rejuvenation of Urban Transformation (AMRUT) and the Smart Cities Mission.
The Prime Minister, who inaugurated 99 development schemes worth Rs 3,897 crore on the occasion, hailed the efforts of former prime minister Atal Bihari Vajpayee that helped Lucknow develop. "It was due to the efforts of Atalji that Lucknow is so developed today. He was the one to boost development of Lucknow. Now transforming urban landscape programme will further boost the development speed."
The Prime Minister also took a jibe at the previous regime of Akhilesh Yadav as well as the recent controversy regarding his bungalow. Modi said, "The period from 2014 to 2017 since the Yogi Adityanath government was formed in the state was very tough. We kept asking the state government to build houses for the poor, we were giving funds too but the previous governments were not interested. Rather, they were interested in building their own bungalows."
Responding to the Opposition's allegations, he said, "Now there are charges on me that I am not 'chowkidar' (guard) but 'bhagidar' (involved). I accept these allegations. Yes, I am a 'bhagidar' in the pain of the poor people of India. I am a 'bhagidar' of every effort that provides employment to the youth of the country. I am the son of a poor mother, I have seen poverty closely and can understand it better."
He said, "I felt really happy when Yogi ji [UP chief minister Yogi Adityanath] told me that approximately 46,000 families gave up the houses they had got under the PMAY schemes. Also, I am happy to share that in last few months, more than 40 lakh senior citizens gave up the concessions they had got while travelling in Indian Railways."
Modi added that 5Es — Ease of living, Education, Employment, Economy and Entertainment — would further develop smart cities.
Get the best of News18 delivered to your inbox - subscribe to News18 Daybreak. Follow News18.com on Twitter, Instagram, Facebook, Telegram, TikTok and on YouTube, and stay in the know with what's happening in the world around you – in real time.
Read full article