I Can't Breathe: 4 Deaths in Delhi Sewage Tank and Curse of Manual Scavenging
Last Saturday, four manual scavengers died due to asphyxiation in the heart of South Delhi.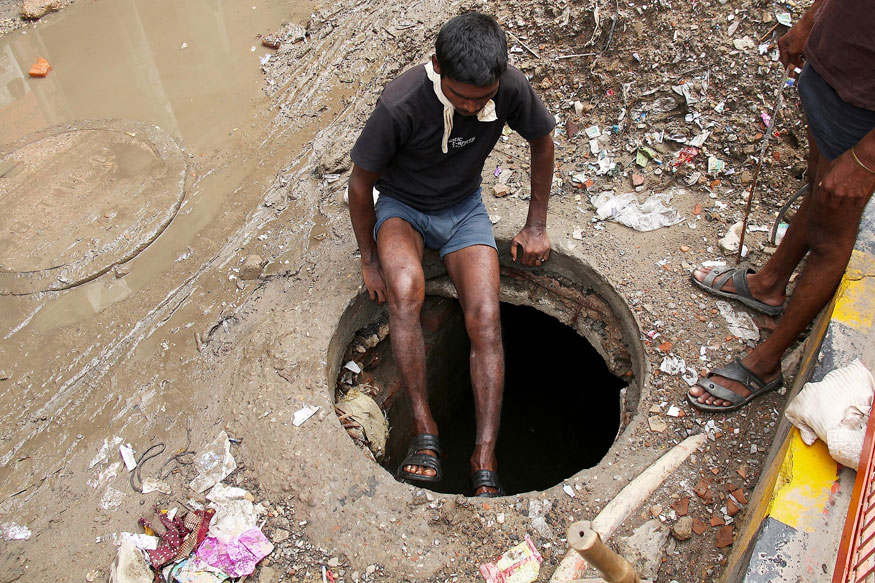 Representative image (Getty Images)
Swarn Singh was not supposed to be in the tank full of sewage that killed him, as he tried to save three other men. On the morning of July 15, Singh got a frantic call from his 20-year-old son Jaspal, to come and help the men he had sent for a supposedly routine cleaning of a tank. The three men in the 10 feet deep water tank seemed to have fainted and were not responding to Jaspal's cries, and the manager of the property, who had called Singh for the job, was forcing Jaspal inside to retrieve them.
Last Saturday, news broke that manual scavenging had claimed four more lives, this time in heart of South Delhi. Swarn Singh, Anil, Inderjeet and Dileep Dubey died inside a sewage tank in the Ghitorni area of south Delhi. Singh's son Jaspal is the only survivor, pulled out just in time by the police and the fire brigade.
The age old practice of cleaning untreated human waste — done mostly by members of the Dalit community with little or no other means of livelihood and are often forced by caste prejudices — has run up a high toll in India, even though it was officially abolished by law in 2013.The Prohibition of Employment as Manual Scavengers and their Rehabilitation Act, 2013, also put the responsibility on state governments to rehabilitate manual scavengers.
In the 100 days from April 1 to July 10 this year, 39 people died from scavenging, from being trapped in sewage lines and from the hazardous gases they inhaled, according to activist and Magsaysay award winner Bezwada Wilson, whose organization — the Safai Karamchari Andolan — has been documenting deaths.
According to Jaspal, he and his men had no idea they were entering a tank full of sewage. "We were told it was just a rainwater harvesting tank," Jaspal told News18, sitting in shock and mourning with his family in an urban village inside Chattarpur. The men in the Singh family, sardars who migrated to the capital from Bhagatpura Rajasthan, in the 1950s, regularly did jobs like cleaning water tanks, boring tube wells, fixing motors, etc. They were not, as Singh's elder brother Jeet emphatically said, scavengers; they had never cleaned septic tanks or sewage pipes. "If we'd known they were calling us to clean sewage, we would have said no," said Jeet.
Scavenging being a deeply caste-based practice, Singh's entire family was anxious to distance themselves from it. As was Sandeep, the younger brother of Anil, the only man from the Valmiki caste in the group who died.
That morning, Singh sent Jaspal, learning his father's trade after studying till the 10th standard, to a new property owned by one JK Mehta. They'd been called by the manager and the gardener. Anil went in first. He sent up one bucket of rubbish. The others lowered the bucket the second time. But, instead of being caught by Anil, it fell to the tank's floor, the clang startling the men on top. Inderjeet went in immediately to check on Anil, and within minutes fell silent. Alarmed, Dileep clambered in and soon lost contact with Jaspal.
"Now the manager and the mali (gardener) began the push me to go in," recalled Jaspal, "they tried to tie the rope around me even though I kept telling them that I didn't know what to do, that I was too young to know the work." He made an SOS call to his father who reached within 15 minutes.
"I should have stopped him from going in," said Jaspal haltingly, "but at that point we could only think of getting the others out." Singh went inside the tank and then untied the rope from himself to get to his men. Within minutes, he too fell silent.
"Then I had to go inside," said Jaspal. In the dingy light he found his father, caught hold of his hand. "But then I smelt something poisonous and that's when I fainted," he said.
By this time, someone on the top had called for help. The police got to Jaspal in the nick of time, as he regained consciousness in Fortis Hospital, where his father was brought in dead.
Anil's younger brother Sandeep, said they had been labourers almost since boyhood, and the work with Singh had always been safe and "clean". "We don't know what happened down there. The doctors have told us nothing about what kind of gas killed them."
When asked, Union Minister for Social Justice and Empowerment Thawar Chand Gehlot said, "We asked the Delhi government that day to probe the incident and report to us exactly what happened."
"We've asked different states to probe such incidents since the 2013 law and accordingly provide the families with compensation of Rs 10 lakh according to the Supreme Court instructions… Anyone who employs people to clean such tanks has to ensure they have gloves, masks and the correct clothes," he added.
However, according to Wilson and his team very few people actually get the compensation due to them. Since the law was passed in 2016, he and 6000 volunteers across India documented 1370 such deaths. "These are only the reported cases, we don't know how many people are actually dying," said Wilson. He added, "Delhi is a unique case," where the men didn't know what they were going in for and died trying to save each other. Else, he said, it is people from the scavenging communities who die. Even there, the wives of the labourers don't often know they were scavenging.
Wilson has sent these numbers as memorandums to the President's office, the Prime Minister, ministries of Social Justice and Empowerment, environment, urban development and drinking water and sanitation.
Gehlot, however, is wary of seeing scavenging as a caste-based practice. "Everyone has the right to earn livelihood and eat," he said. "It's not right to say it is one caste or community that is involved in manual scavenging anymore. People from many other communities are now earning their living through it."
Wilson, on the other hand, said there is no course of rehabilitation for the communities. It only works as a loan given by a bank that demands documents from families able to provide them.
"Government has made promises after promises but nothing has been done," he said. "Nothing will be done till they make a comprehensive national plan to help the communities, mechanise the cleaning and rehabilitate the workers."
Get the best of News18 delivered to your inbox - subscribe to News18 Daybreak. Follow News18.com on Twitter, Instagram, Facebook, Telegram, TikTok and on YouTube, and stay in the know with what's happening in the world around you – in real time.
Read full article