'I Felt if I Stayed Longer, I Would be Lynched': Women Journalists Recall Ordeal During Sabarimala Protests
Women journalists trying to report on the Sabarimala protests were pushed around, threatened and intimidated. The mob smashed their vehicles and damaged cameras and equipment.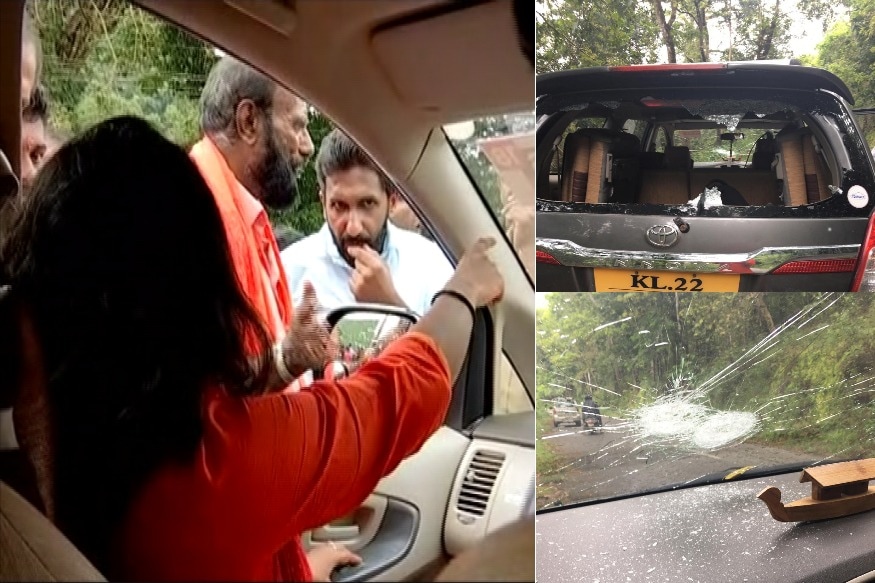 CNN-News18's woman journalist was threatened and the car she was travelling in vas vandalised by goons as a solitary cop looked on.
New Delhi: Early in the morning the picketers, recalled Mausami Singh, a Deputy Editor with India Today, said it was going to be a Gandhian protest. As Wednesday wore down in Nilakkal, a base camp for the trek to Sabarimala temple, the gathering turned into a mob, with its anger directed toward women.

People protesting the Supreme Court order that sanctioned the entry of women inside Sabarimala gathered in numbers, hours before the temple opened its doors on Wednesday evening to deny women their legal right. In the process, they harangued, harassed and assaulted women trying to go to the temple and women journalists trying to do their jobs.

"They were attacking women journalists. Since they could assault women devotees, they attacked us as well," Singh told News18. She was in Nilakkal to report on the event when an angry mob accosted her and her cameraperson. "They didn't want us to report what was happening. They were just upset with women and they didn't want to see women there."

Singh was travelling from Pamba to Nilakkal at around 3 pm, when midway she saw a bus carrying one of the women who had tried entering Sabarimala earlier in the day. She boarded the bus to talk to the woman and when she tried to leave, other passengers surrounded her. "They were very aggressive and started heckling me and my cameraperson. They said 'you can't shoot here'. The bus started moving and the glass door was shut. They refused to stop and let us out of the bus," Singh said.

Trapped inside the bus, Singh was taken to Nilakkal where she and her camera crew became the object of a simmering mob. "When the bus stopped, the mob started closing in on us. We said we were going back but they kept saying you can't go to Sabarimala. Someone slapped our camera person Sanjay and I thought the situation was going get violent and we had to get out," she said.

Singh was pushed around, threatened and intimidated. As police tried to take her to safety, two men with their faces covered assaulted her. "They started hitting me, they punched me. When I was getting on the bus with the police, they pulled my hair from behind and threw stones on the police vehicle. On the bus, the cops told us to stay ducked."

Police later took Singh to a nearby hospital to get her injuries checked. Singh believes her crew was deliberately taken to Nilakkal so the mob could 'teach them a lesson'. According to her, the BJP state general secretary had given a provocative speech in Nilakkal early morning. "They were assaulting women in the name of religion. I thought they were protesting about their faith, a religious cause. I didn't think it would turn out like this," Singh said. "It was like a near-death experience. For one moment, I felt if I stayed longer I would be lynched."

CNN News18 reporter Radhika Ramaswamy said the situation, if volatile, was not violent or dangerous in the morning. She had reached Nilakkal at around 7.45 am. There was a strong police presence in the area and some protesters had been detained as well. To her, the situation seemed under control. "We heard that something bad had happened with the Republic TV crew. We were about to leave Nilakkal and proceed to Pamba when the mob surrounded our car," Ramaswamy said.

When someone told her that women could not go towards Pamba, Ramaswamy mentioned the Supreme Court order. That triggered the mob. "They suddenly became violent. The mob started smashing up our car with us inside. They threw stones, they threw a bottle of water at me, broke the windshields, detached a viper and used it to beat up my driver," she said.

Shaken, the CNN News18 crew tried to leave and reversed, but the mob kept banging the vehicle. "Somehow, we managed to get out, but it was a nightmare," Ramaswamy said.

The mob had smashed vehicles and damaged cameras and equipment. According to Ramaswamy, women were the target. "They said male journalists can go, but we won't allow female journalists. We were not even entering the temple. We were just going to Pamba," she said.

The women journalists who spoke to News18, said the mob was misogynistic. It specifically targeted women in a planned and premeditated manner, meant to intimidate those trying to enter Sabarimala.

"It was almost like the stage had been set. The people and police looked at me with such accusatory eyes. Just my presence was provocation enough," said Pooja Prasanna, South India Bureau Chief of Republic, who was at Nilakkal as well.

Prasanna said she was among the first journalists assaulted by the protesting mob. There had been no violent incidents up to that point, so she did not expect the situation to escalate the way it did. "I didn't provoke anyone. A lot of people were observing while we were reporting and they had planned to attack us," Prasanna said.

When Prasanna inquired police personnel if she and her crew could go to Pamba, the bellicose protesters descended upon her driver. After beating him up, the crowd snatched away the microphone and surrounded the crew. When three or four police personnel tried to extract them, the men in the mob wrestled away their lathis and hit Prasanna and her crew with hit and smashed up their vehicle. She repeatedly told the protesters that they were only trying to go to Pamba, but a mob doesn't have ears. "They did not want to reason with anybody. They had already decided," Prasanna said.

According to her, the police were vastly outnumbered, underprepared and unwilling to handle the situation. Prasanna talked to around 20 police officials, from Hawaldars to Superintendents, but all looked the other way. "Nobody responded. The police team pretended to be there, but they didn't come down hard on the protesters. We were pushed around, hit by the mob before police could help us," she said.

Several other journalists suffered injuries and had their vehicles and equipment damaged. A reporter for The News Minute was reportedly kicked on her spine and a New York Times journalist was forced to return from her Sabarimala trek in the face of aggressive protests. "I am very disappointed. I have been in the thick of things and covered conflict areas. But nothing like this had happened before," Prasanna said. "Many said, 'Why don't you send male journalists to report here?'. It's just bizarre. Aren't we doing our jobs? It's my work to go there."


Read full article
Countdown To
Elections Results
To Assembly Elections 2018 Results