I hope to start an academy for underprivileged students: N Shivakumar
N Shivakumar, the newspaper delivery boy who has got through to IIM Calcutta, joined IBNLive readers.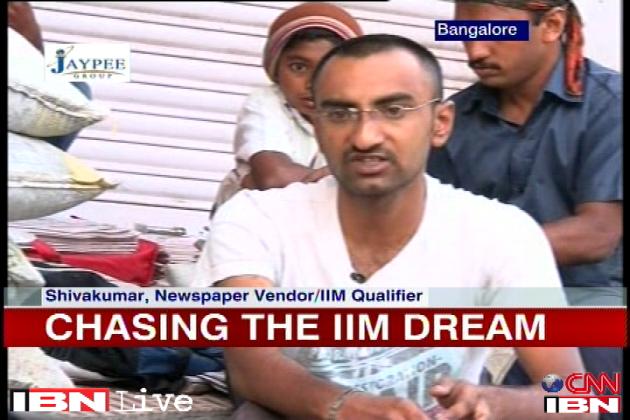 N Shivakumar, the newspaper delivery boy who has got through to IIM Calcutta, joined IBNLive readers.
From being a newspaper delivery boy to becoming a newsmaker himself, 23-year-old Shivakumar has got through to the Indian Institute of Management (IIM) - Calcutta. Shivakumar, an engineering student and the only educated member in his family, has fought hard to make his dreams come true. N Shivakumar joined IBNLive readers for an interaction.
Q. How did you finance your engineering course? Are you taking loan for the IIM course or are they giving you a scholarship? Kudos to you. India needs people like you. Asked by: Souvik Banerjee
A. I'm in final year of my engineering course. I'm taking loan from Bank. There are many banks which give loan to IIM students in reduced rates. Thanks for your wishes. India need many people like me not just one.
Q. Is the West Bengal scenario conducive for investments by Industries. Britannia went out. Not many overseas Airlines operating, Scarce availability of land. TU's still not very accommodative. What hopes are there for business to thrive in such scene? Asked by: sundar1950in
A. I don't know much about the West Bengal business but time will come when things are changed.
Q. IIM-C - in the two years which part will you cherish most? Asked by: sundar1950in
A. The campus experience.
Q. Wishing you success many more - any plans to get self employed? Asked by: sundar1950in
A. Yes, after 3 years of job. First, I need to secure funds for the family, right now I don't have funds.
Q. According to you how many questions were correct in each section of CAT 2012? Asked by: Brijesh
A. Around 20 questions.
Q. Firstly, many congratulations:)And now to my question.It is often difficult to keep hopes alive during hardship. How did you manage to do that? Asked by: Poorna
A. It happened to me also. Switch your mind focus, have strong will. Don't worry about results, just give your 100 percent, rest god will take care.
Q. Shiva, Congrats first.. your story has inspired many to achieve something big.. How did u prepare yourself for CAT.Any specific techniques or anything that you would like to share. Asked by: Ganesh
A. I would tell first, make your basics strong. Attempt 10-15 yrs of last papers and try to solve them in time. Appear for mock tests.
Q. Your got selected into IIM in first attempt? Asked by: Manas
A. Yes.
Q. What's your future course of action? Would you like to opt for job with hefty pay or would prefer to help people who want to come up like you. Asked by: Nagarajan
A. Surely, do both things. I'll be starting 'Educate India Foundation' for under privileged students.
Q. What did you learn from life till this point. Asked by: mahipat
A. Keep everybody around you happy.
Q. Was going to IIM was your dream or you are going to secure your life and your passion was something else. Asked by: Rakka
A. One year ago I started preparing & from that time IIM was my dream.
Q. You attended any coaching classes? Asked by: Guru
A. Yes, initially but later prepared on my own when my basics were strong.
Q. How much you have to study in terms of hours of effort put per day? Asked by: Rajnish
A. Two hours a day.
Q. How much did your college scores matter in you getting a call from IIM's. Do even college matter? Asked by: Rajesh
A. No, I didn't tell anyone that I'm preparing. When news broke they new about it.
Q. Hi Shiva!! I m totally proud by your achievements..hats off you to sir.. I just want to ask one question ... how did you prepare for CAT? I'm sure, you wouldn't gone for any coaching classes and self preparation wouldn't have been easy! Asked by: Anish
A. Initially I attended coaching but self preparation is more important.
Q. Your earlier assignment being highlighted by media makes you uncomfortable? Asked by: sundar1950in
A. No, I don't worry much about it.
Q. Had read a biography of a HLL boss having gone around villages in India to sell Dalda,amidst all anti propaganda for the product. That gave the person insight to Indian market. Your experience in delivering Newspaper will give you any such insight? Asked by: sundar1950in
A. Will think of it not now.
Q. Your are inspiring to many..what are your plans after doing MBA. Asked by: Rohit
A. I would like to start mentorship for underprivileged students through 'Educate India Foundation. I will try to get my friends on board. I will take up a job for 3 years after completing MBA & than start my own venture.
Get the best of News18 delivered to your inbox - subscribe to News18 Daybreak. Follow News18.com on Twitter, Instagram, Facebook, Telegram, TikTok and on YouTube, and stay in the know with what's happening in the world around you – in real time.
Read full article