GET Stock

Quotes


I-T Dept Searches Jayalalithaa's Poes Garden Home, Dinakaran Calls it Betrayal of Amma's Soul
Sasikala's counsel Rajasendur Pandian, however, rejected the I-T department's claim that it was not a raid. He said that all of Sasikala's belongings were inside the house, and therefore, it was a raid on Sasikala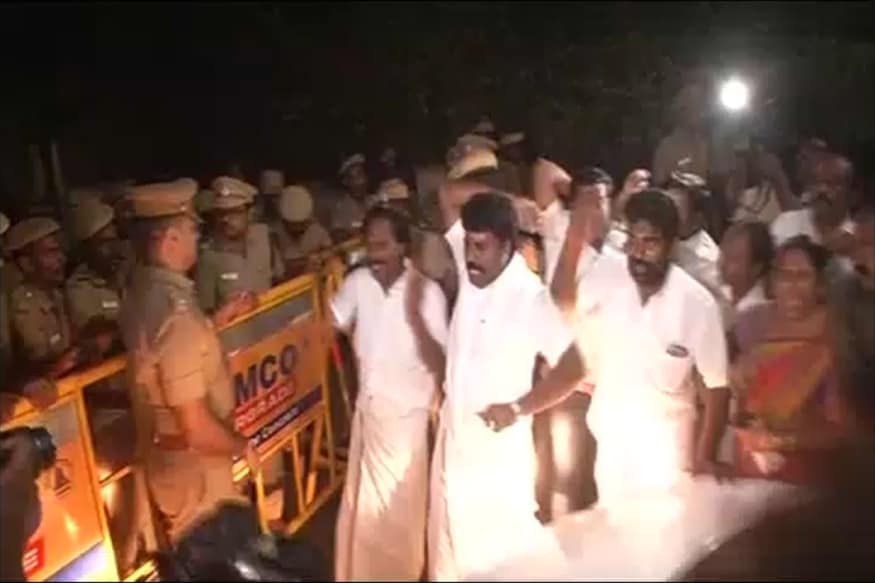 AIADMK supporters clash with the police outside the Poes Garden residence of Jayalalithaa on Friday night. (Photo: CNN-News18 grab)
Chennai:
The Income Tax department on Friday night conducted a "search and recovery operation" at the Poes Garden home of former Tamil Nadu chief minister J Jayalalithaa and properties of VK Sasikala's relatives in the upscale Chennai locality.
Heavy security was deployed to avoid any untoward incident but as soon as the news of the I-T team reaching Veda Nilayam spread, a large number of protesters gathered outside the area and clashed with the police. The sprawling bungalow was almost empty when the I-T officials reached there.
The Sasikala faction questioned why Jayalalithaa's house was being targeted and said it was a witch hunt by the EK Palaniswami government.
Condemning the raids, sidelined AIADMK leader and Sasikala's nephew TTV Dhinakaran called it a "betrayal of Amma's soul".
"EPS and OPS should answer questions posted by 1.5 crore cadre of AIADMK. The government of betrayers has been cheating the people of Tamil Nadu," he said.
Another member of the rebel faction, VP Kalairanjan, called it a "political vendetta and targeting of one family."
Officials, however, said it was not a raid but only a search operation that was conducted after a tip-off that "key evidence" could be stolen from the house.
They said the search was confined to the room that was being used as an office by Jayalalithaa's long time personal secretary, PS Poongundran.
However, sources said a laptop, a desktop and four pen drives were seized from a room that was being used by Sasikala, putting doubts over the taxmen's claims of a restricted search.
Around 10.30 pm, Sasikala's nephew Vivek Jayaraman, who is also the CEO of Jaya TV, reached the spot and tried to enter the bungalow but was stopped by the security men posted outside. Businesses owned by Vivek and his house have also been raided by the I-T department in the last few days.
Sasikala's counsel Rajasendur Pandian, however, rejected the I-T department's claim that it was not a raid. Speaking to media persons, he said that all of Sasikala's belongings were inside the house, and therefore, it was a raid on Sasikala. "I should be allowed inside as the counsel of Sasikala to be witness to proceedings," he said.
The "search operation" comes just a week after the I-T official raided on Sasikala's family members and premises of Jaya TV in Chennai and unearthed an unaccounted income of over Rs 1,400 crore.
The raids on 187 locations that also spanned Bengaluru, Hyderabad and New Delhi were conducted by over 1,000 officials, who split into more than a dozen teams. They were conducted based on inputs, including those from the Finance Ministry's Financial Intelligence Unit.
The allegations included suspicion of shell companies, dubious investments, suspicious fund flow and its transfers and fudging of accounts.
Also Watch
Read full article