I take criticism as I take praise: 'Poda Podi' director
Tamil film director Vignesh Shivan joined IBNLive readers for an interaction on his latest movie 'Poda Podi'.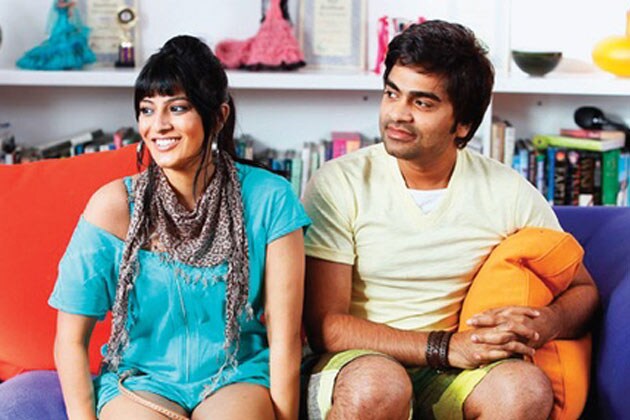 Tamil film director Vignesh Shivan joined IBNLive readers for an interaction on his latest movie 'Poda Podi'.
Tamil film director Vignesh Shivan joined IBNLive readers for an interaction on his latest movie 'Poda Podi'.
Q. Where did you study? and was there any opposition from your parents for taking up direction? Asked by: Vishal
A. I studied in Hindustan and then my school was Vanavani IIT and Santhome, my mom being a police inspector supported me:)
Q. Do you regret releasing the movie on Diwali where as if it had released without any competition it would have become much more of a hit? Asked by: karthi
A. I was not happy with the film getting released on Diwali from the beginning ! I always wanted a solo release ! But it was my producer's call ! Can't do anything now ! It's history :)
Q. Was Simbu and Varalakshmi your first choice for this film? Asked by: Vishal
A. Yes ...
Q. Music was good. How was the experience working with Dharan and Vaali sir? Asked by: Ramesh
A. Dharan is a Good friend of mine ... Enjoyed working with him Vaali sir !! It was a dream come true.
Q. Under whom did you work as assistant sir? Asked by: Vishal
A. Prabhu Solomon sir
Q. What were the best & worst compliments you have received post 'Poda Podi' release? Asked by: Urmi
A. Best compliments were from K Balachandar sir and her daughter ... Then my mom and sister .. They are the worst critics I've ever seen, they enjoyed the film ... Worst comments - from people who didn't understand the film were very harsh!
Q. What is your view on releasing films on DTH rather than on theaters? Asked by: Vishal
A. On commercial aspects .. Yes it may be good! For a good revenue ... But I think its not healthy for cinema theaters !
Q. Out of 10, how do you rate Varu as an actress? Asked by: Sunil
A. 8
Q. How do you take critics ? Asked by: Anu
A. The way I take praises .... Good comments or bad comments both don't affect me .. I m learning everyday ... And am just enjoying whatever am doing so nothing will bother me whatsoever .. I just wanna make good films, That's all I keep thinking :)
Q. What prompted you to be a filmmaker? Asked by: Anurag
A. It has been my dream ! I've always wanted to be a film maker ! I love films basically ...
Q. What movies do you wish you could direct? Asked by: Queenie
A. !! I want to do good entertainers ... Nice feel good films ..
Q. Hi, You mentioned fresh elements, what are they? and who has noticed them? Why is the public not speaking of these so-called "fresh elements"? Asked by: rahul
A. ;) I think you didn't like my film! Anyways! The look of the film was appreciated, dividing the film in episodes, quick narrative pattern then give me your mail id I will forward the mails I received from few good people ...
Q. Your favourite director in Hollywood, Bollywood & in south? Asked by: Monu
A. Hollywood - Spielberg, Guy Richie, Woody Allen. Bollywood - Anurag Kashyap, Raju Hirani & South - Mani Rathnam.
Q. Would you like to direct a Bollywood masala movie? Asked by: laxman
A. Bollywood movie - Yes, Masala movie - No :)
Q. How was working with Varu? Asked by: laxman
A. She is talented! It was fun working wit her ... It was a friendly atmosphere throughout.
Q. Is the movie a hit? There are so many conflicting reports about it. Asked by: Asokan
A. It is a profitable venture ... But since the release was not appropriate, the positives of the film aren't being spoken about ! It has so many fresh elements which has been noted and the response I've been getting is very satisfying :)
Q. How did you find Varalaxmi? Is she going to live up to her father's reputation? Asked by: Sasikumar
A. She is my college senior ... And I think she is very very talented and she will make a special place for her in this industry.
Q. Why there is no Punch dialogues? Asked by: Dinesh
A. Because I didn't need such cinematic elements! And wanted to make a live, candid neat realistic film.
Q. How is Simbu's cooperation in that film? Asked by: Karthi
A. He was very professional an cooperative ...
Q. A lot of people have found the ending of the films bizarre as it shows the woman bowing down. Why such an end? Asked by: sriram
A. A woman losing her baby an then giving birth to another baby is a sweet thing! better than her winning in a dance competition ! She wins a nice family life instead of a dance competition !! I think it's sweet.
Q. Hi Vignesh... Why in Poda Podi... no scenes was shown about the income/money sources for the couple..? Asked by: Dinesh
A. Both their guardian's were taking care of them till they got settled. There's a scene where the hero works or his uncle(shop).
Q. What are your future/on going projects? Asked by: Ramesh
A. My script work is in process ... I always take time to write every detail and have a bound script before shoot...
Q. Why there was a very little promotion for the movie in the TV's? Asked by: Vicky
A. Hi, I too have the same question for the producers !!! Why didn't they promote my film, the way it deserved to be promoted!!
####
Get the best of News18 delivered to your inbox - subscribe to News18 Daybreak. Follow News18.com on Twitter, Instagram, Facebook, Telegram, TikTok and on YouTube, and stay in the know with what's happening in the world around you – in real time.
Read full article