I won't do bold scenes for publicity, says Genelia
The actress is excited about her forthcoming flick Life Partner.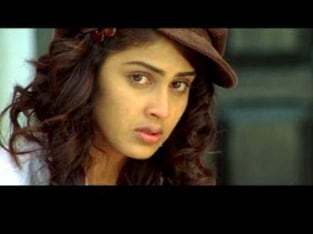 The actress is excited about her forthcoming flick Life Partner.
It's been a while since Genelia wowed the nation as Aditi in Jaane Tu Ya Jaane Na. But Genelia insists she is very much in action and has four releases lined up. Starting with the multistarrer comedy Life Partner where she is the centre of attention for all the men in the film.
Q: First and foremost – in real life, are you actually as bad a singer as your character in this film?
Genelia: Well, I don't think I am a very good singer.
Q: After solo hit like Jaane Tu…why did you take up a multistarrer comedy?
Genelia: I don't look at my movies like that. I really liked my character, Sanjana. She is a girl of today. But instead of being a confused one like Aditi (in Jaane Tu...) - Sanjana is a very confident person, always sure of herself. She knows the people who matter to her and is completely devoted to her family and boyfriend.
Q: You character is a romantic at heart, but doesn't believe in making compromises after marriage. Is that Genelia's philosophy too?
Genelia: Completely. I think a lot of young girls today are like that. Not making compromises isn't a negative thing. It's possible to have a stable family life, yet pursue your dreams.
Q: Sanjana is also someone who picks up a new hobby everyday. Do you feel the urge to take a break from acting?
Genelia: Never. See, Sanjana is an extremely rich girl who doesn't need to be on her own. So she keeps blowing up money on all sorts of things. I am middle-class girl with my values in place. So I understand the worth of my money.
Q: The promos are focusing a little more on you. Do you think you got a better deal than Prachi?
Genelia: It's just that one extra song where I am with the three heroes. Both Prachi and I were very secure about are parts in the film. So there was no question of any ego hassles.
Q: There is a song where Prachi and you reportedly pay a tribute to Dola Re Dola. So are you Madhuri or Ash?
Genelia: Oh God. I think both are so amazing, how can I choose?
Q: Most filmmakers cast you as the bubbly, girl-next-door. Would you ever see yourself play a negative character?
Genelia: I think I can play a negative character equally well. But all these bubbly characters you talk about are actually like the girls you meet in real life. And they all are unique. Aditi was single and confused while Sanjana is married. You can't call them same.
PAGE_BREAK
Q: Would you go in for a makeover, considering your colleagues are sporting biknis and doing bold scenes?
Genelia: I firmly believe, as long as it is justified you should go all out for your characters. I have no problems there. But then at this point of my career I really don't see the need to do something just to make an impact. I will never take professional decision just to make a splash.
Q: Are there any qualities of Fardeen that you would like in your Life Partner?
Genelia: In the film Fardeen plays a complete charmer. A true ladies man.
Q: And the real Fardeen?
Genelia: Well, he keeps telling me he is one in real life also.
Q: Finally arranged marriage or love marriage?
Genelia: I don't know. The obvious answer would be love marriage. But it could be arranged also. I can't say that arranged marriage is a no no. As long as it's the person you want to be with this aspect doesn't matter.
Get the best of News18 delivered to your inbox - subscribe to News18 Daybreak. Follow News18.com on Twitter, Instagram, Facebook, Telegram, TikTok and on YouTube, and stay in the know with what's happening in the world around you – in real time.
Read full article