IAS Officers Go Public With Charges Against Kejriwal Govt, Accuse AAP of Spreading Lies
Manisha Saxena, member of the IAS Association started off saying, "IAS officers work away from the public eye. This is not a normal situation for us. We have been targeted and forced to do this."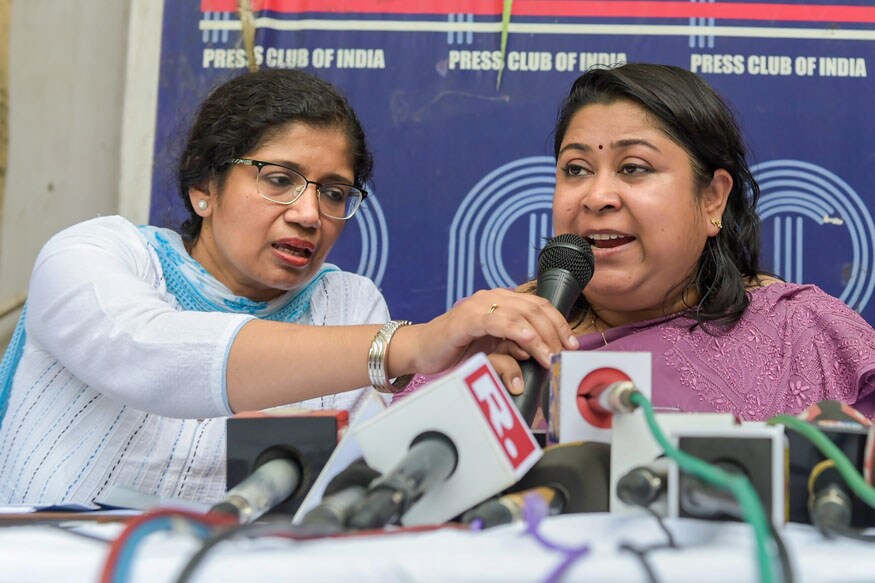 Members of IAS association of the AGMUT cadre, Varsha Joshi (L) and Manisha Saxena address a press conference on Sunday. (PTI Photo/Vijay Verma)
New Delhi:
The IAS Association addressed an unprecedented press conference in the national capital as CM Arvind Kejriwal's impasse with L-G Anil Baijal over the alleged IAS officers' strike continued for the seventh day. The bureaucrats have refuted all allegations levelled by the Delhi government and AAP leaders at the same time as AAP took out a massive rally against IAS officers and the L-G in the heart of the city.
Manisha Saxena, member of the IAS Association started off saying, "IAS officers work away from the public eye. This is not a normal situation for us. We have been targeted and forced to do this."
She added, "No officer is on strike and we are working even on holidays sometimes. We are completely apolitical."
Apart from the IAS strike, another of Kejriwal's demands from L-G Anil Baijal is to clear the proposal of doorstep delivery of ration to Delhi households. The IAS officers dismissed this demand as well saying, the Food and Civil Supplies Department has not received any files on this.
Bureaucrat Jayadev Sarangi said, "There has been a lot of hue and cry about the doorstep delivery of ration, but no files related to this scheme has been received by the Food and Civil Supplies Department."
Saxena added that the situation in Delhi is turning out to be unique. She said, "Not everything is under our control but we do our job as per the Constitution."
On the other hand, Transport Commissioner, Varsha Joshi directly attacked the Kejriwal government saying she has been subjected to personal attacks by the Aam Aadmi Party (AAP).
She said, "Personal attacks have been made against me and its damaging my personal reputation. Official handle of party has put allegations against me it is damaging to me. I have been targeted by social media handles of a certain political party in an unfair manner."
Joshi added, "Please don't use us as a political tool. We are feeling frightened and victimized. We are clearing the files, but when we are sending them back to the concerned minister's office, the files are not received by them. Our recommendations are not considered. When all these matters were taken up in the court, I appeared and put forth my notes and the court accepted them. All of this has been documented."
AAP spokesperson Saurabh Bhardwaj, who was heading the protest rally in central Delhi slammed Joshi over her charges.
He said, "She has been constantly tweeting against the government, which the code of conduct doesn't allow her to do."
Speaking on the alleged assault on Delhi Chief Secretary Anshu Prakash, the group of IAS officers said, "We are scared and shocked if such a thing can happen to the top bureaucrat then it can happen to any of us and we are scared. We observe a silent protest of 5 minutes every day during lunch hour."
They IAS Association clarified that they will continue to protest for 5 minutes every day.
| Edited by: Sanchari Chatterjee
Read full article
Countdown To
Elections Results
To Assembly Elections 2018 Results