IBNLive Chat: 'There is no price tag on safety of children'
Sanjay Luthra is the Managing Director of Mattel Toys India (P) Ltd.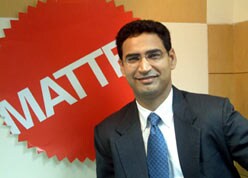 Sanjay Luthra is the Managing Director of Mattel Toys India (P) Ltd.
How safe are those fancy, expensive, glitzy toys children in your household play with? Sanjay Luthra is the Managing Director of Mattel Toys India (P) Ltd, a subsidiary of Mattel Inc, Mattel Toys is a worldwide leader in the design answered on IBNlive chat your queries on toxic toys and its effect on children.
Here is the complete transcript
John:Is there any standard for toy in India? if so what are they.
Sanjay Luthra: In India, there are BIS (Bureau of Indian Stds) norms which are comparable to the best in the world, that is ASTM and EN71 norms of USA and Europe. However, adherence to these norms in India are not mandatory.
Dr Akshat: I had bought two toys of the same categories which are at risk. But in India no body is bothered the dealer in GK II says talk to company. And no body repeat nobody gets a receipt for toys in India so where do i replace them.
Sanjay Luthra: Dear Dr Akshat, we'd request you to please email us on service.india@mattel.com right away. You will immediately hear back from us. Do not worry about not having a receipt.
kilash Swain: how could I choose toys that which are toxic and which not?
Sanjay Luthra: While buying toys at retail, it is impossible to check toxicity of any toy unless the toy is tested in a lab. However we would request that you buy a branded toy, or a toy which clearly mentions two details on the packaging: 1) The complete details of the manufacturer of the toy 2) the complete details of the importer / marketer in India. These details are a must to track back a toy to the appropriate player in case of any issues.
Shalivahan: in America all the toys have been withdrawn from the market. Why this has not been done in india.2) Which toys are safe for the children to play
Sanjay Luthra: All the products which are impacted by Mattel's global recall and are marketed in India have been voluntarily recalled in India too. Please rest assured, being a 100 per cent subsidiary of Mattel Inc, we in India are following all similar guidelines as that of US in this recall. For specific details on the product which are impacted in India, please head over to: service.mattel.com/intl.asp, and look for the pages for India.
Abhijeet: Hi Mr Luthra, DO you have any kids? which toys do they play with?
Sanjay Luthra: Yes, Abhijeet, I have an 8-year old son, and my reaction on hearing about the recall was very similar to that of any concerned parent. I also went and checked his toy basket and removed the Batman toy, which was impacted. As a parent, let me assure you that we have taken this call of pulling back specific toys from the market because we feel there is no price tag on the safety of children. My son plays largely with Hot Wheels, Batman, Superman and Scrabble. His latest interest is Sudoku.
Nagarajan: Why company like yours or any other take preventive steps to maintain safety standards? Why you all have to come a stage for government intervention and forced withdrawal. After all it may also affect your own children or that of your employees children
Sanjay Luthra: Firstly, we'd like to clarify that the combined impact of all three recalls in India is of 9300 pcs of five toys. In India, as per our rough estimates, 8 crore toys are sold by the un-organised sector, which may be potentially unsafe. Mattel's recall in India and globally is completely voluntary. As mentioned already, there are toy safety norms in India comparable to the best in the world, however these are not mandatory. Yes, I completely agree with you that the recalled toys would impact our children too. I'd like to mention that we have been in the toy business for the last 75 years, and we have earned the faith of the parents during that time. Out of millions of toys, which we sell in India, we are recalling these 9300 pcs back to build that confidence back.
Balaji: Even though Government of India haven't defined Safety standards on moral grounds do your company defined a set of safety standards for the toys in India? If we (consumers) are ready to pay the additional money for the toys will be current safety standards defined to Mattel toys be increased to be in level with European or American standards. Basically its all about children whether it is American or European or Indian
PAGE_BREAK
Sanjay Luthra: Hi Balaji, as explained earlier, there are safety norms enumerated by the BIS in India, but these are not mandatory. The Global Manufacturing Principles followed by Mattel benchmark against the ASTM (American) and EN71 (Europe) standards, which are two of the foremost norms in this respect globally. Mattel in India sells millions of toys but these 9300 pcs did not pass subsequent stringent testing and are hence being recalled. This also implies that Mattel Toys go through the strictest quality norms and hence would be safe to purchase.
Ankur Agarwal:Hi Sanjay, Do you see this recall of Chinese toys an an opportunity for Indian manufacturers?
Sanjay Luthra: Hi Ankur, We have manufactured fun and safe toys successfully in China for more than 20 years. This issue is not about China. Companies make products, not countries. In our investigation, we discovered a few subcontractors that have made bad decisions. If they had followed our procedures, this would not have happened. We do agree that Mattel has the ultimate responsibility for the safety of its products and we have strengthened our controls accordingly.
Shashank: Is it safe for me to buy Barbie for my daughter? I don't want any Chinese made Barbies is it possible to get a doll which is made somewhere else?
Sanjay Luthra: Hi Shashank, We want to clarify that Barbie dolls are not impacted by the recall in India hence they are absolutely safe to buy. Virtually all Barbie dolls are made in Mattel-owned manufacturing facilities and hence are absolutely safe.
Harish: Which toys are safe for kids to play with
Sanjay Luthra: Dear Harish, We have frequently been asked this very question. Just want to re-iterate this briefly: there is no real direct way of ensuring that any toy on the shelf is safe, other than actually testing it in a lab. However, the presence of a manufacturers and importer / marketer name on the pack would be some assurance that, in case of any issues, you have a trail to get back to. For you and for any other reader who have any queries, we'd request please do write to us at: service.india@mattel.com
John: Hi Sanjay, How safe are the walker especially the ones where you could make baby sit?
Sanjay Luthra: Hi John, No Fisher-Price walker sold in India is impacted by the recall. In case you wish further details, please write in to service.india@mattel.com.
Sukumar Balakrishnan: what is the potential market about toys ?
Sanjay Luthra: As per our estimates, the total toy market is around Rs. 1000 Crore. Of this, roughly 75% is un-organised. At an average purchase of Rs. 100, that implies that close to 7.5 Crore toys are sold every year through the un-organised sector.
Mohanalin: what parameters should one check when it comes to buy a childs toy. i expect the answer in layman's view lee
Sanjay Luthra: Hi Mohan Here's a handy check-list: 1. MRP label 2. Details of Manufacturer / Importer (with address) 3. Age Grading 4. Choking Hazards if any 5. "Not suitable for " warning 6. Compliance with ASTM / EN norms: clearly mentioned on the pack
Sonia: While buying a toy for a child what necessary care should be taken
Sanjay Luthra: Due to paucity of time, we are unable to field any more questions. In case you or anyone else logged into the chat wish to understand any more details than the ones already provided, please do write in to us at: service.india@mattel.com and we'd be happy to answer.
Get the best of News18 delivered to your inbox - subscribe to News18 Daybreak. Follow News18.com on Twitter, Instagram, Facebook, Telegram, TikTok and on YouTube, and stay in the know with what's happening in the world around you – in real time.
Read full article