INDIA
'I'd Rather Die Than Not Come': Lakhs of Dalits Throng Bhima Koregaon After Last Year's Violence
If 2019's gathering here is an indication, then last year's clashes have only invigorated Dalits from across India to claim their history with more enthusiasm, pride and passion.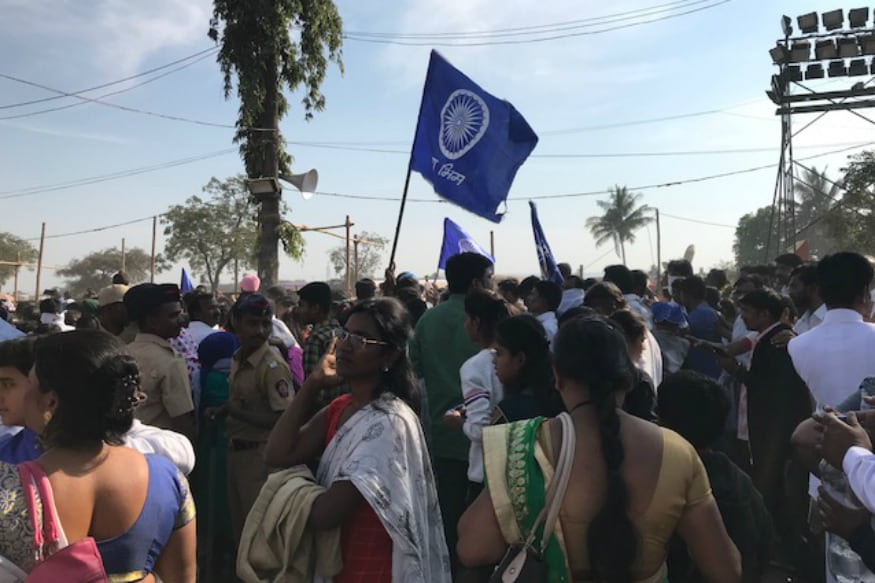 The massive turn out at the 201st celebration of the battle of Koregaon this year indicates that the Dalits refuse to back down for the fear of violence.
Bhima Koregaon: "I was afraid to come here this year. But I'd rather die than not come," said Prabhu Paikrao, 50, as he waited in the crowd for his turn to salute the Vijay Stambh (Victory Pillar) at Bhima Koregaon in Pune.
Paikrao vividly remembers last year's celebrations and the subsequent clashes. "My spectacles broke when people threw stones at us. A vehicle almost ran me over. Later that night, my family drove home in fear, taking cover under the seats of the bus," said Paikrao. He also claimed he was beaten up by policemen during last year's clashes.
"But all that is last year's story. This year, everything is great and everyone is happy," added Paikrao.
As the first dawn of 2019 broke, people flocked to Bhima Koregaon to celebrate the history of Dalit bravery in the battle of Koregaon. Vehicles with fluttering blue flags plied in huge numbers on the Mumbai-Pune Expressway. They were coming from various parts of the country. Many people had camped at Bhima Koregaon the night before the celebrations and many others travelled all night to reach this small village in Pune on January 1, 2019.
Day of Dalit Pride
Last year's celebration of Bhima Koregaon victory brought an unprecedented loss for many Dalits in the region as their houses and properties were torched. Thousands of Dalit youths were 'unlawfully' detained after the clashes. Many were assaulted. But if 2019's gathering here is an indication, those clashes have only invigorated Dalits from across India to claim their history with more enthusiasm, pride and passion.
During the celebration at Bhima Koregaon, young girls dressed in neat white salwar-kameez bargained for necklaces with Ambedkar and Buddha lockets. A man dressed in his best clothes, a black suit, bought books on Baba Saheb from a stall, rows of Buddha statues sat peacefully on make-shift stalls.
Families sat in circles to eat together, while Buddhist monks gathered under a tree as the crowd in front of the Vijay Stambh grew larger by the hour, stirring up a dust storm with the sheer force of their footfalls. Slogans of 'Jai Bhim' roared into the clear blue sky, as people waved the blue flags.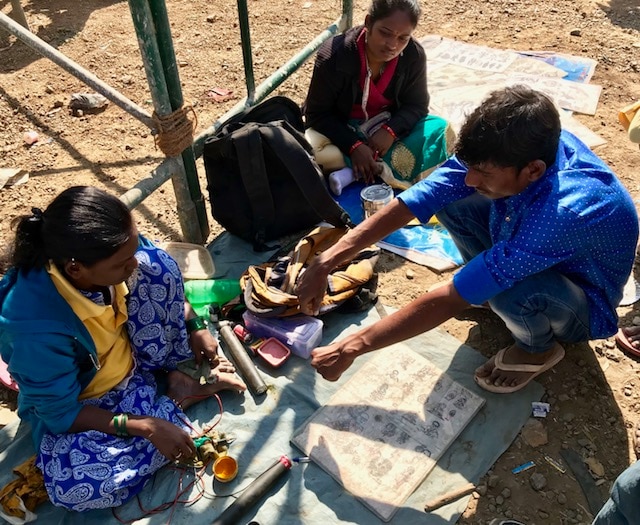 The massive turn out at the 201st celebration of the battle of Koregaon this year indicates that the Dalits refuse to back down for the fear of violence. Almost 8 to 10 lakh people had gathered at the celebration.
People posed for selfies in front of the Vijay Stambh. Musicians from afar came to sing Bhima Buddha tunes. A blind singer and composer, Dutta Bhalerao, 45, said that he comes to this celebration with his orchestra every year to play for the people.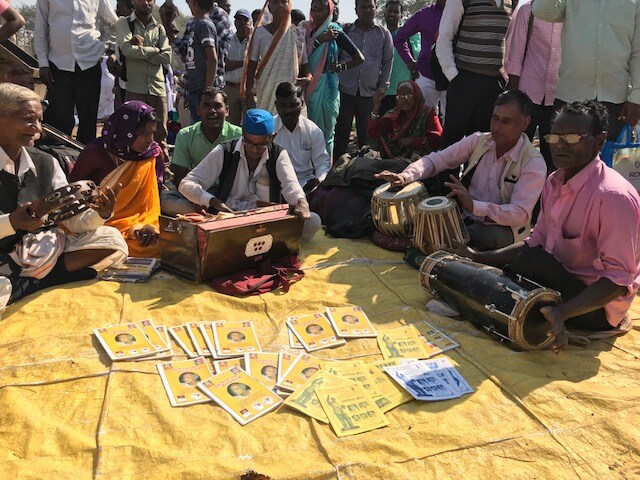 A tattoo artist, Sangeeta Pawar, 35, sat next to a bamboo scaffolding with a template sheet for tattoos of Baba Saheb Ambedkar's face profiles and Buddha figures. Etching a tattoo on a man's hand she said, "This year's arrangements are so much better than last year's."
Nirmala Bai, a flower seller from Nagpur said her business has been better than previous years'. "Baba (Ambedkar) has made all arrangements. Baba knows I am poor," she said with a beaming smile.
For many, last year's violence was all the more reason to attend the celebration this year. Dwarkabai Rao, 70, cannot remember the last time she visited Bhima Koregaon. "It must have been ages ago," she said. "But when I heard about the clashes last year, I resolved to visit this place. I got my eye surgery done so that I can come here and see the Vijay Stambh once again," added Rao. "It was a good decision," she said, turning back to take another look at the victory pillar.
Similarly, 80-year-old Rukmaji Vagmare, finally came for 'the pilgrimage' to Bhima Koregaon. His son, Janardan Vagmare has been frequent to the commemoration day, but Vagmare is on his maiden visit. "I come here to listen to the speeches and salute the stambh. It gives me encouragement," said Janardan Vagmare.
Probe that Raised Questions
This year, however, the speeches have been dialled down. The podiums have been built away from the Vijay Stambh, where the main crowd usually gathers during the day.
The case of violence of Bhima Koregaon and the subsequent protests of last year took a strange turn when Pune police (urban) cited an event held on December 31, 2017 (the night before the clashes) organised by Elgar Parishad as the reason for the violence. They alleged a Maoist link behind the caste clashes. Many Dalits who attended last year's celebration have repeatedly said that the Hindutva forces were responsible for the violence. Videos from last year showed men waving saffron flags and wearing saffron shirts indulging in violence.
Initially, the Pune police (rural) too had named two right-wing leaders, Sambhaji Bhide and Milind Ekbote. But the investigation could not go much further. Ekbote was arrested and immediately bailed out. Only Bhide has been questioned so far. On the other hand, Pune police (urban) has proactively built cases against the Elgar Parishad, and many activists, lawyers and social workers.
Since June 2018, several lawyers, poets, professors and activists have been accused of 'Maoist links', including Sudhir Dhavale, Surendra Gadling Rona Wilson, Mahesh Raut and Shoma Sen. Sudha Bharadwaj, Arun Fereira, Varavara Rao, Gautam Navlakha, Vernon Gonsalves were taken into custody in August for inciting violence at Bhima Koregaon. The police filed a 5,600 pages long charge sheet naming several activists in November 2018 that not only alleged that the caste clashes had Maoist links but also referred to a larger conspiracy against the state and the Prime Minister.
The activists have been accused of making 'hate speeches and distributing propaganda pamphlets before the Bhima Koregaon clashes'. The police presented call records, several pamphlets and also recorded statements of policemen and other people involved in the 'organisation of Elgar Parishad' as proof of the activists' involvement in the violent clashes.
Reports, however, claim that there was no reference to Maoist links in the pamphlets; they only carried 'anti-BJP and anti-RSS materials'. Also, two judges, Justice PB Sawant and Justice Kolse Patil have said that they are the organisers of Elgar Parishad and the event had no Maoist links or any involvement in Bhima Koregaon violence.
But according to the lawyers of the activists, their records haven't been taken by police yet.
Friendly Cops
The police investigation in the Bhima Koregaon violence has been widely criticised for muzzling free speech and their inaction against Ekbote and Bhide. But this year the policemen were big crowd-pleasers at the gathering of Bhima Koregaon.
They helped control the massive crowd and ensured hurdle-free parking for the vehicles. Arrangements were also made for buses that took the visitors to the Vijay Stambh.
Cops were seen going out of the way to help senior citizens and reuniting families separated in the crowd. They offered water bottles to children who were fatigued in the sun. At least 5,000 policemen, 1,200 Home Guards and 12 companies of the RAF (Rapid Action Force), as well as 200 volunteers, were deployed to ensure peaceful celebrations this year.
Internet was snapped in the village for the entire day and 500 CCTV cameras, and 40 video cameras kept a vigil at the crowd. Drone cameras were also used to survey the area. Several members of the right-wing groups were banned from visiting Bhima -Koregaon.
Legacy of Baba Saheb
The Dalit warriors who helped the British army win the Koregaon battle against the Peshwas are remembered every year at Bhima-Koregaon, but the guiding force of every Dalit heart is Baba Saheb Ambedkar.
Appa Saheb Banjare, 40, has been a regular at these celebrations for twenty years. "This place inspires me. My grandfather was Baba Saheb's bodyguard and used to visit this site with him. Baba Saheb has been inspiring us for generations," said Banjare, who brings his children to this place to make them aware of the history. The efforts of such parents were visible as children there narrated the events of the Koregaon Battle with such passion as if they had witnessed the battle themselves.
Sonmanth, 35, had come with his daughter who was born after last year's clashes. "I thought it is as good time to introduce her to the history and to bring her here so that she can offer her first salute to the Vijay Stambh. I want her to know the rich legacy that Baba Saheb has left us," he said.
Support the daily wage earners who have been hit the hardest by the COVID-19 crisis. Click here to contribute to the cause. #IndiaGives
The daily News18 Coronavirus COVID-19 newsletter - Get your copy here.
Subscribe to News18 Daybreak. Follow us on Twitter, Instagram, Facebook, Telegram, TikTok and on YouTube
| Edited by: Sana Fazili
Read full article