'Illegal Migrants' Not Bangladeshis, Bangla Minister Says It's 'India's Problem, Not Ours'
Speaking to CNN-News18, a Bangladeshi minister has just clarified that the lakhs who stare at being declared "illegal migrants" are not Bangladeshi nationals, so there is no question of taking them back.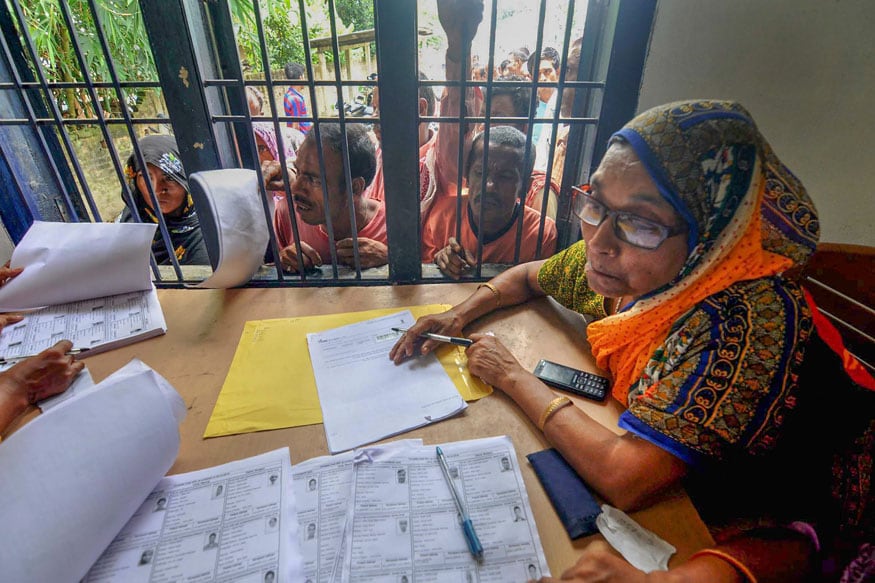 People wait in a queue to check their names on the final draft of National Register of Citizens at an NRC Seva Kendra in Morigaon, Assam. (PTI Photo)
New Delhi: When the final list of the National Register of Citizens (NRC) is published in December and when those missing from the list would have exhausted all their legal options, there could be a big crisis at hand not just for these non-citizens, but also the Government of India. Where would these many people go?
Speaking to CNN-News18, a Bangladeshi minister has just clarified that the lakhs who stare at being declared "illegal migrants", are not Bangladeshi nationals even though the whole effort of NRC is to eliminate all illegal Bangladeshi migrants.
As an intense political debate dominates the discourse in India over the National Register for Citizens in Assam, the fates of the 40 lakh people, who do not find a mention in the final draft, hang in the balance.
While the allegation is that these individuals are Bangladeshi nationals and must go back, Bangladesh has just refused to accommodate the huge population.
Speaking exclusively to CNN-News18, Bangladesh Information Minister Hasanul-Haque Inu said, "This is an internal issue for Assam and India, Bangladesh has nothing to do with it."
Calling it India's internal matter, Inu said that there is no reason for Bangladesh to respond because of two reasons: First, the Government of India has not had any official communication with Bangladesh and secondly, these 40 lakh people are not Bangladeshis. The minister further voiced his opinion that the 40 lakh people probably belonged to neighbouring states of Assam.
The Bangladesh government admitted that during the 1971 Liberation War, there was large-scale migration from the country to India under a mutual agreement between the countries.
Inu claimed that since 1971, all those who had crossed over to India have been repatriated and rehabilitated in Bangladesh.
He further added said that the Bangladesh economy was growing and it was a much stronger country so the need for its citizens to migrate to India does not arise anymore.
According to the Bangladeshi minister, there has been no other reports of migration since 1971, so allegations of several lakhs of "illegal Bangladeshi migrants" living in Assam were "baseless and inaccurate".
The Bangladeshi government's statement is likely to invite further political ramifications in India as it is bound to give further ammunition to the opposition that is already targeting the BJP-led government over a "faulty" implementation of the NRC project.
This would also put the BJP governments both in the state and Centre in a tough spot when they would eventually be confronted with the reality of dealing with the non-citizens once they are eliminated of the NRC. The BJP, in its first official reaction to Bangladesh's stand, said that the neighbour can adopt whatever position they want, but these non-citizens would remain Bangladeshi citizens and will have to go back.
Get the best of News18 delivered to your inbox - subscribe to News18 Daybreak. Follow News18.com on Twitter, Instagram, Facebook, Telegram, TikTok and on YouTube, and stay in the know with what's happening in the world around you – in real time.
| Edited by: Sanchari Chatterjee
Read full article