Assembly Elections 2019
Exit Poll Results
In Kashmir, a Singular 'Iron-Glove' Approach Won't Help
The Army in Kashmir has faced numerous challenges in the almost three-decade long insurgency but what they are encountering today is perhaps among the most demanding.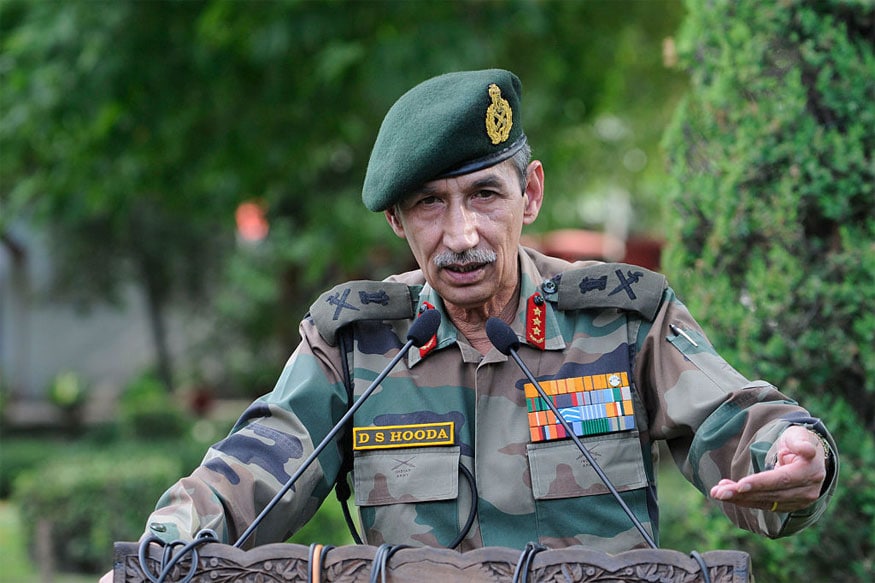 File photo of Lt Gen (Retd) DS Hooda.
General Rupert Smith, in his book
The Utility of Force: The Art of War in the Modern World
, argues that in future conflicts the military will fight 'amongst the people, not on the battlefield'. These are the exact scenes that are playing out in the Kashmir valley today.
Stone-pelting crowds surround security forces, even as the latter are engaged in operations to neutralise active terrorists. There are injuries on both sides and some deaths, as happened at Chadoora. Massive funeral processions and provocative statements by separatists fuel anger and a continuing cycle of violence. The security forces are also not immune to frustration and anger. They have the right to defend themselves and their comrades from violent mobs and if guns have to be fired, so be it.
The Army in Kashmir has faced numerous challenges in the almost three-decade long insurgency but what they are encountering today is perhaps among the most demanding.
Frankly, there are no easy solutions but, in my view, a search for answers to two questions could help mitigate the difficult situation being faced by our soldiers and policemen. The first question is how to deal with the crowds. Robust Standard Operating Procedures have to be put in place in which the Army, CRPF and police work in coordination to keep civilians away from the place where operations are underway. These procedures are already in place but any shortfalls, based on the experiences gained, must be speedily overcome.
The district administration must declare prohibitory orders, roads to the encounter site blocked, and local mobile communications snapped. Mobilisation of crowds is being done through mobile messages and any delay in this mobilisation would be of immense help in completing the operation.
The Army could also review its pattern of counter-terrorist operations in a semi-urban setting. Encounters last for hours, sometimes days. Breaking news flashes on media channels and crowds swell. I know this is a tricky predicament for the commander as any attempt to hasten the operation could lead to army casualties. Better equipment will provide more alternatives. Full-body armour and ballistic helmets for self-protection backed up by drones, through-wall radars and microphones, and surveillance robots would provide confidence to soldiers and a much better understanding of the target profile. Some of this equipment is available but not in sufficient numbers.
Finding answers to the second question is more important: why are the crowds gathering at encounter sites. There is a definite group of overground workers who are paid to instigate and mobilise the youth.
These people need to be identified and dealt with in the harshest manner. This includes the separatists. However, it would be too simplistic to pass off everyone in the crowd as a paid stone-pelter and inspired only by money. A sixth standard student losing one eye cannot be explained away by his being paid Rs 4,000 a month. This is a generation of youth which has grown up in conflict and is increasingly being radicalised. Social and cultural values have been impacted and frustration is clearly visible. This is now spilling out on the streets.
ALSO READ |
Those Rushing to Encounter Sites are Committing Suicide: J&K Top Cop
The answer to the second question clearly lies in government actions. Sympathetic communication and youth engagement is the key. Some programmes for the youth are already in place but delivery must be strengthened. Return of locals who have picked up the gun to the mainstream should be encouraged. This will require an innovative rehabilitation scheme. In internal conflicts, impressions play a strong role and the state must be seen as concerned and caring. I think a singular 'iron glove' approach will not help. The security forces are in a difficult position – damned if you do and damned if you don't. Politics must step up to support the soldiers.
(The author is former Northern Commander, Indian Army, under whose leadership India carried out surgical strikes against Pakistan in 2016. Views are personal.)
| Edited by: Nitya Thirumalai
Read full article
Countdown To
Elections Results
To Assembly Elections 2018 Results