We Gained Trust in Manipur Over Time, Says Army; Civil Society Feels Forces Still Invoke Fear
A good percentage of people have been found to trust the military, but many remain skeptical. In an attempt to bring peace and spread awareness, there are daily challenges to overcome.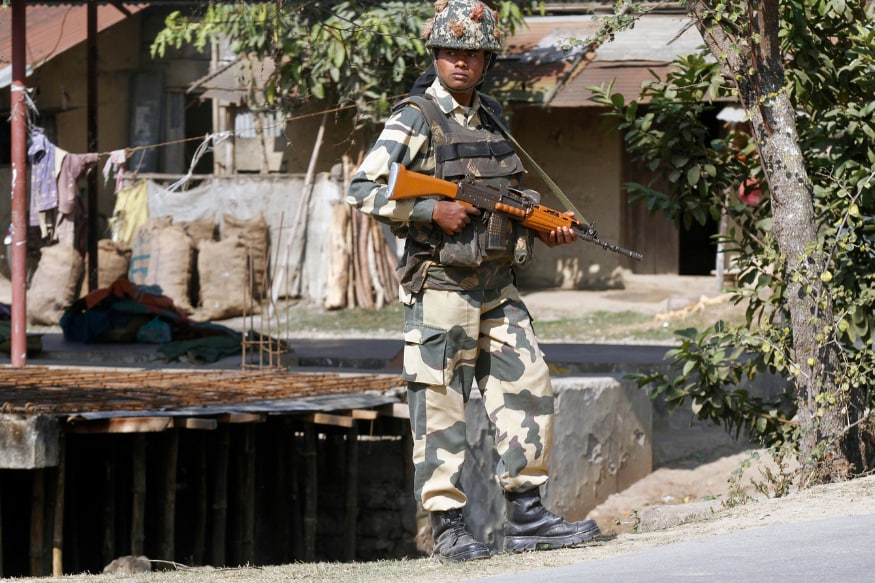 A member of the security forces stands guard along a roadside at Naranseina Bazar in Imphal. (Reuters)
The biggest challenge for the Army was to get accepted in Manipur, and efforts are on to build confidence and strengthen their relationship with the local population. A good percent of people have been found to trust the military, but many still remain sceptical.
Building Trust
People's perception of the Army in Manipur has changed over a period of time, says Congress MLA from Khangabok, Surjakumar Okram.
"The environment is changing. People are starting to believe in the armed forces being friendlier that what it was 10 years ago. Before, whenever an Army convoy would pass by a village or town, people would get scared and run away – it was because of certain elements. Things are improving now," believes Okram.
Even as the Army continues in its efforts to improve trust, there are daily challenges to overcome.
"It's a big change – 10-15 years ago, it was difficult to gain their trust. It's about building good relationships with the communities, the families. It has been a series of efforts, and we have more plans ahead to connect villages, help more people," says Major General VK Mishra, General Officer Commanding of 57 Mountain Division.
The Indian Army along with Assam Rifles and Manipur Police commandos have been accused of over 1,528 fake encounter killings in the state. But the last of those cases dates back to 2012. In the last 6 years both the valley and the hills have seen relative calm. But human rights activist and Peoples' Resurgence and Justice Alliance (PRJA) convenor, Erendro Leichombam, feels that the Army still commands fear from the general public.
"Why is that the Army still views people as 'guilty until proven innocent' by continuing with the undemocratic instrument AFSPA? The question one should ask rather: has the Army's faith on the people improved over time?" asks Erendro.
On the other hand, the Kuki and Naga villagers living within the 10km borderland feel that there is better security and stability with the presence of security forces.
"We are thankful to the Army personnel here—had they not been in our area, UGs would have had their establishment here. We have been greatly benefited by the military civic action programmes, like provision of solar street lights and construction of public toilets. The Army and Assam Rifles step forward whenever we need medical attention, says T Haokip, village chief of Tolbung in Chandel district.
Haokip, however, lamented the apathy of the government to their plight, and appealed for the inclusion of villages beyond the 10km stretch under the Border Area Development Programme (BADP) scheme.
"The villages here lack basic facilities of drinking water, good roads – we have one bank here that is not functioning properly. The government has not shown enough concern."
AFSPA, a 'Pre-Requisite'?
Manipur Chief Minister N Biren Singh recently said that it is time to review the Armed Forces Special Powers Act (AFSPA) in view of the improving law and order situation, but that it should be done in context of the 398km geographical boundary that the state shares with Myanmar.
"The law and order situation in Manipur has greatly improved. In view of that, I think it's time to review the AFSPA, but with due consideration to national security. We have to see the attitude of the neighbouring country (Myanmar) as some of the armed underground groups are taking shelter there."
The CM added that the government is interested in talks with Coordination Committee (CorCom) to find a political solution to the conflict. Formed in July 2011, CorCom is a conglomerate of six Valley-based militant outfits currently—the Kangleipak Communist Party (KCP), Kanglei Yawol Kanna Lup (KYKL), People's Revolutionary Party of Kangleipak (PREPAK), its Progressive faction (PREPAK-Pro), Revolutionary People's Front (RPF)—the political wing of the People's Liberation Army- PLA), and the United National Liberation Front (UNLF).
Drawing a comparison with the need to remove AFSPA in Tripura after 18 years, Major General Mishra said that same is not the case with Manipur.
"AFSPA is a pre-requisite in Manipur. There are a number of insurgent groups which were active here. We have been able to control them, and most of their activities have been contained. But the insurgents still attempt to disrupt peace, which is evident by the number of recoveries and the operational data we have. There are 358 apprehensions every year, any they come out on bail after some time."
Human Rights activist Babloo Loitongbam says, "I agree with the Chief Minister that AFSPA be reviewed. If the Army feels the need for AFSPA, and there are certain conditions to fall upon, it should be vis-à-vis human rights and strict adherence to it."
AFSPA is in force in the entire state since 1980 except Imphal. On August 12, 2004, the then Congress government led by Chief Minister Okram Ibobi Singh announced that AFSPA has been withdrawn from seven Assembly constituencies in and around Imphal.
The state police, the paramilitary forces, including Assam Rifles, the Central Reserve Police Force (CRPF) and the Border Security Force (BSF),L are also authorized to 'exercise the special powers' under AFSPA.
Fighting Insurgency on Ground
Despite efforts by different insurgent groups with varied ideologies to resurface and disrupt peace, the security forces deployed in Manipur have been successful in reducing the number of attacks. They have been able to understand the operational and tactical objectives of the various militant outfits active in the state.
Considering Manipur's population density and distribution of area, the rugged terrain, and the attempt by militants to carry out attacks almost every month, regular operations are being carried out – search operations, raids and arrests backed by intelligence take place in various districts and along the Indo-Myanmar border.
There have been 17 IED blasts so far this year, and 30 IEDs were recovered. According to official reports, there were 44 explosions last year and 29 IEDs were recovered. Till the time of filing this report, a grenade explosion took place on November 3 in Imphal West district.
According to Army Chief General Bipin Rawat, Manipur assumes greater significance as part of the government's Act East policy. Amidst security apprehensions along the highways, the state government announced that road construction work along Imphal-Mao sector of National Highway 2 that connects Manipur with Nagaland and Assam will be completed before 2020. Chief Minister N Biren Singh has also ensured completion of the trilateral highway project linking Thailand, Myanmar and India by 2020.
Often, the supply trucks and oil tankers moving along the highway are escorted to Imphal city by CRPF personnel. For administrative movements of Indian Army through sensitive districts, road stretches are sanitized by Road Opening Parties (ROP) to ensure military movement.
The border town of Moreh in Tengnoupal district is Manipur's economic corridor, and some underground groups still try to gain control over the area. India and Myanmar have a Free Movement Regime (FMR) that allows people living along the border to travel 16km into each other's territory without visa.
The 1,624km long Indo-Myanmar border remains a viable option for smugglers, traffickers and also insurgents. The incomplete fencing and the artificial boundary line that passes through the different tribal villages on either side has seen assimilation of citizens of both countries. It has been easy for people to cross over, and they have been doing so since ages. The unhindered movement has escalated cross-border smuggling with security forces recovering huge consignments of drugs, gold, wildlife products and timber on a regular basis, mostly from Tengnoupal district.
In 2018, contraband drugs worth Rs 66.85 crore and gold worth Rs 23.67 have been recovered till date.
Bertil Lintner, journalist, writer and longtime Myanmar observer, feels that the threat of cross-border infiltration remains a bigger challenge for Manipur as the rebel camps in Myanmar are located much farther to the north of Moreh and Tamu. Reports suggest that militant camps also exist on southern Myanmar side of the thickly forested border, and the country continues to provide safe haven to the insurgent groups.
"The road from Tamu to Monywa and Mandalay is safe. The insurgent camps are located north and northwest of Singkaling Hkamti. It's worse in the Manipur side of the border, as too many groups are extorting money from the traders."
Manipur CM N Biren Singh believes that there has been no major attack under the current government, except for a few stray incidents. "Since past one and half year, there is no insurgency in the state. People are realizing the fact that insurgency rarely wins, and it can never be a solution to their problems. So, they are supporting the government's progress towards economy."​
Read full article