In prison Lord Hanuman, Beckham 'inspired' Dutt
Dutt spent his days reading Hanuman Chalisa in prison.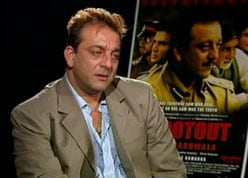 Dutt spent his days reading Hanuman Chalisa in prison.
New Delhi: Sources close to Sanjay Dutt have revealed that apart from doing prison work at Pune's Yerwada jail, the actor spent a considerable amount of time reading the sacred Hindu text Hanuman Chalisa.
The night he read the sacred book 101 times and slept, the next morning he woke up to see a monkey on a nearby tree. The same day he heard the news of his release by the Supreme Court, reported UNI.
When Dutt saw the monkey, he reportedly mentioned it to his friend and co-convict Yusuf Nullwala and snd at that moment, both agreed that ''something good was going to happen.''
Three days later, Dutt's lawyers were able to convince the court that it was indeed unjust to be given a six-year jail term without being told why.
Sources also revealed that Dutt was 'inspired' by English footballer David Beckham and asked the prison barber to give him a similar look.
And on the day the actor walked out of prison, Dutt, who won over millions of more fans for adopting Gandhigiri in last year's film Lage Raho Munnabhai, visited the place in jail where Mahatma Gandhi spent his days before independence.
Get the best of News18 delivered to your inbox - subscribe to News18 Daybreak. Follow News18.com on Twitter, Instagram, Facebook, Telegram, TikTok and on YouTube, and stay in the know with what's happening in the world around you – in real time.
Read full article