GET Stock

Quotes


In Siddaramaiah versus Modi Fight, Backroom Boys Play Key Role
While most of the Congress and BJP top leaders from New Delhi stay at the state-run Kumara Krupa guesthouse, their grass-root level workers and local leaders operate out of the same building and bumping into each other is not uncommon. There are even instances of local BJP leaders straying into Congress meetings and their leaders' rooms.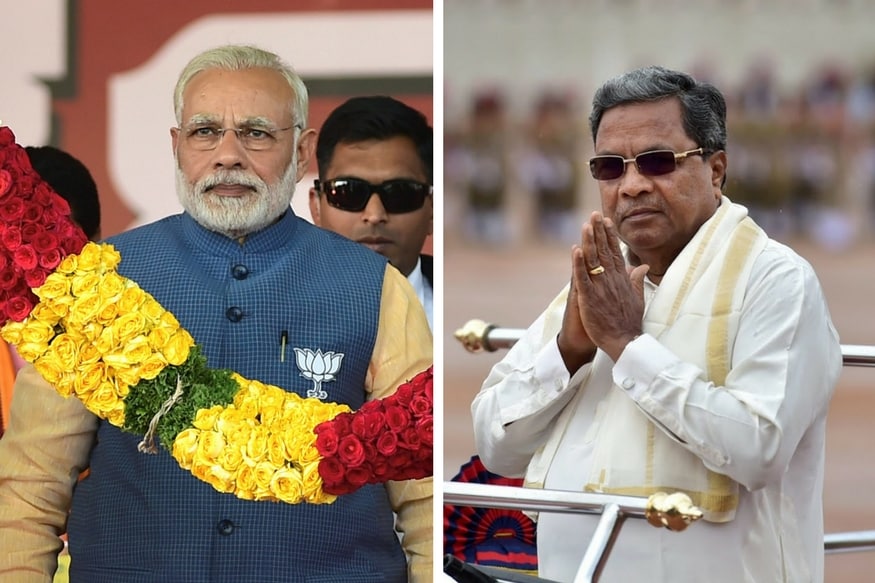 File image of Narendra Modi and Siddaramaiah
Bengaluru:
A few days ago, Karnataka food and civil supplies minister U T Khader had gone to the impressive Kumara Krupa state guest house next to Chief Minister Siddaramaiah's house "Cauvery" to meet state Congress in charge K C Venugopal. After the security ushered him in, Khader got a rude shock. Because he was taken to BJP national president Amit Shah's room! Venugopal was staying in the next room and had gone out for his morning walk. An embarrassed Khader almost ran towards the main gate to escape from the media waiting outside.
The ruling Congress and the main opposition BJP may be at each other's throat to win the Karnataka Assembly polls, but most of their top leaders from New Delhi stay at the same state run Kumara Krupa guesthouse facing the beautiful British era Bangalore Golf Course.
There are even instances of local BJP leaders straying into Congress meetings and their leaders' rooms. Most of the 'backroom' boys of both the parties operate out of the same building and such "transgressions" are not uncommon.
The main fight may be between Chief Minister Siddaramaiah and Prime Minister Narendra Modi, but many of their backroom warriors are also fighting their own battles.
Kerala MP and AICC general secretary Venugopal has turned one of the suites at the guesthouse into his war room and holds many important meetings there. Congress president Rahul Gandhi has deputed four AICC secretaries to assist him. Interestingly, all four are from the south. That too one from each state!
Former Congress MP from Telangana, Madhu Yaskhi Goud is the in charge of Bengaluru Division, Sailajanath from Andhra Pradesh is the in charge of Gulbarga Division, Manickam Tagore from Tamil Nadu is the in charge of Belgaum Division and Vishnunadhan from Kerala is the in charge of Mysore Division. They also stay at the same guesthouse whenever they are in Bengaluru.
Perhaps for the first time in the history of Karnataka Congress, the election preparations started a year ago under the leadership of Venugopal. After the "Goa fiasco" and serious complaints of favoritism against him, state in charge Digvijaya Singh was booted out by Rahul Gandhi and Venugopal was brought in to oversee the party affairs in Karnataka.
Unlike Digvijaya, Venugopal has endeared himself to party cadre and leaders. He meets all Congress workers and leaders regularly. Takes daily updates from the four secretaries working under him. A senior Congress leader from Bengaluru said that Venugopal was a tough taskmaster and it was not an easy job to fool him.
Less than a kilometre away from Vengugopal's room, CM Siddaramaiah also runs a small war room of his own. A well-known psephologist from New Delhi, Premchand Palety, has been with him for over a year updating the CM on latest trends from the ground.
Speaking to News18, Palety, who runs the poll survey agency C-Fore, said "As of now the Congress is in a comfortable position. The ruling party will win again. We have the data with us and anybody can audit it". He also claims that he had got the 2013 results bang on for Siddaramaiah. The official pre-poll survey done by him is likely to be released sometime in early March.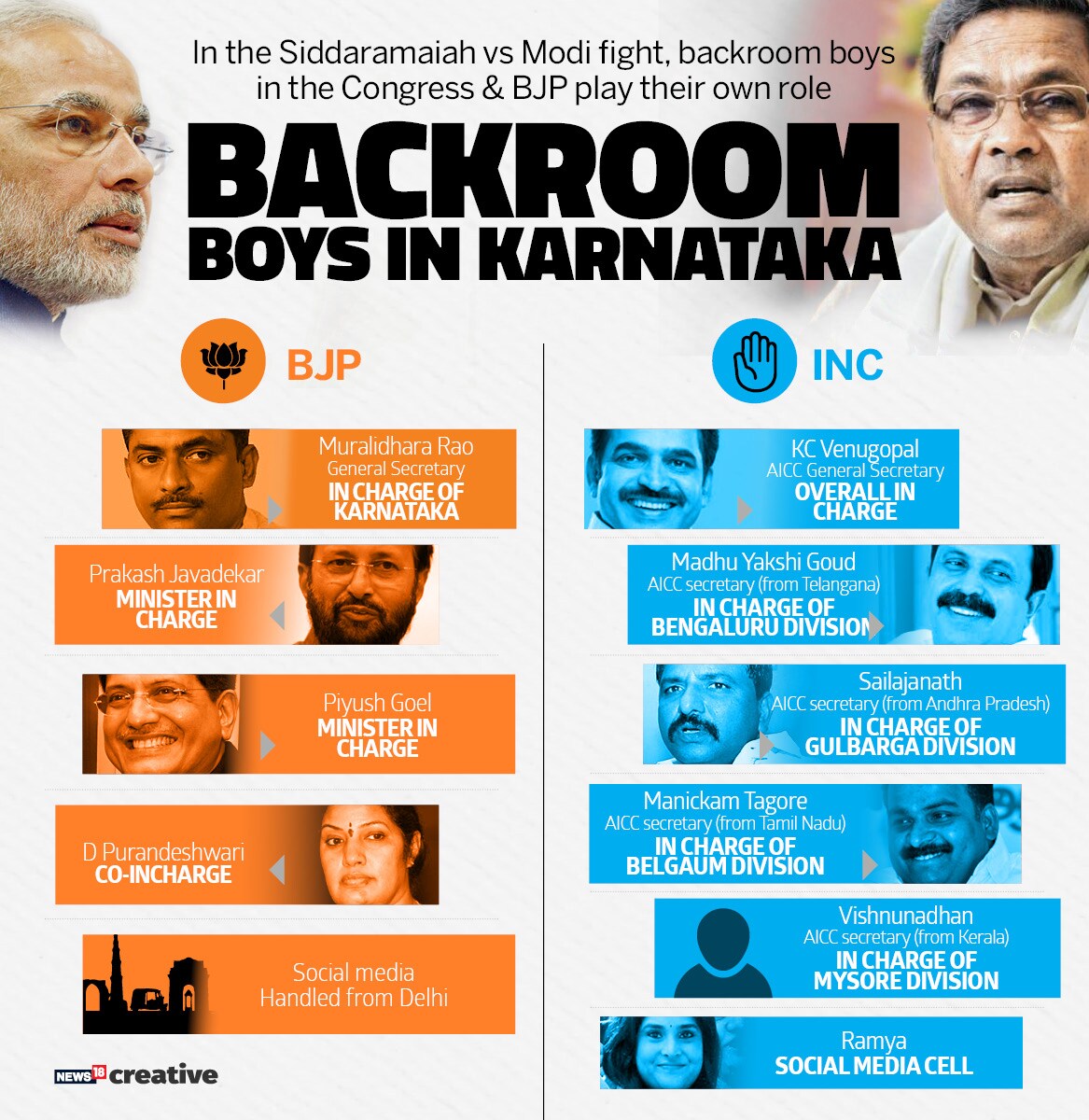 The Congress campaign committee chairman and power minister D K Shivakumar is also running a small election warroom which updates him about the trends.
The BJP election machinery in the state is run by two Union Cabinet ministers — Prakash Javadekar and Piyush Goel. The state BJP in charge and party's national general secretary Muralidhara Rao has now been relegated to third place and most of the major decisions are taken by Javadekar and Goel. Bhupendra Yadav, who successfully handled the Gujarat polls for Modi and Shah, is also likely to be sent to Karnataka closer to the polls. Former Union minister D Purandeshwari is co-in charge of the election campaign. Yeddyurappa is also running his own small election room which updates him regularly.
The powerful social media team of the BJP has already started working from Bengaluru. According to an insider, the state BJP is also facing financial problems and most of the state leaders expect only Yeddyurappa to spend the money on polls. Realising the seriousness of the situation the central leadership has come forward to help the state unit, claims a state leader.
Finally, the one who can spin the trends into actual results will emerge victorious.
Read full article