In 'SOS' to Kerala Governor, BJP MPs Seek Reinstatement of Peace at Sabarimala
Meanwhile, the Kerala unit of the Bharatiya Janata Party is set to intensify its Sabarimala agitation from Monday.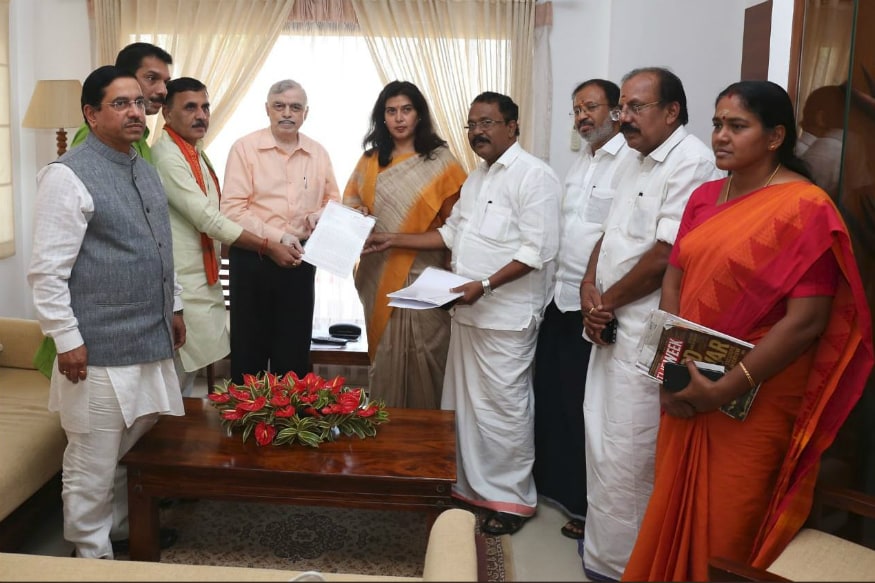 Delegation of BJP MPs with Governor P Sathasivam.
Thiruvananthapuram: A delegation of BJP lawmakers on Sunday met Kerala Governor P Sathasivam, seeking his "urgent intervention" to reinstate "peace and tranquility" at Sabarimala.
The delegation requested the governor to treat the matter as an "SOS" from them and sought "appropriate action", ANI reported.
Meanwhile, the Kerala unit of the Bharatiya Janata Party (BJP) is set to intensify its agitation at the Lord Ayyappa shrine from Monday.
BJP state president PS Sreedharan Pillai said its leaders would launch an indefinite hunger strike before the Secretariat to press for various demands, including the lifting of prohibitory orders and providing basic amenities to pilgrims in and around the temple.
The saffron party has decided to go ahead with the agitation despite Kerala High Court's order that no protests or demonstrations should be held at Sabarimala, holding that it was not a place for such activities.
Senior leader and state general secretary AN Radhakrishnan will kick-start the agitation, he told reporters in Kochi. "At present, we are planning a 15-day-stir," he said, adding that the party would decide on further course of the agitation after taking into consideration the CPI(M)-led LDF government's stand on their demands.
The Kerala government, on the other hand, is trying to garner support to implement the apex court's verdict even as the Congress, BJP and several right-wing groups are up in arms against it.
Chief Minister Pinarayi Vijayan has said that a "women's wall" would be formed on January 1 from the northern district of Kasargode to the state capital in order to support the state government's stand.
"The hash tag of the 'women wall' would be not to turn Kerala into a lunatic asylum. At today's meeting these organisations have pledged their support to the state government on the stand taken by us on the Sabarimala issue," said Vijayan, adding political parties can also send their women cadre.
State finance minister TM Thomas Isaac asked people to join their resistance and help build the 600 km long human wall.​
Get the best of News18 delivered to your inbox - subscribe to News18 Daybreak. Follow News18.com on Twitter, Instagram, Facebook, Telegram, TikTok and on YouTube, and stay in the know with what's happening in the world around you – in real time.
Read full article