India Follows UN Sanctions Not Those of Trump Govt: Sushma Reaches Out to Iran on Nuclear Deal
Iran Foreign Minister Javad Zarif will meet Swaraj on Monday in Tehran's efforts to reach out to major world powers after the US pulled out from the landmark nuclear deal of 2015.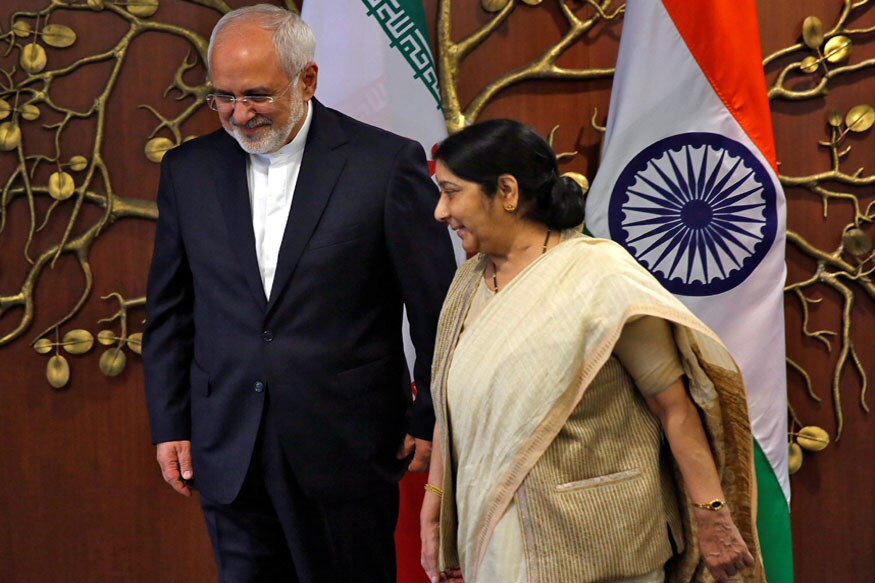 External affairs minister Sushma Swaraj meets her Iranian counterpart Mohammad Javad Zarif in New Delhi. (REUTERS)
New Delhi: External affairs minister Sushma Swaraj reached out to Iran on Monday, saying India abides by only United Nations sanctions and not those imposed by individual countries, in an apparent rebuff to the United States.
US President Donald Trump had earlier this month ruffled feathers with his announcement to withdraw from the Iran nuclear deal and ordered sanctions to be reimposed on Iran. Indian interests in the Iran nuclear deal revolve around the sanctions that would slow down the development of the Chabahar port once again. The port is India's gateway to landlocked Afghanistan and Central Asia. India is also wary of US sanctions affecting its oil imports from Iran, one of its closest sources.
Swaraj said that India's position on Iran will remain independent of any other country's decision. "India follows only UN sanctions and not unilateral sanctions by any country," she said while addressing a press conference at the completion of four years in power of the Narendra Modi-led government.
Her statement came hours before she held extensive talks with Iran's foreign minister Javad Zarif, who is in India to seek support for Iran's nuclear deal with six world powers in the wake of Washington's withdrawal from it.
After the meeting, a government official said India wants nations that are party to the 2015 Iran nuclear deal to engage constructively with Tehran after the withdrawal of the United States from the pact.
The statement said parties involved in the nuclear deal, known as the Joint Comprehensive Plan of Action, "should engage constructively for peaceful resolution of the issues that have arisen with respect to the agreement".
Zarif's day-long visit here is part of Tehran's efforts to reach out to major world powers after the US pulled out from the landmark nuclear deal of 2015 under which Tehran had agreed to stop its sensitive nuclear activities in return for the lifting of crippling economic sanctions.
The Chabahar port project also figured in the meeting.
Iran is India's third largest oil supplier and there were apprehensions about possible impact of the US decision on India's oil import. However, the officials said the US decision to reinstate financial sanctions on Iran would not impact India's oil imports as long as European countries did not follow suit.
The Iranian Foreign Minister visited China, Russia and some European countries in the last three weeks after President Donald Trump announced Washington's withdrawal from the deal which was signed by the Obama administration.
The issue is understood to have figured during an "informal summit" between Prime Minister Narendra Modi and Russian President Vladimir Putin in the Russian city of Sochi last week.
China, Russia and several European nations have been trying to salvage the deal. Iran had struck the Joint Comprehensive Plan of Action (JCPoA) with the US, the UK, Russia, China, France and Germany after years of negotiations.
In its reaction to Trump's decision, India had said all the parties concerned should engage constructively to resolve the issue peacefully and that Iran's right to peaceful use of nuclear energy must be ensured.
The US President's decision to abandon the agreement has shocked the world, with America's closest allies such as France, Germany and the UK expressing concern over it.
Indo-Iran ties have been on a upswing in the last three years. Prime Minister Modi visited Tehran in May 2016 with an aim to craft a strategic relationship with Iran and expand India's ties with West Asia.
During the visit, India and Iran signed nearly a dozen pacts, centrepiece of which was an agreement on development of Chabahar port. Later, India, Iran and Afghanistan signed a trilateral pact providing for transport of goods among the three countries through the port.
In February, Iranian President Hassan Rouhani visited India during which both sides agreed to further expand their cooperation in a number of key sectors. During Rouhani's visit, both sides signed nine agreements including one on handing over Chabahar port's operation to India for 18 months.
India and Iran have robust economic and commercial ties covering many sectors though it has traditionally been dominated by the import of Iranian crude oil by India.
According to the External Affairs Ministry, India-Iran bilateral trade during the 2016-17 fiscal was USD 12.89 billion. India imported USD 10.5 billion worth of goods, mainly crude oil, and exported commodities worth USD 2.4 billion.
(With agency inputs)
| Edited by: Sanchari Chatterjee
Read full article