GET Stock

Quotes



Non-Communicable Diseases a Bigger Threat in India Than Infectious Ones: Report
In India, from 1990 to 2016, non-communicable diseases (NCD) — heart disease, cardiovascular diseases, diabetes and chronic respiratory diseases — have caused the most deaths in a year.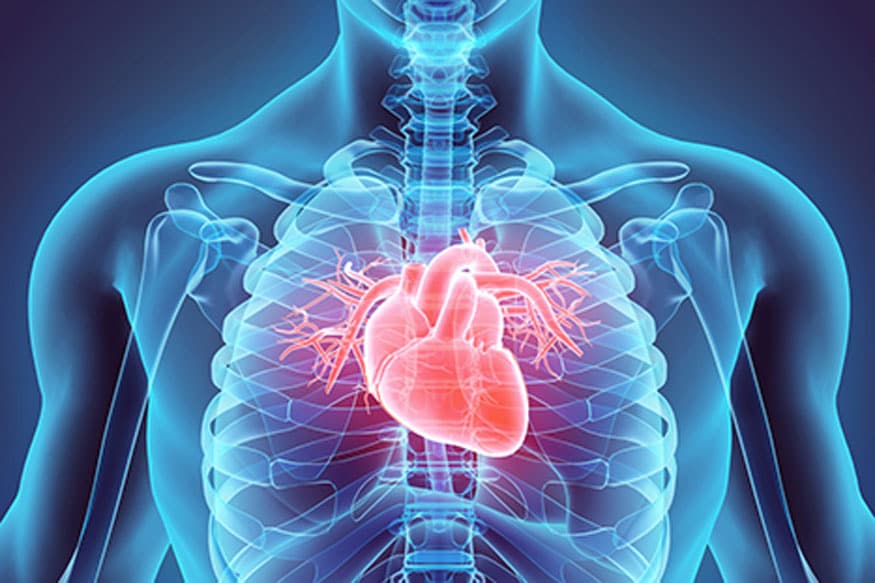 Representative Image (AFP Relaxnews)
New Delhi:
A new study has examined how life-threatening diseases have changed in India and found that infectious or communicable diseases are no longer our biggest threat.
In India, from 1990 to 2016, non-communicable diseases (NCD) — heart disease, cardiovascular diseases, diabetes and chronic respiratory diseases — have caused the most deaths in a year.
The ischaemic heart disease has long been ranked as the top killer in India but 'India: Health of the Nation's States' is the first comprehensive assessment of diseases that cause the most premature deaths and disability in each state. The report measured the inputs in disease burden, which is measured in DALYs i.e. disability-adjusted-life-years — the number of years lost due to ill-health, disability or early death.
The study was conducted by the Indian Council for Medical Research (ICMR), the Public Health Foundation of India (PHFI) and US-based Institute for Health Metrics and Evaluation (IHME).
It found, that although diabetes may not be the largest killer, it had the largest disease burden of about 80 percent. Ischaemic heart disease was at 34 percent.
In 2016, three of the five leading causes of disease burden in India were non-communicable, with ischaemic heart disease and chronic obstructive pulmonary disease as the top two causes and stroke as the fifth top cause, said the report.
The assessment, which examined diseases on a state-by-state basis in India, showed how Ischaemic heart disease and diabetes were more prevalent in states that are economically advanced.
However, chronic obstructive pulmonary disease, which is an non-communicable disease, was seen to be high in the Empowered Action Group (EAG) states — Bihar, Chhattisgarh, Jharkhand, Madhya Pradesh, Orissa, Rajasthan, Uttaranchal and Uttar Pradesh — that are at a relatively less advanced at the epidemiological transition stage (change in the nature of prevalent diseases).
Public health experts, especially those studying non-communicable diseases such as diabetes, have long been pointing out this link between economic advancement and 'lifestyle diseases'. The trends have been reflected in the different phases of the India Diabetes survey (INDIAB) conducted by the ICMR.
The report highlighted many culprits —insufficient safe water and sanitation services, air pollution, unhealthy diets, poor nutrition and tobacco, which is responsible for six percent of the disease burden. Air pollution, in fact, was the second highest risk factor, affecting Rajasthan, Uttar Pradesh, and Bihar the most.
Infectious diseases dropped from a prevalence of 61 percent in 1990 to 33 percent in 2016, while non-communicable diseases rose from 30 percent to 55 percent.
In line with the epidemiological shift — Kerala, Goa and Tamil Nadu lead the list of states with most non-communicable diseases, while Bihar, Jharkhand, Uttar Pradesh and Rajasthan have the lowest.
India is behind its neighbours China and Sri Lanka in how fast the disease burden has reduced. It has a 72 percent higher per person disease burden than either of the two countries. Internally, however, the rate dropped by 36 percent from 1990 to 2016 in the country.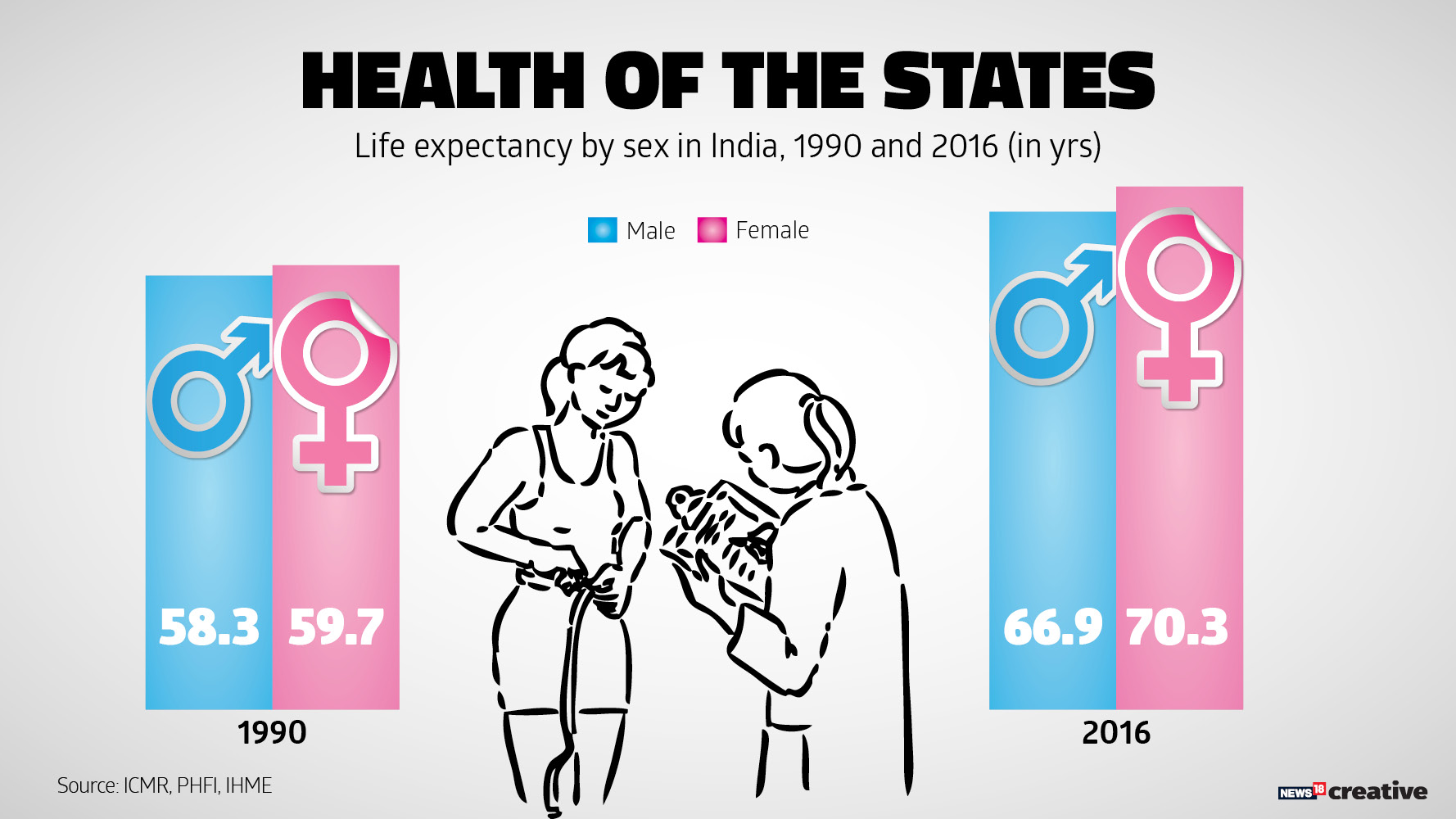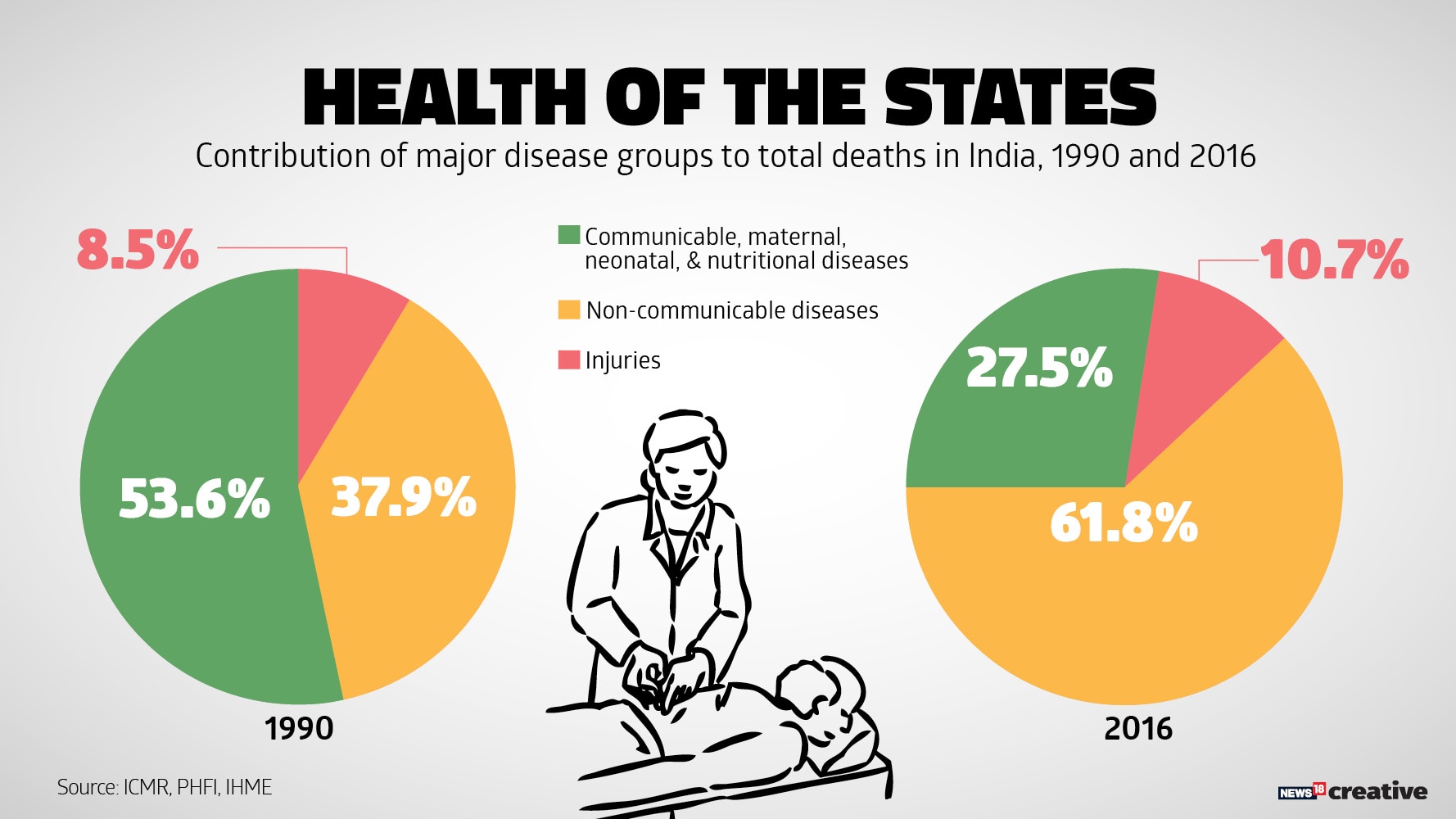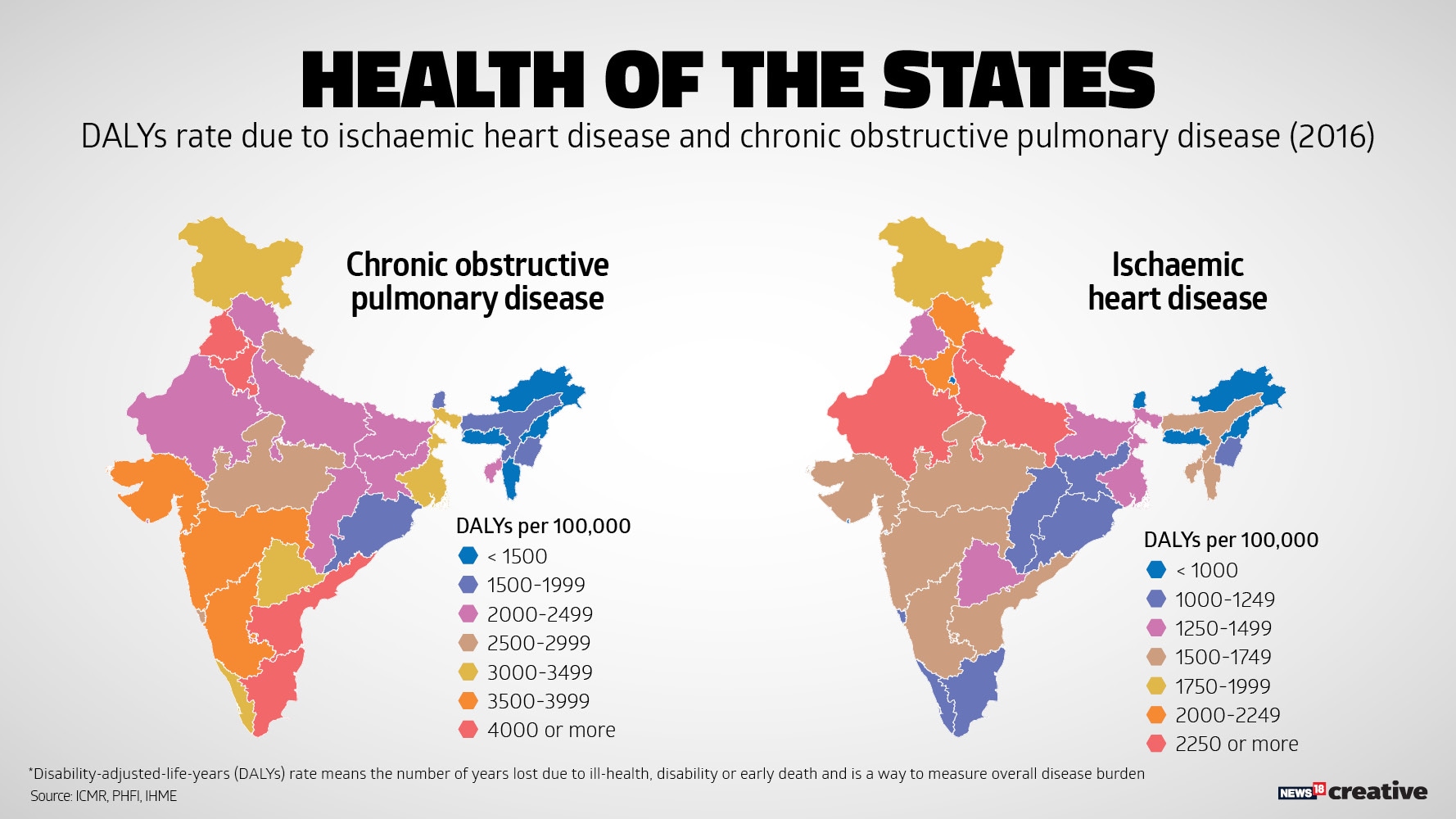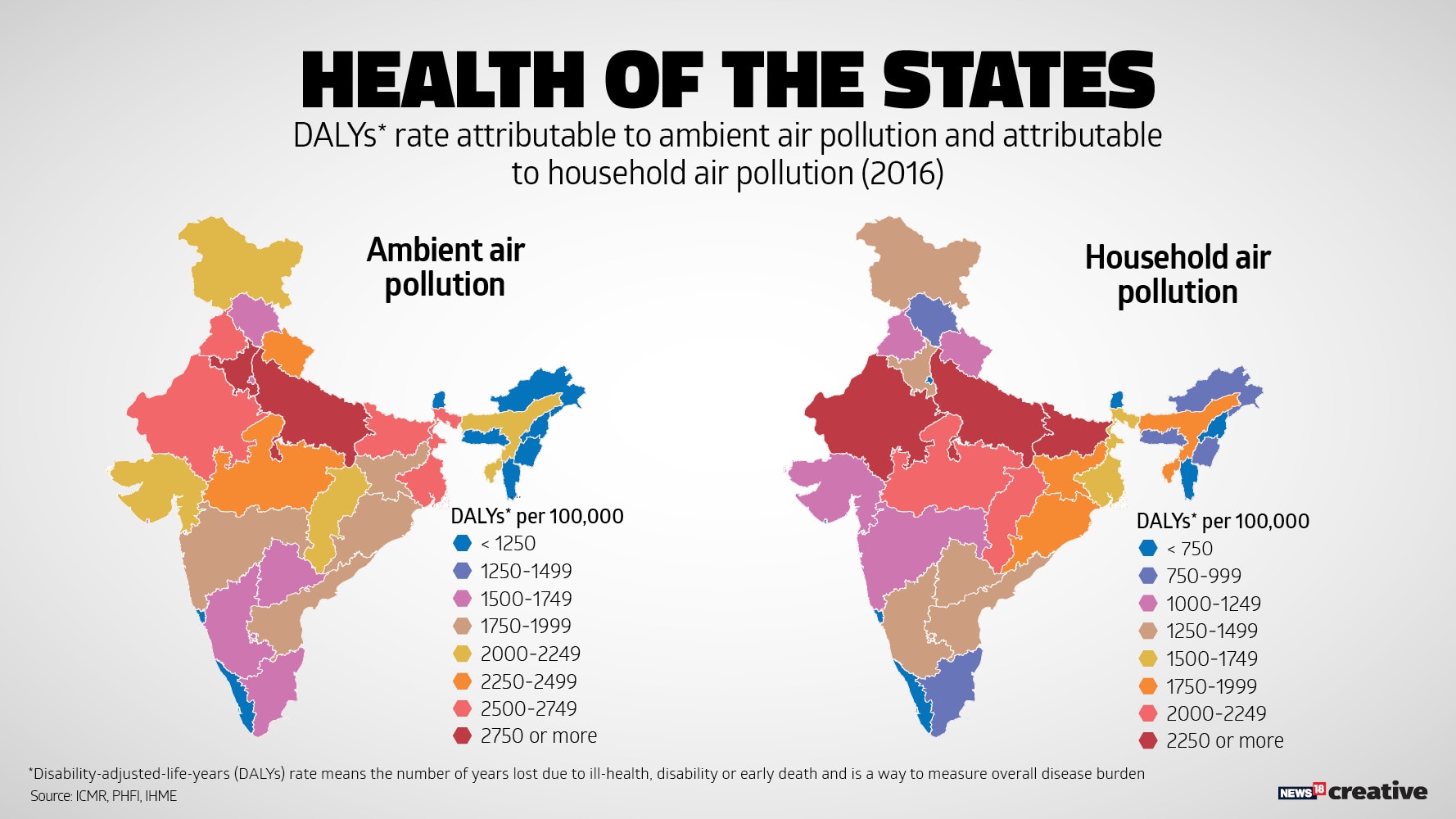 However, children and mothers still remain at risk. At 15 percent, in 2016, child and maternal malnutrition is still the largest risk factor in the country.
Variations, of development and geographical factors, occurred even among the Empowered Action Group states. Uttar Pradesh had 50 percent higher disease burden from chronic obstructive pulmonary disease, 54 percent higher burden from tuberculosis, and 30 percent higher burden from diarrhoea than Madhya Pradesh, which had 76 percent higher disease burden from stroke.
Cardiovascular risks were generally higher in Madhya Pradesh and unsafe water, sanitation risk was relatively higher in Uttar Pradesh, said the report.
The report also compared two more developed states – Punjab and Himachal Pradesh. Punjab had 157 percent higher per person burden from diabetes, 134 percent higher burden from ischaemic heart disease, 49 percent higher burden from stroke and 56 percent higher burden from road injuries. Meanwhile, Himachal had 63 percent higher per person burden from chronic obstructive pulmonary disease.
A particular cause for concern was the high number of injuries among young adults, caused by road accidents and self-harm. The rates for road accidents, higher in men, varied three-fold and for self-harm, six-fold, across states in 2016. The rate of self-harm, for India as a whole, was 1.8 times higher than the global average for other geographies at a similar level of development in 2016.
Also Watch
| Edited by: Aditya Nair
Read full article