India is Malnourished Yet Obese. We Can't Feed Rice, Wheat to The Starving Who Need Eggs, Dals: Scientist
India's public health record suffered repeated blows last week. The WHO obesity report in The Lancet gave India the dubious honour of being the most malnutritioned country in the world, beating those in Sub-Saharan Africa.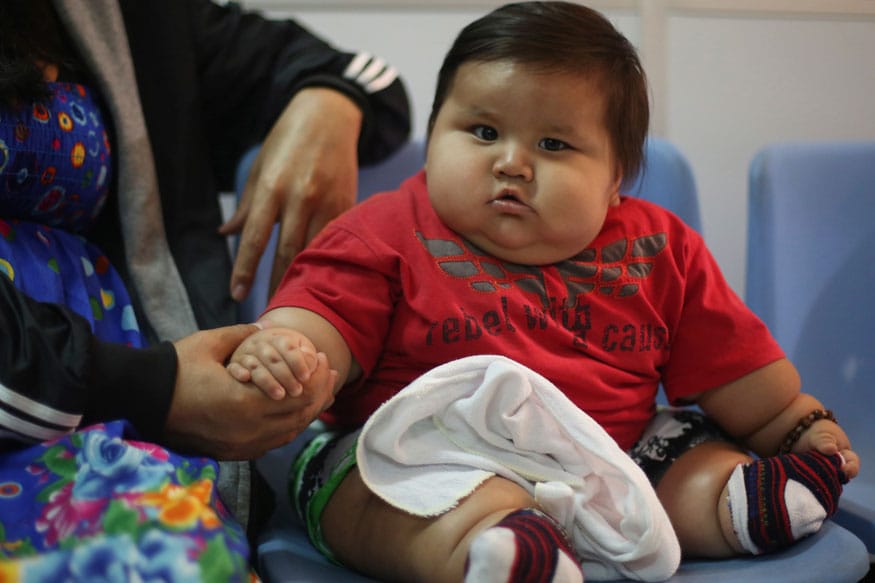 Image for representation only. (Photo: Reuters)
India's public health record suffered repeated blows last week. The WHO obesity report in The Lancet gave India the dubious honour of being the most malnutritioned country in the world, beating those in Sub-Saharan Africa. The Global Hunger Index showed India worse off than North Korea, Sri Lanka and Bangladesh.
One of the secondary authors of the WHO report, Dr V Mohan, a Padma Shri winning diabetologist, president of the Madras Diabetes Research Foundation, was awarded for excellence in research by the Indian Council of Medical Research (ICMR), the day it came out. Mohan spoke to News18 about rising obesity among children in India despite widespread hunger, how stuffing people with carbohydrates will not help and whether genetic screening can fight diabetes, which affects about 70 million people in the country. Edited excerpts:
Despite rising obesity, India is still most malnutritioned in the world. Can you tell us what this means for India?
India was a surprise in the WHO report, which compares obesity levels globally from 1975 to 2016. Its obesity rates have increased all over but it stands at the number one position, globally, for malnutrition. That's largely driven by the northern states, by Uttar Pradesh, Bihar, Madhya Pradesh, Odisha, the BIMARU belt. There, undernutrition is rampant and the population is very high. UP has 300 million people, so undernutrition impacts all of India. The southern states have minimal undernutrition. However, obesity in the metropolitan cities — Delhi, Mumbai, Kolkata, Chennai, Bangalore — has climbed very high.
In population-based studies for Chennai, Delhi, etc., almost 25-30 per cent children in private schools are overweight or obese. Even in government schools, with poorer children, the rate is 8-10 per cent. The trend is occurring in adults, and parallel among children, as economic development takes place in states, the urban poor start getting diabetes. This we saw in the INDIAB [ICMR India Diabetes] study.
It is a changing epidemiological trend. Forty years ago, obesity was very common in most developed countries in North America and Europe. However, it hit the maximum levels and then flattened out at a very high rate. Awareness of health grew and [consumption of] sweets and beverages came down. However, in countries with high malnutrition across Africa, there was no obesity at all. It was zero. These have seen the sharpest rises as their socio economic status has improved. It's the poor in developed countries who are obese. They eat McDonalds because it's the cheapest food with the highest calories and they can't afford fruit and vegetables. India is about 10 years away from this scenario.
What, then, do we do about our nutrition problem?
There is no one size fits all as far as India is concerned. Even if obesity is increasing we can't tell all people to cut down on their calories and not eat. People are starving. At the same time, we can't overfeed the under nutritioned. The study clearly shows that if you feed the underweight wrong stuff, give them too many calories, especially from carbohydrates, they suddenly become overweight. Carbohydrates, rice and wheat, are what we eat in our country. The poor and undernourished need protein. Give them eggs or dal, don't pump them with carbohydrates. So, when they grow, they will put on height not weight. They are all stunted because of undernutrition. Give them proper nutrition for height, and to build muscle not fat.
You've just started the Department of Precision Diabetes in Chennai. What is precision diabetes and what will this centre accomplish?
Our work is well known is the area of genomics of diabetes, describing why Indians get diabetes and which genes are responsible. With the department we will be able to screen for monogenic diabetes [where one genetic defect is responsible for diabetes]. Genetic screening has been going on for 10 years — we have found cases where young people or children were misdiagnosed with type-1 diabetes and put on insulin. We have taken hundreds off insulin, and treated them entirely with tablets. We are the only lab in India doing this.
The precision department will take it to the next level, as we are now looking at type-2 diabetes. About 95 per cent of type-2 is treated by metformin [first-line drug]. When that doesn't you give sulfonylureas [second line drug] and so on. In collaboration with the University of Dundee, we are studying genes to see who will respond to metformin, who to sulfonylurea and who will have what side-effects. One person will have diarrhoea with 500mg of metformin, nothing happens to another person. One person responds to sulfonylurea for 40 years, another stops after six months. Now we know which genes are responsible for that. Those with the TCF7L2 gene will not respond, as it's the strongest gene for type-2 diabetes.
We've had 100,000 patients in our system and the Scottish group have 250,000. We have records of last 20 years. Using these, we can find out who will and who won't develop complications, who will survive long. We can know how to treat each patients early in the disease. It's how cancer, or hepatitis, which has been categorised as A, B, C, are treated. This is really cutting edge research. We hope the cost will also come down and a gene chip, marked at $10, will be able to screen everyone.
You have just been awarded for excellence in research by the ICMR? What's the status of research on diabetes in India, yours and others?
Our big study, that came out late last year, was on the prevention of diabetes. We put prediabetics through diet and exercise, and were able to prevent diabetes in up to 32 per cent of the participants. Now we know who will and won't respond to treatment. The study showed, for the first time in the world, that there are two types of pre-diabetics, one which respond to diet, exercise and metformin, and one that don't. We don't know how to prevent diabetes in the second group yet.
One of my most important papers is on long-term survivors, and it's the only such paper in the world. It showed that type-2 patients can survive 40-50 years if blood pressure and lipids are controlled well. We had a control group that did not survive that long. No one else has the follow up of 40-50 years, so the study has been reproduced.
Get the best of News18 delivered to your inbox - subscribe to News18 Daybreak. Follow News18.com on Twitter, Instagram, Facebook, TikTok and on YouTube, and stay in the know with what's happening in the world around you – in real time.
Subscribe to Moneycontrol Pro and gain access to curated markets data, trading recommendations, equity analysis, investment ideas, insights from market gurus and much more. Get Moneycontrol PRO for 1 year at price of 3 months. Use code FREEDOM.
Read full article