India, Japan fighter deals intensify arms race
Growing international unease over China's military build-up have sparked a surge of interest in air power.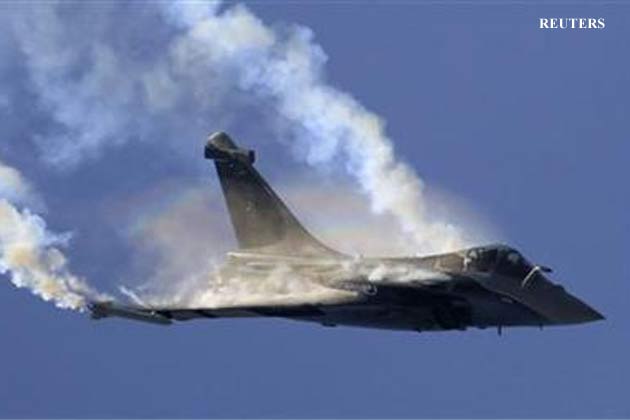 Growing international unease over China's military build-up have sparked a surge of interest in air power.
New Delhi: Big decisions on warplane purchases by Japan and India have intensified competition in the multi-billion-dollar global market, with Western defense firms scrambling for orders in Asia and the Middle East as their home-country budgets shrivel.
Growing international unease over China's military build-up and ongoing tensions between Iran and Western allies in the Gulf, coupled with the deep pockets of nations basking in high commodity prices, have sparked a surge of interest in air power.
"There is a strong emphasis on... combat aircraft and things that belong to them: missiles, bombs, support aircraft, airborne early warning systems, air tankers and that kind of stuff," said Siemon Wezeman, senior researcher on arms transfers at the Stockholm International Peace Research Institute (SIPRI).
Lockheed Martin, the Pentagon's biggest arms contractor, and France's Dassault Aviation are the major winners in a pair of widely watched procurement decisions in the past month, dealing a blow to competitors such as the four-nation Eurofighter Typhoon and Boeing Co's F/A-18 Super Hornet, defense industry experts say.
Lockheed was buoyed by Japan's $7 billion decision to buy 42 F-35 stealth fighter jets in December, providing a shot in the arm for a project under fire over costs and struggling to hold together a coalition of foreign partners.
Japan's selection means South Korea is very likely to follow suit, analysts said. Seoul last week invited Lockheed, Eurofighter and Boeing to bid in a $7 billion contest for what is expected to be an order for 60 advanced fighter jets.
Companies are also eyeing opportunities in Malaysia, Singapore, Australia, the United Arab Emirates and Kuwait.
India rescued French hopes of an elusive first export deal for its front-line jet by agreeing this week to enter exclusive negotiations to buy 126 Dassault-built Rafales after narrowing the field to an all-European contest with Typhoon.
The Rafale has lost a series of contests to U.S. competition and has held so far fruitless talks with Brazil and UAE.
"A victory in India would bring the Rafale right back into the running. Whether this guarantees contracts elsewhere is less certain, but if it didn't win it was guaranteed not to get anything else," said Francis Tusa, editor of Defence Analysis.
With most NATO nations cutting back on defense procurement projects, the imminent award of fighter jet contracts comes at a good time for military contractors desperate for deals.
Richard Aboulafia of the Teal Group consultancy projects $178 billion in worldwide fighter deliveries through 2021.
Critics say such sales can provoke rather than prevent instability.
Western defence firms saw their market values tumble last year after the impact of spending cuts started to filter through.
Britain's BAE Systems, a partner in the Typhoon alongside EADS and Finmeccanica, has seen its market value drop by almost a fifth in the last two years.
China build-up
China's military build-up, illustrated by the maiden flight of its J-20 stealth fighter a year ago, is fueling arms sales across Asia for fighter jets.
China has denied its acquisition of stealth should be viewed as a threat. Across the region, however, Singapore, Malaysia and Australia are among those seeking to expand their capabilities.
China's expansion may be the reason India is now considering another purchase of over 80 jets in a move that could benefit the F-35, said U.S.-based defense analyst Loren Thompson.
"They'll have to buy something else because a Rafale will not be able to cope with Chinese fighters 20 years from now."
Lockheed's F-35 fighter is aggressively bidding for additional overseas sales to offset slower production at home. It hopes to finalize a 19-jet deal with Israel soon, and to secure an agreement with Singapore for the stealthy F-35.
Mindful of India's long procurement process and its decision to cancel past orders for air tankers and helicopters, French officials have taken pains to say the Rafale deal is not final.
But with the Rafale facing a production halt in 2021 without exports, India's decision has galvanized the world's third largest arms exporter and raised its profile in other campaigns.
France's La Tribune newspaper reported on Friday that the United Arab Emirates had revived an on-off deal to buy 60 Rafales.
Dassault was expected to seal the $10 billion deal last year but faced a rare public rebuke from Abu Dhabi for making "unworkable" proposals, throwing a lifeline to Eurofighter and Boeing, both of whom have been talking to the UAE military.
Gulf tensions are running high due to international concerns about Iran's nuclear activities. Those concerns helped spur along a massive sale of Boeing F-15s to Saudi Arabia at the end of 2011, as well as a big missile defense sale to UAE.
Now, the region may hold the key for India's losing bidders.
"The India deal is a major win for France, and a major loss for the UK. This leaves Oman and UAE as the largest potential markets for the Eurofighter, both of which are significantly smaller than India and less certain to move forward," said Endre Lunde, a consultant at Aerospace & Defence Consulting.
BAE Systems is expected to supply Oman with 12 Typhoons. Defence sources say it is in preliminary talks to sell a further 48 to Saudi Arabia. BAE and Eurofighter declined comment.
Abu Dhabi's decision alone has hefty commercial stakes.
French Defence Minister Gerard Longuet has suggested the UAE's decision could create a domino effect of sales in Qatar and Kuwait, both of which are eager to renew aerial firepower.
Get the best of News18 delivered to your inbox - subscribe to News18 Daybreak. Follow News18.com on Twitter, Instagram, Facebook, Telegram, TikTok and on YouTube, and stay in the know with what's happening in the world around you – in real time.
Read full article