India, Maldives Set To Hold Defence Dialogue in December, President Solih To Visit India Next Month
Sushma Swaraj expressed her support to the Maldives' decision of joining the Commonwealth and further welcomed the island nation into the Indian Ocean Rim Association as its latest member.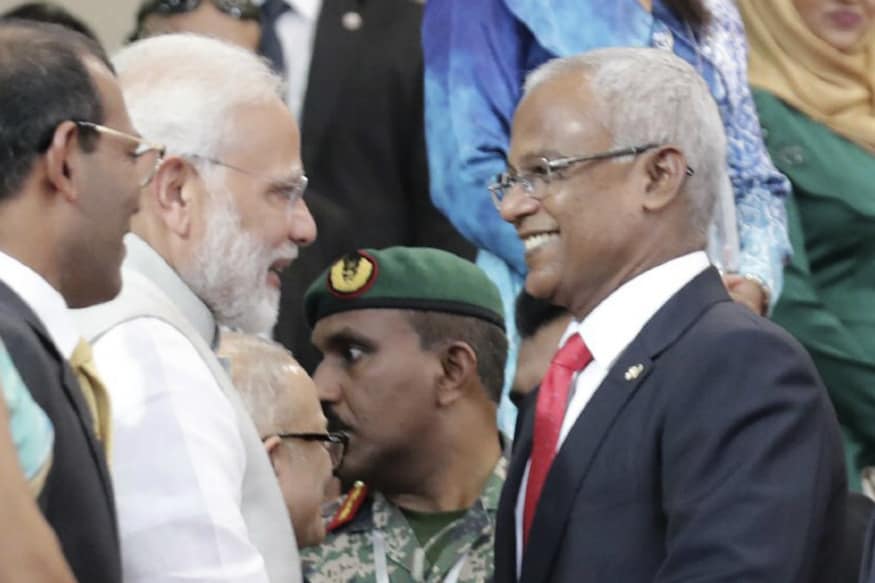 File photo of Prime Minister Narendra Modi with Maldives President Ibrahim Mohamed Solih.
New Delhi: Maldives president Ibrahim Solih is all set to visit New Delhi on December 17. Keeping in line with the island nation's India First policy, this is likely to be Solih's first international trip after he was sworn in last week. Solih's visit was confirmed by the Ministry of External Affairs on Monday as Maldivian foreign minister Abdulla Shahid held bilateral talks with his Indian counterpart Sushma Swaraj and defence minister Nirmala Sitharaman in New Delhi.
He was accompanied by Ibrahim Ameer, the Minister of Finance, Fayyaz Ismail, the Minister of Economic Development, Ahmed Khaleel, Minister of State for Foreign Affairs and Abdul Ghafoor Mohamed, Foreign Secretary. Shahid is all set to meet President Ram Nath Kovind on Tuesday. While Swaraj said that India considered its relationship with Maldives as an important one, her Maldivian counterpart reiterated his government's India First policy and that the administration looked forward to working closely with India on all issues.
Swaraj also expressed her support to the Maldives' decision of joining the Commonwealth and further welcomed the island nation into the Indian Ocean Rim Association as its latest member. India has assured Maldives its full support in ensuring fiscal and budgetary stability in Maldives and the two sides discussed security and defence matters, including ongoing projects. The two nations are all set to engage in Defence Cooperation Dialogue, to be held in the first half of December later this year. A joint Commission of the Foreign Ministers will also be held at the earliest.
The development between India and Maldives comes as the new government in Maldives claimed it had no idea how much it owed China. Mohamed Nasheed, a former president serving as advisor to new President Mohamed Ibrahim Solih, said that the Chinese ambassador to the Maldives, Zhang Lizhong, handed the government an invoice for $3.2 billion —equivalent to around $8,000 for every inhabitant of the archipelago. However, China denies that and says the number is closer to $1.5 billion.
Asked about Nasheed's comments, China's Foreign Ministry said that its ambassador in the Maldives had rejected "this untruth" in statements to local media, referring to an interview with news website Avas in which Zhang was quoted as saying reports of debt of around $3 billion were "deeply exaggerated". China has underwritten millions of dollars in loans for infrastructure in the Maldives, located along its busy shipping route to the Middle East.
Maldives opposition leader Ibrahim Mohamed Solih, who fought a bitter election campaign against President Abdulla Yameen, won last month's presidential vote. India's ties with the Maldives came under strain after President Yameen declared Emergency in the country on February 5, following an order by the country's Supreme Court to release a group of Opposition leaders, who had been convicted in widely criticised trials.
India had criticised the Yameen government for the imposition of the Emergency and urged it to restore the credibility of the electoral and political process by releasing political prisoners. The Emergency was lifted 45 days later. In July, India expressed concern over announcement of the presidential election without allowing democratic institutions, including Parliament and the judiciary, to work in a free and transparent manner.
Get the best of News18 delivered to your inbox - subscribe to News18 Daybreak. Follow News18.com on Twitter, Instagram, Facebook, Telegram, TikTok and on YouTube, and stay in the know with what's happening in the world around you – in real time.
| Edited by: Ashutosh Tripathi
Read full article