India meet Azerbaijan in women's hockey final
Italy will face Malaysia for the third spot.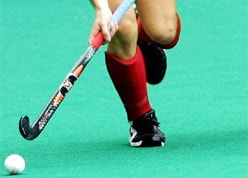 Italy will face Malaysia for the third spot.
New Delhi: India fought back to hold Azerbaijan to a 1-1 draw in their last round robin outing and set up a title clash with the same rivals in the Lal Bahadur Shastri four-nation women's hockey tournament at the Shivaji Stadium in Tuesday on Tuesday.
The Indian eves conceded the lead for the third match in a row as Mi Kyong Aliyeva converted a penalty corner in the 15th minute. Ritu Rani shot home off after an impressive move in the 61st minute to earn a point for the hosts.
With two wins and a draw, Azerbaijan top the tally with seven points while India are second with two draws and a victory, which brought them five points.
The two sides will lock horns again in the final on Wednesday.
It was again a story of missed chances for India in the beginning as they looked tentative in finishing and frittered away two chances, including a penalty corner.
Azerbaijan went up as they made best use of their first short corner. Aliyeva hit home in style to put India under pressure as the hosts needed a draw to confirm their final berth.
The Indian girls showed better coordination to unleash a series of attacks on the rival team.
Skipper Mamta Kharab's deflection off a free hit went over the post and later Saba Anjum could not connect a Suman Bala shot off the second short corner.
After the break, the script did not go according to the Indians' plan as Mamta's precise pass into the striking circle could not be turned in by Anjum.
While lauding the rival goalkeeper's effort, India coach GS Bhangu said his strikers needed to pull up their socks for the final.
"Their goalkeeper did very well, she made some unexpected saves. At the same time, our forwards tried to hit the circle balls from stationary positions, which they need to change," he said.
Acknowledging that India played better, Azerbaijan coach and former Pakistan captain Tahir Zaman said his side would come out hard at the hosts in the summit clash.
"We were not well prepared for today's match. India played better. But we will come out with improved strategies for the final," said Tahir, who had earlier predicted an India-Azerbaijan final.
In the other match of the day, Italy notched up a narrow 1-0 win over Malaysia. Daniela Possali scored the lone goal in the eighth minute. She was declared player of the match.
On Wednesday, both the teams will meet each other again in the battle for the third slot.
Read full article