India Should Lead by Example if US Withdraws from Paris Climate Accord
Fears that the US will pull out of the Paris Agreement intensified as news broke on Wednesday, quoting White House sources that Donald Trump didn't want to honour the accord.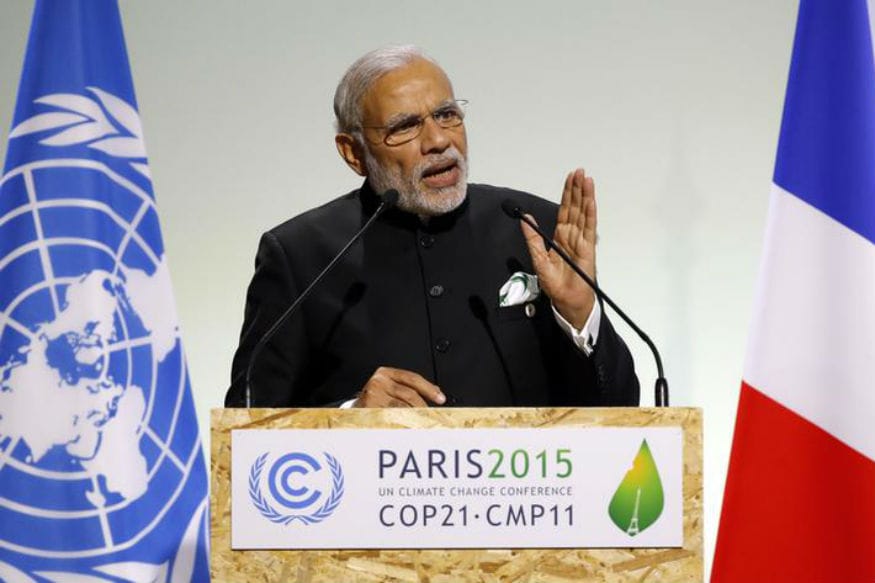 In this November 30, 2015 photo, Prime Minister Narendra Modi delivers a speech during the opening session of the World Climate Change Conference 2015 (COP21) at Le Bourget, near Paris. (REUTERS/Stephane Mahe)
New Delhi: Fears that the United States will pull out of the Paris Agreement intensified as news broke on Wednesday, quoting White House sources that US President Donald Trump didn't want to honour the accord. This came a day after Prime Minister Narendra Modi spoke about moving towards climate-friendly, sustainable solutions to protect the environment, alongside German Chancellor Angela Merkel, in Berlin.
Trump, who has publicly denied climate change and called it a hoax, tweeted after the news broke, that he would "be announcing decision on Paris Accord, Thursday at 3:00 P.M [Eastern Time]"
The United States is the second largest emitter of greenhouse gases, after China, and India is the third. Since the Trump Presidency has been unraveling the work done by former President Barack Obama on mitigating climate change, India and China have taken the lead in staying on course towards clean energy and meeting their committed targets.
ALSO READ | Is Donald Trump Allowed to Pull Out of Paris Climate Deal? Here's a Primer
According to the Climate Action Tracker (CAT), "Positive developments on coal use in China and India are likely to reduce projected global carbon emissions growth by roughly two to three billion tonnes by 2030".
The Paris Accord to mitigate greenhouse gas emissions, help countries with adaptation and finance, had emerged from the Conference of Parties (CoP21) held in Paris in December 2015, and had been a moment of celebration when 195 countries adopted it by consensus. One of its most important targets is to limit global warming to below 2°Celsius above pre-industrial levels.
ALSO READ | Elon Musk Threatens to Leave Trump's Panels if He Pulls Out of Climate Deal
The United States is the largest historical contributor to greenhouse gas emissions, leaving it with the largest historical responsibility to stay on course for the Paris Accord target. Currently, the world is on a 3.6° pathway.
If the US withdraws, it will be "unfair" towards India and the rest of the countries, said Navroz Dubash, Senior Fellow at the Centre for Policy Research. "Any weakening of support of the Paris Agreement is bad news for India, as we are a vulnerable country," said Dubash, who works on climate and energy research.
However, India's transition to cleaner and renewable energy sources is not going to stop," said Aarti Khosla, a Delhi based independent consultant on climate and energy issues. India's push towards clean energy is also not heavily dependent on multilateral aid.
ALSO READ | Quitting Climate Deal to 'Hurt' Donald Trump's Jobs Push
Both she and Dubash pointed to the falling prices of solar power and other clean energy technology, that make it commercially viable and supportive of India's development and energy security concerns.
A recent New York Times editorial, quoting the CAT data, wrote that "India is now expected to obtain 40 per cent of its electricity from non-fossil fuel sources by 2022, eight years ahead of schedule" and that "China and India's enthusiasm for cleaner energy arises in part from a wish to reduce the terrible air pollution that afflicts cities like Beijing and New Delhi". Khosla also said that the bids for four big power plant projects were canceled in May, as solar has become commercially feasible.
Dubash, however, spoke of some national details that lie beyond broad cross-country studies, such as CAT's. India is doing good, not because it won't use more coal, but because it will use less than what it would have otherwise done. Fifty gigawatt (GW) of coal-fired power plants are in the pipeline, for the country's needs. This is less than the earlier estimated amount.
ALSO READ | Will US Pull Out of UN Climate Deal? Donald Trump to Reveal Tomorrow
However, it is more than all of South Africa's system. For now, said Dubash, India should give a clear signal, by allying itself with other nations supporting the Paris Accord and work towards holding the US accountable.
All eyes are on Trump now. The US could either pull out of the Accord entirely, in which case it would have to serve a three-year notice, or stay in the Accord and reduce its pledge, which would lead to many legal and political issues.
Get the best of News18 delivered to your inbox - subscribe to News18 Daybreak. Follow News18.com on Twitter, Instagram, Facebook, Telegram, TikTok and on YouTube, and stay in the know with what's happening in the world around you – in real time.
| Edited by: Huma Tabassum
Read full article