GET Stock

Quotes


India Stays Away as Sharif Cozies up to China at Belt and Road Summit
India on Sunday skipped the Belt and Road Forum (BRF) being held in Beijing, saying a project that violates its sovereignty and territorial integrity cannot be accepted.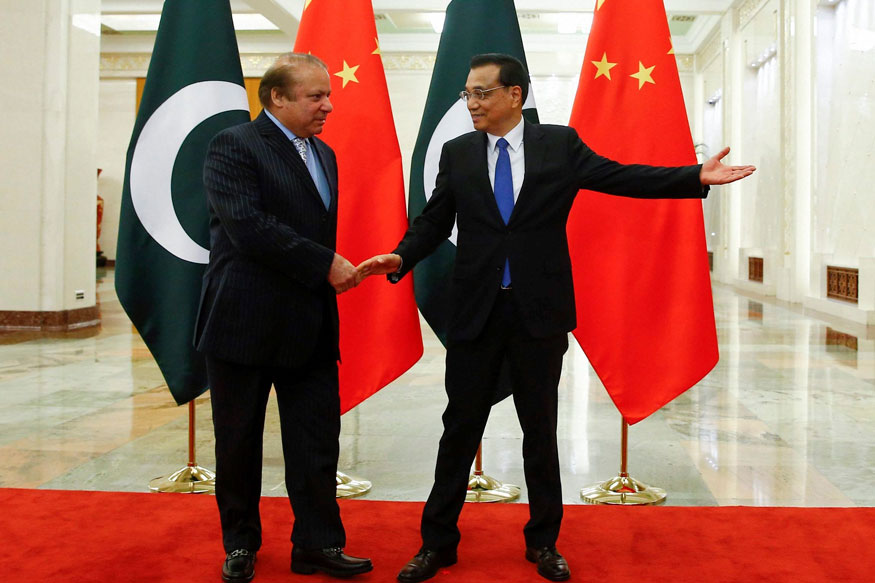 Chinese Premier Li Keqiang, right, meets Pakistani Prime Minister Nawaz Sharif at the Great Hall of the People in Beijing (PTI Photo)
New Delhi: India on Sunday skipped the Belt and Road Forum (BRF) being held in Beijing, saying a project that violates its sovereignty and territorial integrity cannot be accepted.
India has strong reservations over the China-Pakistan Economic Corridor (CPEC), a flagship project of China's prestigious Belt and Road Initiative (BRI), which is expected to figure prominently in the two-day meet.

The CPEC passes through Gilgit and Baltistan in Pakistan-occupied Kashmir (PoK). India treats the entire state of Jammu and Kashmir as its integral part, including PoK.
Pakistan Prime Minister Nawaz Sharif is perhaps leading the biggest delegation at the summit comprising four chief ministers, five federal ministers and Adviser on Foreign Affairs Sartaj Aziz. Sharif is the only head of government at the event which will be attended by 28 other heads of state.

On the eve of the summit's launch, China and Pakistan signed six pacts, including one on building an airport at the strategic Gwadar port city, with President Xi Jinping asserting that ties with Islamabad were a priority. The pacts were signed in the presence of Sharif and Chinese Premier Li Keqiang.
After the MoUs and agreements were signed, Xi told Sharif that the bilateral ties remain "a priority for China" and Beijing was willing to enrich the "all-weather" strategic and cooperative partnership with Pakistan.


ALSO READ |
China Supports Dialogue Between India-Pak, But Backs Our Stand on J&K: Sharif
Sharif also attended a presentation made by China's National Energy Administration (NEA) on the construction of Bhasha Dam, a project which he said is of critical importance for the future of Pakistan. Pakistani media has reported China's interest in providing $50 billion to fund the project could generate 40,000 MW hydro-electricity.
The Gwadar port opposite the Mumbai's port housing the Indian Navy's western naval command provides a berth for China in the Arabian Sea and to the Indian Ocean. China has already announced plans to station its marines there as well in Djibouti in Horn of Africa in Indian Ocean.
India opposes the CPEC as it runs through the Pakistan-occupied Kashmir. In the last few days, China tried to assuage India's feelings by asserting that the commercial corridor will not have any impact on its stand that the Kashmir issue should be settled by India and Pakistan through dialogue.

In a strongly-worded statement issued hours before the opening of the forum in the Chinese capital, India said the connectivity initiative must be pursued in a manner that respects sovereignty and territorial integrity.
"Guided by our principled position in the matter, we have been urging China to engage in a meaningful dialogue on its connectivity initiative, 'One Belt, One Road' which was later renamed as 'Belt and Road Initiative'. We are awaiting a positive response from the Chinese side," External Affairs Ministry spokesperson Gopal Baglay said in a statement.
"Regarding the so-called 'China-Pakistan Economic Corridor', which is being projected as the flagship project of the BRI/OBOR, the international community is well aware of India's position. No country can accept a project that ignores its core concerns on sovereignty and territorial integrity," he said.

Noting that India has received a formal invitation to participate in the six separate forums that China is organising as part of the BRF, he said India is of the firm belief that connectivity initiatives must be based on universally recognised international norms, good governance, rule of law, openness, transparency and equality.
ALSO READ | Nepal Formally Joins China's Silk Road Plan Opposed by India
"Connectivity initiatives must follow principles of financial responsibility to avoid projects that would create unsustainable debt burden for communities, balanced ecological and environmental protection and preservation standards, transparent assessment of project costs, and skill and technology transfer to help long-term running and maintenance of the assets created by local communities," Baglay said.
He also said that expansion and strengthening of connectivity is an integral part of India's economic and diplomatic initiatives.
"Under the 'Act East' policy, we are pursuing the Trilateral Highway project, under our 'Neighbourhood First' policy we are developing multimodal linkages with Myanmar and Bangladesh, under our 'Go West' strategy, we are engaged with Iran on Chabahar Port and with Iran and other partners in Central Asia on International North South Transport Corridor."

The remarks assume significance given that China is trying to project that by skipping the BRF, India may be "isolated" in the region as all countries in South Asia — barring Bhutan which doesn't have diplomatic relations with China — are participating.
India's stand on the meet comes after a year of bilateral discord over China's stubborn opposition to its entry into the Nuclear Suppliers Group (NSG) and a UN ban against Pakistan-based terrorist group Jaish-e-Muhammad leader Masood Azhar. China also protested India's decision to permit the Dalai Lama last month to visit Arunachal Pradesh, which Beijing claims as South Tibet.
(With PTI inputs)
Also Watch
Read full article