India thrash Azerbaijan 3-0 in third hockey Test
India thwarted the Azerbaijan challenge to take a 3-0 lead in the four-Test hockey series.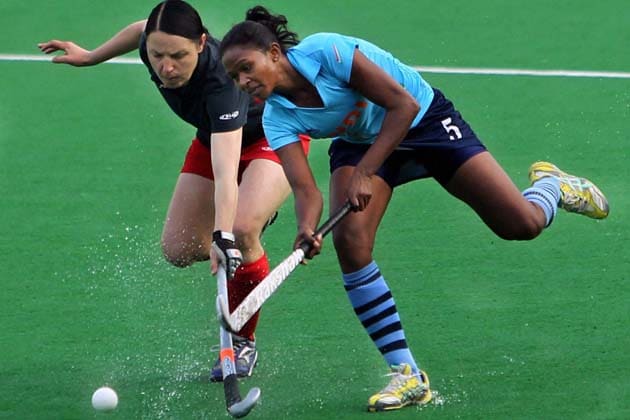 India thwarted the Azerbaijan challenge to take a 3-0 lead in the four-Test hockey series.
New Delhi: The Indian women registered a 3-0 victory over a hapless Azerbaijan in the third match on Wednesday to keep their slate clean in the four-Test hockey series at the Major Dhyan Chand National Stadium in New Delhi.
Leading 2-0, India played a slow-paced game but it was still enough to thwart the Azerbaijan challenge and take a 3-0 lead, with just one match to go.
India created a lot of opportunities in both the halves and scored through Sushila Chanu (3rd minute), Anuradha Devi (22nd) and Ritu Rani (67th).
Sushila put India ahead when her hit from the right flank got deflected by rival player Lyudmila Chegurko's stick before finding the target.
After conceding the initiative early, Azerbaijan pressed hard for the equaliser and even earned three penalty corners, only to squander them all.
India too squandered a set piece in the 20th minute, with Joydeep Kaur's shot being foiled by the defence.
However, Anuradha made up for the lapse and found the cage after Vandana Kataria's reverse hit rebounded off in the late moments of the first half, to put India 2-0 up.
Azerbaijan made quite a few forays at India's goal-post in the second half and had their chances but they failed to penetrate India's defence. They even earned two more penalty corners but failed to make them count.
India continued to dominate the proceedings in the second half and earned four more penalty corners but their variations didn't pay off.
Three minutes from the hooter, India put the final nail in their rivals' coffin when Ritu dribbled past a couple of Azerbaijan players and slammed one to the left of the post from close range.
India coach CR Kumar was visibly happy with the fitness levels of the girls. But the team's inability to convert any of the five penalty corners that came their way was a cause of concern for Kumar.
"It was good that we scored three field goals. Our focus was on field goals and we scored three of them, so I am happy with it. We were working on that aspect of our game, but the problem is when we do well in one area of the game we perform badly in another. It would have been good if we would have performed a bit better in the penalty corners that we got," said Kumar.
"They are covering the goal-post and we had to try out new variations. A couple of players are also battling fitness issues - Jaspreet is not fit to play and Rani Rampaul too is injured - so that is a problem."
Kumar said the girls committed lot of errors during the match.
"There were a lot of (basic) errors on the field. We have to rectify these problems. I am satisfied with the fitness level of the team but perfection is equally important and we have to work towards that," said Kumar.
Asked if he is happy with the fitness level of the players, Kumar said: "I am satisfied with the fitness level, which is 60-70 percent right now, and I am confident in the remaining days we will achieve 100 percent; we are aiming for perfection."
Kumar said the priority is to peak at the time of the qualifiers. "The team cannot peak twice in a short time. It's very good for us that we are playing well against Azerbaijan as it is going to help us tremendously."
With India pitted against teams like South Africa, Italy, Poland, Ukraine and Canada in the qualifiers, Kumar said the key for the hosts will be to handle the European style of hockey. South Africa are the top-seeded team and are ranked world No.12 while India are world No.13.
"They (Azerbaijan) play European style hockey and playing against them will certainly help us during our Olympic qualifiers. We can learn a lot and can experiment with our own techniques as the other European teams are going to play in a similar manner," he added.
Read full article