'Ensure Mother Doesn't Get Hurt': Vijay Mallya Heckled, Met With 'Chor Hai' Cries at India vs Australia Match
Mallya, who has been declared a fugitive economic offender in India, was curt in response to questions posed by reporters outside the stadium.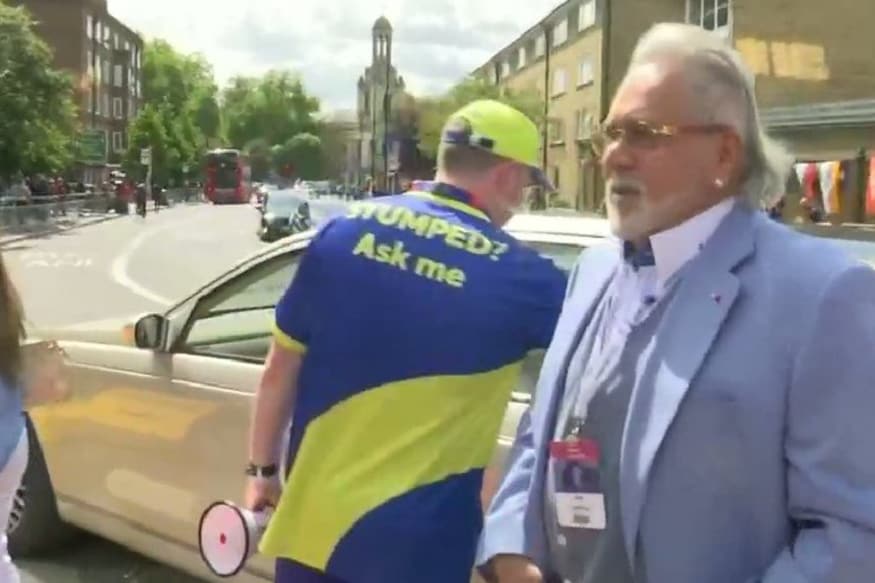 Vijay Mallya at the Kennington Oval on Sunday.
Fugitive liquor baron Vijay Mallya, who is facing extradition proceedings in UK, was heckled by supporters and met with 'chor hai chants' as he attended India's match against Australia at the Kennington Oval in London on Sunday.
The 63-year-old former Kingfisher Airlines boss is wanted in India on fraud and money laundering charges amounting to an alleged Rs 9,000 crores.
In a video of the incident, Mallya is seen surrounded a small crowd of people pushing and shoving as cries of "chor hai (you are a thief)" grow louder. At one point, a shout of "Be a man, apologise to your country" is heard, to which Mallya's response was inaudible.
Known to be an avid cricket fan, Mallya watched the match with his mother and son. As the fugitive businessman left the stadium after the match concluded, the crowd surrounded him and chanted "Vijay Mallya chor hai".
When a response was sought by the media over the "chor" chants, Mallya said "I am just making sure my mother does not get hurt."
#WATCH London, England: Vijay Mallya says, "I am making sure my mother doesn't get hurt", as crowd shouts "Chor hai" while he leaves from the Oval after the match between India and Australia. pic.twitter.com/ft1nTm5m0i

— ANI (@ANI) June 9, 2019
Earlier, when Mallya was entering the stadium before the match was asked by reporters about the extradition case against him, he said, "I am here to watch the match. Preparations are underway for the next hearing".
The UK home office and the Westminster Court had last year ordered his extradition to India over charges of money laundering, fraud and conspiracy after he failed to convince authorities there that he has been made a victim of political intrigue.
Mallya has repeatedly argued that he has the assets to pay off his "debts but the government won't allow the use of these assets to clear the debts."
He had fought extradition on the grounds that Indian jails weren't safe and that he was being made a scapegoat for India's banks being stuck with massive bad loans given to companies.
Mallya is on the hook for Rs 9,000 crore, according to Indian banks, on account of unpaid loans by Kingfisher Airlines, grounded since October 2012. His oral appeal against the extradition order will be heard by the London High Court on July 2.
The liquor tycoon, known for his high-flying lifestyle, has previously also attended matches when the Indian cricket team toured England.
Last year, he had attended the final day of the fifth test between India and England at the Oval and the year before that, he was seen in the VIP section of the stadium during the India vs Pakistan Champions Trophy game.
Get the best of News18 delivered to your inbox - subscribe to News18 Daybreak. Follow News18.com on Twitter, Instagram, Facebook, Telegram, TikTok and on YouTube, and stay in the know with what's happening in the world around you – in real time.
Read full article