India win four-nation women hockey tournament
India had a disappointing start to the tournament but finished strongly.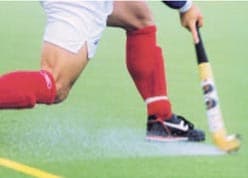 India had a disappointing start to the tournament but finished strongly.
New Delhi: India rode on Mamta Kharab's solitary goal to beat Azerbaijan and win the Lal Bahadur Shastri four-nation women's hockey tournament here on Wednesday.
In the keenly fought final at the Shivaji Stadium, the Indian skipper scored from a penalty corner in the 51st minute to script the hosts' victory.
The 13th ranked India, who were the favourites to win the tournament, had a disappointing start to the tournament as they lacked in coordination and finishing skills and drew their first game to a lowly-ranked Malaysia.
However, they gradually showed improvement in their performance and recorded an encouraging title win in their run-up to the Olympic qualifiers.
Earlier in the day, Italy defeated Malaysia 1-0 to grab the third spot in the tournament. In the extra time, Julieta Obrist struck the winner for the European team after both the sides could not achieve any breakthrough in the regulation time.
The final was a battle of equals with both the teams challenging each other right from the start.
India were unlucky to take the lead in the early minutes as Subhadra Pradhan's hit off a Mamta pass missed the target narrowly.
Azerbaijan stepped up attack and earned a couple of penalty corners within a gap of three minutes. But the Indians fended off the threat and took the battle to the rivals' camp.
In the 25th minute, the hosts got a short corner but it was cancelled following protests by Azerbaijan players.
The next minute brought a penalty corner again, but it did not prove beneficial for the home team.
Read full article