Indian doctor in biggest US malpractice scandal
40,000 people may have been infected with the deadly hepatitis C virus or HIV.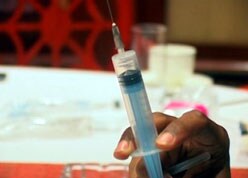 40,000 people may have been infected with the deadly hepatitis C virus or HIV.
New York: A prominent Indian American doctor in Las Vegas is being investigated for medical malpractices, which have led to a huge health scare in the country.
Health authorities have shut down Dipak Desai's Endoscopy Centre of Southern Nevada and affiliated clinics after reuse of syringes and vials of anaesthesia there was believed to have put some 40,000 residents at risk of contracting hepatitis C.
According to reports, Desai's junior partner, also an Indian American doctor, Vishvinder Sharma, resigned from the Nevada State Medical Board. Sharma, however, did not surrender his medical license.
Nevada newspapers have been pursuing the matter for quite some time and it has now blown up into a big scandal.
Las Vegas shut down Desai's clinic and suspended its license indefinitely on February 29 after state health officials determined that six patients had contracted hepatitis C after taking medical procedures at the clinic.
The officials are also trying to inform the 40,000 people treated at the centre between March 2004 and January 11 this year that they should take tests for hepatitis, strands B and C, and for HIV.
Hepatitis C is a blood-borne infectious disease that can cause liver inflammation and lead to other complications.
Clinic staff told authorities that the practice of reusing some medical materials was ordered by the management. Five nurses associated with the clinic have surrendered their licences, according to local papers.
The FBI and Internal Revenue Service (IRS), too, have launched Medicare fraud investigations into the clinic.
Desai, originally from Gujarat, is a gastroenterologist who has been practising medicine in Nevada for 28 years. He has grown wealthy enough to have made contributions to poll campaigns of several politicians in both parties.
TV crews had a field day focussing on his luxurious home said to be worth $3.4 million.
PAGE_BREAK
Desai has refused to speak to the media. Instead, he chose to release a full-page ad in a local paper maintaining that "evidence does not support that syringes or needles were ever re-used from patient to patient at the centre".
While expressing his "deepest sympathy to all our patients and their families for the fear and uncertainty that naturally arises from this situation", he claimed that in cooperation with the health agencies and officials he has reviewed the clinics' procedures and implemented the recommended changes.
The Las Vegas Review Journal reported on Friday that the Medicare fraud investigations focus on allegations that Desai's centre billed Medicare for visits of more than 30 minutes when doctors spent less than half that amount of time with a patient.
The paper also quoted a former doctor at Desai's clinic saying that he and other physicians at the centre were ordered to perform unnecessary biopsies to run up patient charges and to bill for up to 40-minute "patient consults" while spending about five minutes with each patient.
Bloggers are now asking why Desai should not pick up the tab for tests that people have to take because of his wrongdoing.
Further, in a country known to go for litigation in such matters, a class action suit against Desai's clinic is bound to come up. His share in the medical facility is 65 percent.
Lawyers in fact already think they are on to a big kill. Websites have also cropped up trying to contact the 40,000 exposed.
Las Vegas Sun has criticised the Nevada health agency responsible for inspecting medical facilities for not conducting a single full inspection of Desai's centre since 2001 till the recent hepatitis C outbreak was traced to his clinic.
The hepatitis C outbreak at Desai's clinic may be the tip of an iceberg of safety problems at clinics around the country, the head of the Centres for Disease Control and Prevention, Julie Gerberding, has been quoted as saying.
Get the best of News18 delivered to your inbox - subscribe to News18 Daybreak. Follow News18.com on Twitter, Instagram, Facebook, Telegram, TikTok and on YouTube, and stay in the know with what's happening in the world around you – in real time.
Read full article