Tit-for-tat: Indian students in Australia strike back
Demonstrators protested against attacks, wanted better police response.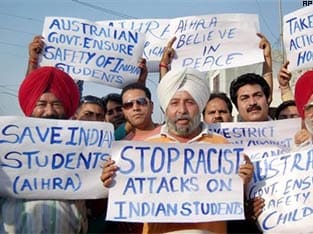 Demonstrators protested against attacks, wanted better police response.
Sydney: About 200 Indian students protested against perceived police apathy on Monday night after two Indian men were attacked by ethnic Lebanese in the western Sydney suburb of Harris Park.
In what is being perceived as retaliation, during a protest by Indians on Tuesday, three ethnic Lebanese were assaulted, sparking fears of inter-communal tensions in a city home to over 200 different nationalities.
"I don't think there's any suggestion that they (attacks) are racially motivated. Certainly it would appear to us that they were opportunistic and that this is an area of Harris Park where there's a very large Indian community", Police Superintendent of the Parramatta Local Command, Robert Redfern said.
However, Indian overseas student Ajay Kumar told Australian Associated Press (AAP) news agency, that he joined the protest after being a victim of assaults and to demand more police protection.
"I never come back home at night time. If I finish my work, I stay there. Why? Because I know if I come back, someone smash me, someone take my money", Kumar told AAP.
There were no charges laid and no victims needed hospital treatment in the overnight attacks.
There have been a spate of attacks in recent weeks, which overseas Indian students insist are racially motivated and the police are not doing enough to stop them.
Jimit Shah, 26, said, "I just came out the station and I [was] just near to my house, and I just see some of the Indians behind me, and suddenly some Lebanese come over there, and just they hit the Indian people, and they are my brothers".
However, the police reiterate that Indian overseas students are more vulnerable and likely to be victims of crime because of working late and travelling on public transport late at night and in the early hours of the morning.
Meanwhile, in yet another tit-for-tat, a 20-year-old man was stabbed once in the neck and twice in the arm in the St Albans suburb of Victoria on Monday after allegedly racially abusing a group of Indian students, The Age newspaper reported.
"There is a danger this will become like a chain reaction with the victim becoming the perpetrator. We don't want to get to that," Sam Afra, chairman of the Ethnic Communities Council of Victoria, told The Age.
The attacks have received wide spread coverage in India, damaging Australia's reputation as a friendly and safe study destination and straining bilateral relationship.
Foreign Minister Stephen Smith on Tuesday told the Australian Broadcasting Corporation: "We're doing everything we can to make sure that Indian students can come to Australia and not have to worry about their safety and security. We want very much to bring the perpetrators to justice, whatever their motivation, but also ensure that we're doing everything we can to put at ease the concerns of Indian mums and dads whose sons and daughters are far away in Australia and to provide them every service that we can to put their minds at rest".
The Australian government has set up a new task force under National Security Adviser Duncan Lewis to coordinate the government's response to the recent spate of attacks on Indian international students.
Get the best of News18 delivered to your inbox - subscribe to News18 Daybreak. Follow News18.com on Twitter, Instagram, Facebook, Telegram, TikTok and on YouTube, and stay in the know with what's happening in the world around you – in real time.
Read full article