India, Indonesia Plan to Develop Strategic Indian Ocean Port Countering China's Maritime Influence
There has been tension in Southeast Asia over the disputed South China Sea, a busy waterway claimed in most part by China.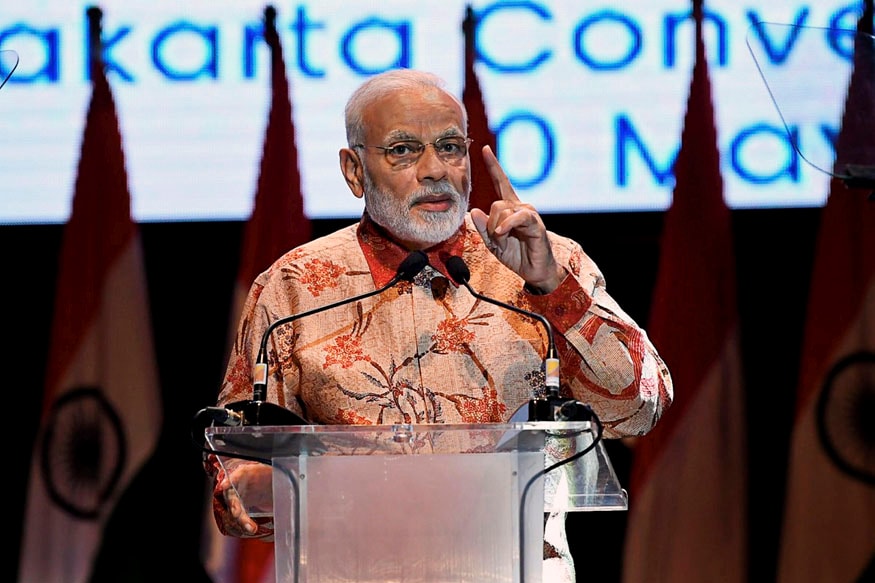 PM Modi addresses the Indian diaspora in Jakarta on Wednesday. (PTI Photo/PIB Twitter)
Jakarta: India and Indonesia pledged on Wednesday to step up defence and maritime cooperation, with plans to develop a strategic naval port in the Indian Ocean, the leaders of the two countries said after meeting in Jakarta.
Prime Minister Narendra Modi met Indonesian President Joko Widodo to discuss, among other issues, developing infrastructure and an economic zone at Sabang, on the tip of Sumatra island and at the mouth of the Malacca Strait, one of the busiest shipping channels for global trade.
"The India-ASEAN partnership can be a force to guarantee peace and progress in the Indo-Pacific region and beyond," PM Modi said in a statement read in Hindi after the meeting at the presidential palace.
"India is a strategic defence partner...and we will continue to advance our cooperation in developing infrastructure, including at Sabang Island and the Andaman Islands," Widodo told a news conference.
Analysts say the move comes amid concerns over China's rising maritime influence in the region, and is part of Modi's "Act East" policy of developing stronger ties with the Association of Southeast Asian Nations (ASEAN).
Modi this year invited the leaders of all ten ASEAN nations to attend New Delhi's Republic Day parade, the biggest such gathering of foreign leaders at the annual event.
There has been tension in Southeast Asia over the disputed South China Sea, a busy waterway claimed in most part by China.
Brunei, Malaysia, the Philippines, Taiwan and Vietnam also have conflicting claims in the area, through which about $3 trillion worth of sea-borne goods passes every year.
While not a claimant, Indonesia has clashed with Beijing over fishing rights around the Natuna Islands and expanded its military presence there. It has also renamed the northern reaches of its exclusive economic zone, to reassert its sovereignty.
Modi, who is making his first trip to Indonesia, is also set to visit the Istiqlal mosque in the capital of the world's biggest Muslim-majority country.
He flies to Malaysia on Thursday to meet recently elected Prime Minister Mahathir Mohamad before heading to neighbouring Singapore to address a regional security forum, the Shangri-La Dialogue.
Last week, Indonesia's chief maritime affairs minister, Luhut Pandjaitan, said the existing port at Sabang, which is 40 metres (131 ft) deep, could be developed to accommodate both commercial vessels and submarines, according to media.
Indonesia's transport minister told reporters on Wednesday that Sabang would get a transshipment port that could be developed over two years.
Asked about Indian investment in Sabang, foreign ministry official Preeti Saran said New Delhi was interested in helping build infrastructure across Southeast Asia.
"There have been discussions about building infrastructure, it's not just seaports, but airports," she said. "There would be a lot of interest among Indian companies."
Widodo and Modi also signed pacts on cooperation in the pharmaceuticals and techonology industries.
Read full article