Infiltration by Militants From Pakistan came Down Post Surgical Strikes: Rajnath Singh
Speaking about dangers of the social media, the minister said the "enemy" is spreading rumours and false information using tools like Facebook and Whatsapp.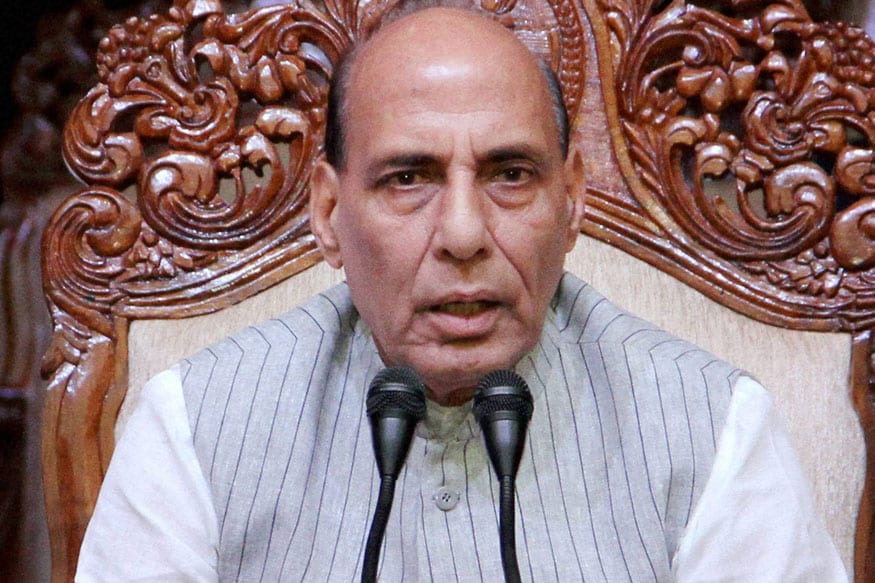 File image of Union Home Minister Rajnath Singh. (Photo Credit: PTI)
New Delhi: Infiltration by militants from Pakistan has come down to a large extent after India conducted surgical strikes on the terror hubs across the Line of Control, Union Home Minister Rajnath Singh on Thursday said.
Addressing a gathering of central police and paramilitary personnel during a BSF investiture ceremony here, the home minister also asked security personnel to be cautious against using and forwarding unverified social media content.
"There used to be infiltration by militants from Pakistan. But I can say after surgical strikes, incidents of infiltration have come down to a large extent. I compliment both the army and the BSF for ensuring border security," Singh said.
The strikes were conducted by the army at terror launch pads across the LoC in September last year. He said the forces, especially the Border Security Force (BSF), should stay "more alert" against the cross-border smuggling of fake Indian currency notes and drugs.
Speaking about dangers of the social media, the minister said the "enemy" is spreading rumours and false information using tools like Facebook and Whatsapp.
"It is seen that the personnel and officers use and put such information or videos on their Facebook page or Whatsapp.
You should not forward such items, unless it is authentic and in the interest of the country as you not only protect our borders but also the country's unity and integrity," he said.
The home minister added the government was working to fully deploy a Comprehensive and Integrated Border Management System (CIBMS) to secure the frontiers by using radars, lasers, camera and other command and control devices.
"We are trying to secure our borders effectively...by putting a three-tier system which will be like deploying a border guarding force (like BSF), an intelligence network and police presence behind this. This is being integrated on our borders in a fast mode," he said.
Calling the BSF as India's 'First Wall of Defence', he said that in the last few years the border guarding force has come out of the shadows of the army and registered its independent identity at the borders (Indo-Pak).
Earlier, the BSF's valour used to go along with that of the army but in the last few years you have done exceptional work, Singh said.
The home minister reiterated that it is his desire that the family of every jawan, who lays down his or her life in the line of duty, of the Central Armed Police Forces (CAPFs) must get a minimum compensation of Rs 1 crore.
I urge all the DG's (Directors General) of the CAPFs to inform me of any such case where the family is not able to get the minimum of Rs 1 crore aid.
"I will try all that I can to ensure that this amount is provided to the families," Singh said. He added his ministry has launched a special web portal in this context and that many people have come forward to contribute to the families of the slain jawans and officers.
The minister also talked about launching of special apps (mobile applications) for the personnel of these forces to register and get resolution for their grievances. m"While every jawan or officer should get their grievances resolved through the established forum that you have in your respective forces, all such cases that come to the home ministry will be reviewed by me at least once a month," he said.
Singh said he had a "special attraction" towards the army and uniformed forces since his early days, but god destined him to be at this place (as a politician and home minister).
Get the best of News18 delivered to your inbox - subscribe to News18 Daybreak. Follow News18.com on Twitter, Instagram, Facebook, Telegram, TikTok and on YouTube, and stay in the know with what's happening in the world around you – in real time.
| Edited by: Swati Sharma
Read full article