The quarantine protocol for Delhiites who test positive for Covid-19 is all set to change with institutional quarantine for at least five days made compulsory for those who test positive.
Top officials in the Ministry of Home Affairs (MHA) told CNN-News18 the decision has been taken to ensure better treatment and isolation. "People in Lutyens' Delhi might have a separate room with attached washroom, but in large parts of Delhi, there are single room tenements where isolating a positive patient from the rest of the family is not possible," an official said.
This seems to be partially in sync with the health ministry's observation about the implementation of home isolation in Delhi.
"It is highlighted that instances have come to our notice wherein home isolation is allowed in routine in certain states. This may lead to the spread of disease among family members and neighbours" Lav Aggarwal, joint secretary, Ministry of Health wrote in his letter to health secretary, Delhi chief secretary and additional secretary UT, MHA.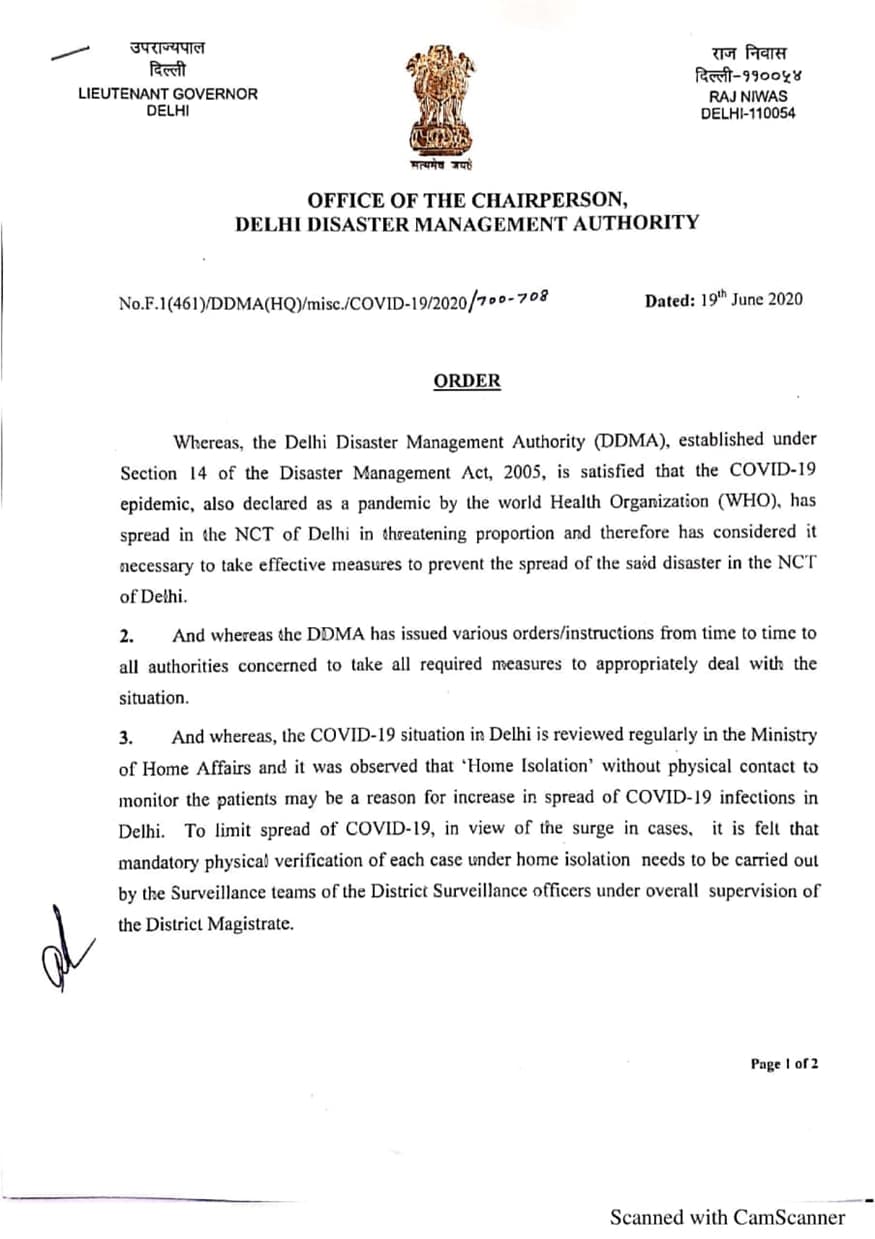 So far asymptomatic patients and those with mild symptoms were advised to quarantine themselves at home.
The letter written by Agarwal points at discrepancies in home isolation but doesn't ask for home isolation to be discontinued all together in Delhi.
What is also noteworthy is that the health ministry's own guidelines for home isolation are still in place and not revised yet. The guidelines issued on May 10 say the criteria for home isolation is essentially that a person should be clinically assigned as a very mild case/pre-symptomatic case by the treating medical officer.
Such patients should have the requisite facility at their residence for self-isolation and also for quarantining the family contacts.
A caregiver should be available to provide care on 24 x7 basis. A communication link between the caregiver and hospital is a prerequisite for the entire duration of home isolation.
The caregiver and all close contacts of such patients should take hydroxychloroquine prophylaxis as per protocol and as prescribed by the treating medical officer.
The Aarogya Setu app should be downloaded and the patient shall agree to monitor their health and regularly inform about their health status to the district surveillance officer for further follow up by the surveillance teams.
The patient will fill in an undertaking on self-isolation and shall follow home quarantine guidelines.
The government on several occasions has spoken about the need to recuperate at home, underscoring that it is a practice world over.
Officials said home minister Amit Shah categorically told Delhi government officials in a recent meeting that home isolation was not being implemented and hence Covid-19 numbers in the capital are rising. He asked for infrastructure to be ramped up so that all those who test positive are taken to institutional quarantine.
When asked if this would not add pressure on Delhi's already strained medical infrastructure, MHA official said that work is underway to spruce up infrastructure, but no timeline has been set.
"Even those who have a separate room at home to self-isolate may need medical attention. A number of cases have come to light where situation has suddenly worsened. By the time the patient reaches a hospital, it is too late. We want to avoid such a situation," the official told News18.
The move is polar opposite of what the Delhi government had been advising patients so far. Chief Minister Arvind Kejriwal had in the past urged people with "no or mild symptoms" to recuperate at home to avoid additional burden on the city's already overwhelmed healthcare facilities.
As is procedure, the Delhi government issued an order on the mandatory institutional quarantine on Friday.
Notably, minutes later, the health ministry reiterated its guidelines on home isolation issued on May 10, which said "very mild and pre-symptomatic Covid-19 patients can opt for home isolation provided the patient has a room to himself/herself with toilet facility and has an adult attendant/caregiver."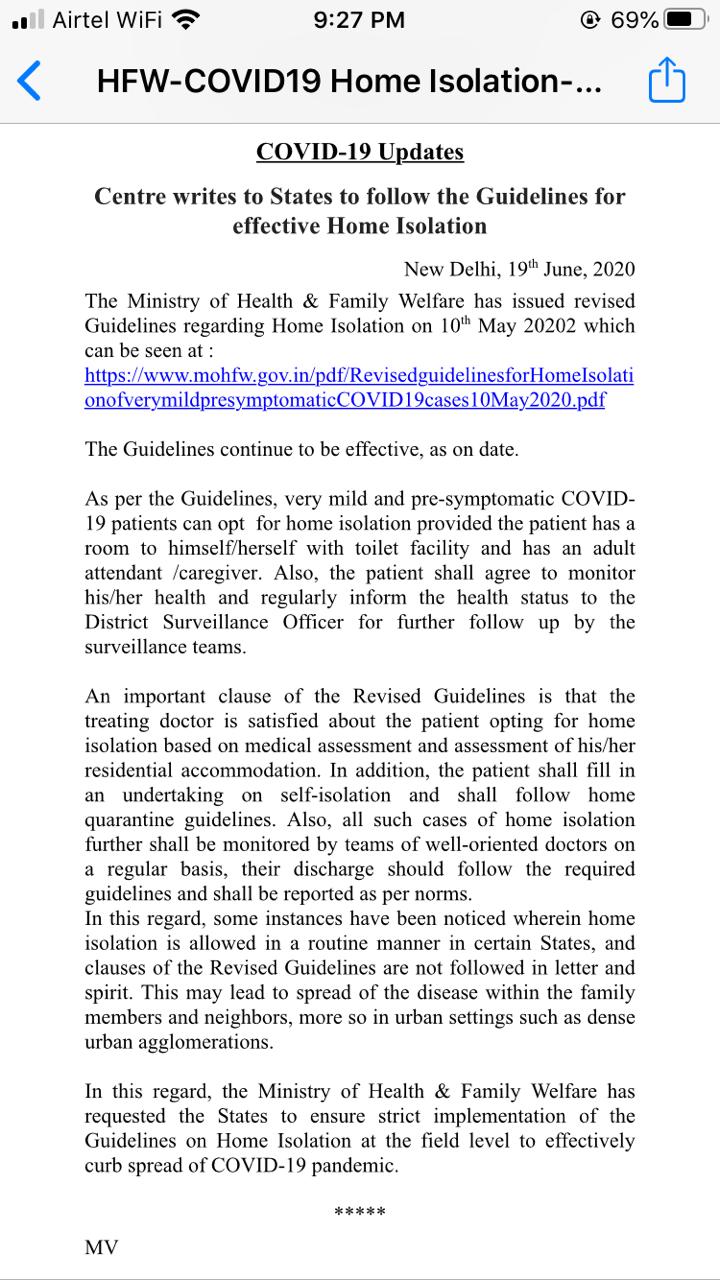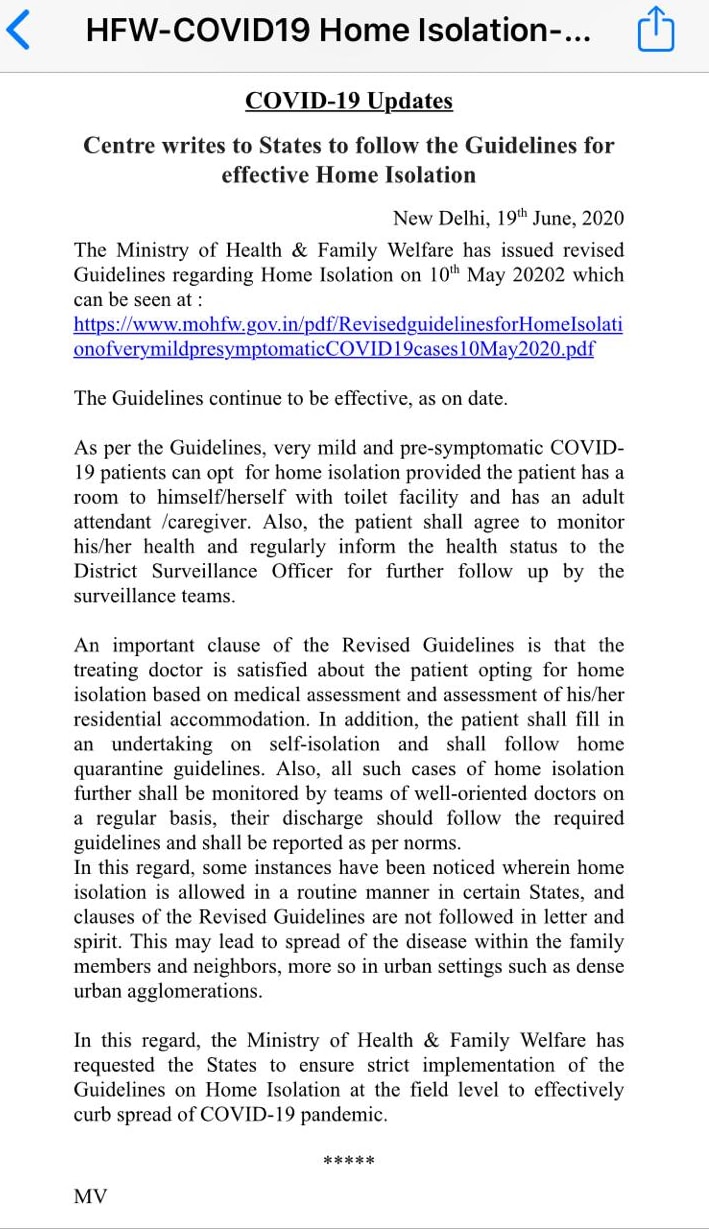 The mandatory institutional quarantine is the home ministry's second major directive on the coronavirus pandemic in the national capital. Earlier on Friday, a high-powered committee, set up by home minister Amit Shah, recommended fixing the cost of a Covid-19 isolation bed in Delhi's private hospitals in the range of Rs 8,000 to Rs 10,000 and an ICU bed with ventilator at Rs 15,000-Rs 18,000 per day.
The total number of Covid-19 cases in Delhi inched closer to 50,000-mark on Friday, including 1,969 deaths and 21,341 recoveries.
Reacting to the order, the Delhi government termed the decision as "arbitrary" and said it will "seriously harm" the city.
In a statement, the Delhi government said this will discourage many people from getting tested and will "spread coronavirus" further as asymptomatic patients or those with mild symptoms will resist testing.
Urging L-G Anil Baijal to reconsidered the decision, it pointed out that the city already has a "serious shortage" of doctors and nurses to provide care for COVID-19 patients, and asked where would the extra manpower come from.
(With inputs from PTI)