Iran unrest continues, authorities blame West
The Iran government says courts will teach a lesson to the protestors.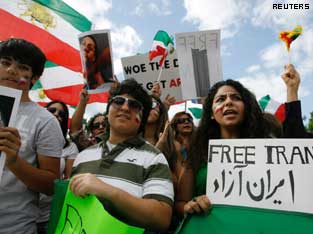 The Iran government says courts will teach a lesson to the protestors.
Tehran: Iranian authorities said they would teach an exemplary lesson to "rioters" held in the worst unrest since the birth of the Islamic Republic and pressed accusations that violence was being incited by Western powers.
Ten days of protest against elections that confirmed hardline anti-Western President Mahmoud Ahmadinejad in office have produced unprecedented protests and a public split in the Islamic establishment. Defeated candidates accuse the authorities of rigging the election and have demanded a rerun.
A moderate cleric defeated in the June 12 poll signalled on Tuesday opposition would continue, calling on Iranians to hold ceremonies on Thursday to mourn those killed at protests.
At least 10 were killed in the worst violence on Saturday, and about seven more early last week.
Iranian state television, in broadcasts clearly intended to discredit opponents defying a ban on protests, paraded people it said had been arrested during weekend violence.
"I think we were provoked by networks like the BBC and the VOA (Voice of America) to take such immoral actions," one young man said.
A woman said she had carried a "war grenade" in her hand-bag. "I was influenced by VOA Persian and the BBC because they were saying that security forces were behind most of the clashes.
"I saw that it was us protesting ... who were making riots. We set on fire public property, we threw stones ... we attacked people's cars and we broke windows of people's houses." The troubles have erupted against a background of tension between the West and Iran, a major oil and gas producer and pivotal factor in regional stability.
PAGE_BREAK
POLICE IN RIOT GEAR
Trucks and police in riot gear were deployed on the main squares of Tehran on Tuesday, but there were no signs of any protest gatherings in the city by mid-afternoon.
A group of about a hundred hardliners gathered in front of the British embassy in Tehran, chanting "British embassy should be closed", a witness told Reuters.
The Revolutionary Guard, fiercely loyal to the conservative religious establishment, has declared a crackdown on protests. Hundreds have been detained by police using tear gas and batons since poll results published on June 13 gave Ahmadinejad a landslide victory over chief rival Mirhossein Mousavi.
"Those arrested in recent events will be dealt with in a way that will teach them a lesson," the official IRNA news agency quoted senior judiciary official Ebrahim Raisi as saying on state television late on Monday.
He said a special court was studying the cases.
"The rioters should be dealt with in an exemplary way and the judiciary will do that," Raisi said.
Tehran's hardline leadership is locked in dispute with Western powers over its nuclear programme, which it says is intended for power generation but which the West suspects could yield nuclear weapons that could destabilise the region.
White House spokesman Robert Gibbs said the protests had led to the "beginnings of change" in Iran. But he said President Barack Obama would not endorse any general strike there or otherwise involve himself with specific actions.
Mousavi was quoted by an ally on Saturday as calling for a national strike if he was arrested.
Iran's top legislative body, the Guardian Council, rejected demands for a rerun from two losing candidates, former prime minister Mousavi and pro-reform cleric Mehdi Karoubi.
An Iranian parliamentarian, Mahmoud Ahmadi, said on Tuesday Tehran would temporarily recall its ambassador to Britain, which the leading oil and gas producer has accused of fomenting trouble. A senior Iranian government source did not confirm the report carried by several Iranian news agencies.
PAGE_BREAK
NUCLEAR PROGRAMME
Karoubi maintained pressure on authorities.
"Karoubi calls on Iranians around the country to hold ceremonies on Thursday to remember those (killed) at protests," said aide Issa Saharkhiz.
People in Tehran, in a gesture of defiance first used in the 1979 Islamic revolution and now adopted by pro-reform protesters, again chanted "Allahu Akbar" (God is greatest) from their rooftops at nightfall on Monday.
Mousavi, himself a scion of the Islamic establishment that seized power 30 years ago, says he does not seek confrontation with the country's leaders but wants to root out what he calls lies and deceit exposed in the elections.
Iranian state TV said on Tuesday Tehran had been calm for a second night. "The presence of police and Basij forces in parts of the city has raised people's feeling of security," IRIB said.
Iranians on social networking sites called for mourning for Neda, a young woman shot dead on Saturday. Footage of her death has been watched by thousands on the Internet.
Iranian TV, quoting unnamed source, said Neda was not shot by a bullet used by Iranian security forces. It said filming of the scene, and its swift broadcast to foreign media, suggested the incident was planned.
Her fiance Caspian Makan told BBC Persian TV that Neda Agha-Soltan had been caught up accidentally in the protests.
"She was near the area, a few streets away, from where the main protests were taking place, near the Amir Abad area. She was with her music teacher, sitting in a car and stuck in traffic," it quoted him as saying. "She was feeling very tired and very hot. She got out of the car for just a few minutes."
A Greek journalist working for the Washington Times newspaper has been arrested on charges of "illegal activities", a friend told Reuters. The friend said the journalist, Greek national Iason Athanasiadis, was arrested hree days ago in Tehran and that his embassy had been informed.
Get the best of News18 delivered to your inbox - subscribe to News18 Daybreak. Follow News18.com on Twitter, Instagram, Facebook, Telegram, TikTok and on YouTube, and stay in the know with what's happening in the world around you – in real time.
Read full article