Is a Pre-nuptial Agreement Valid in India?
In India, since marriage isn't considered a contract, it is very rare that you'll see or hear a couple getting a pre-nup.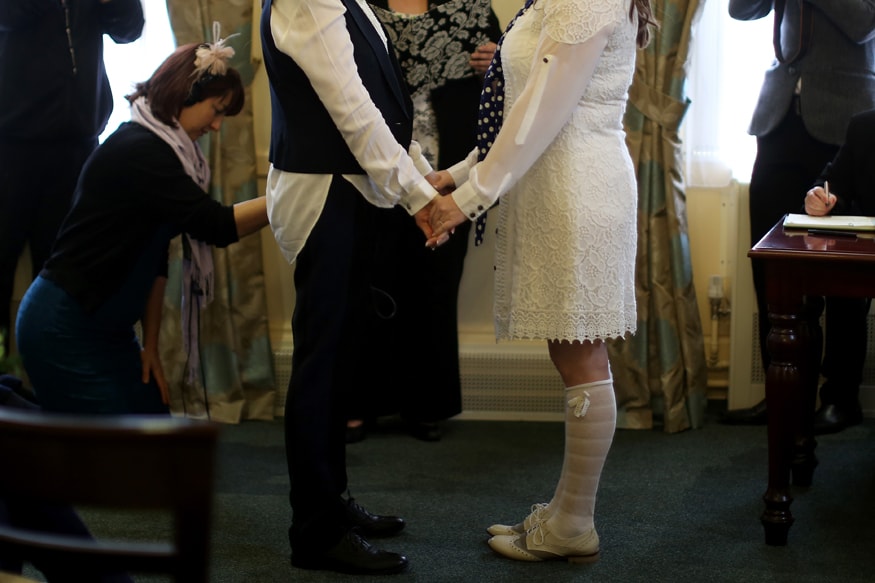 Image for representation. (Getty Images)
Pre-nuptial Agreement in India sounds like an alien concept. India is a country that boasts of its rich culture and the love and warmth that people share. Unlike western countries where marriage is taken to be a contract between husband and wife, in India marriage is considered as a religious alliance of a man and a woman for life and thus a prenuptial agreement is legally not valid under the Hindu Marriage Act in India, however it is governed under the Indian Contract Act, 1872.
In India, since marriage isn't considered a contract, it is very rare that you'll see or hear a couple getting a pre-nup. However, in case of divorce or separation both the spouses, struggle with the hearings of their case in court, hurling accusations on each other, pinning the blame on the opposite party, all so that the person may get to pay less amount of money as alimony and it is here that the importance of a prenuptial agreement comes into play.
Now everyone has heard about a prenuptial agreement between a husband and wife. It is basically an agreement in writing between 2 spouses which states that in the event of death or divorce or separation what will be the monetary liability of the respective spouses. In simple words it lays out the proportion of property, assets and money each of them will get if the marriage is dissolved.
A prenuptial agreement must contain few of the following clauses
-
- Disclosure of assets and liabilities
- Financial or monetary position
- Real estate properties
- Shared properties
- Division of properties
- Separate properties
- Alimony or maintenance
- Child custody & Maintenance
- Life insurance, Medical insurance, Claims
- Management of bank accounts or joint accounts Management of household expenses, bills, etc
- Gifts in the form of jewelry, engagement ring, precious wedding bands, art, etc.
The prerequisites for a pre-nuptial agreement are
-
1 The prenup should be fair, reasonable and duly acknowledged.
2 The prenup should be certified by attorneys of both the parties.
3 A list of assets and liabilities of both the spouses must be attached along.
4 A clause that states that even if a certain provision is null and void, the other provisions would still hold legal and valid, should be mandatorily be covered in the prenup.
5 The prenup should contain details of the agreed issues like maintenance/alimony, division of assets and liabilities in case of dissolution of marriage that both the parties have decided together.
Everything has its pros as well as cons, so does a pre-nuptial agreement, let's understand one by one
:
The advantage of having a prenuptial agreement is that it creates a clear-cut reference on the liability both partners hold in case of a Divorce or Separation.
1) Protection of rights of children as well as grandchildren from a previous marriage.
2) Protection of assets or interest of either of the spouse who is self employed or a practitioner, from another spouse's control in case of separation or divorce.
3) Protection of one spouse who has no debts or liabilities, from taking up the burden of liabilities/ debts of his/her spouse.
4) In case of divorce the maintenance or settlement received can be decided in advance, thus saving the spouses from the trouble of going to the court and fighting a legal battle.
Although by law there are no downsides of a prenuptial agreement however it is still a social stigma in India and creates a negative impression in the mind of people as they think that the couple has already thought that their marriage won't last. The prenuptial agreement may create soreness between the marital relationship of husband and wife if only one spouse insists for it, as Indians consider marriage to be above materialistic aspect of life.
Despite a prenup being a valid contract there are certain clauses in a prenup that can be nullified by a court viz clauses that
1) Encourage dissolution of marriage
2) Enforcing 'No Child' provision (if any)
3) Specify a certain Religious upbringing of children
4) Contain waivers with respect to Spousal support or maintenance both temporary or permanent, counsel fees, child custody or child support and maintenance
5) Require for a certain conduct during marriage
6) Cap the grounds for getting a divorce
| Edited by: Bijaya Das
Read full article
Countdown To
Elections Results
To Assembly Elections 2018 Results