Is Dalit an Offensive Word? Identity for Some, Others Say Use of SC/ST Will Mask Atrocities
The controversy over using 'Dalits' is by no means fresh. It was an order issued on February 10, 1982, by the Ministry of Home Affairs that the Social Justice ministry referred to while issuing the ban on the word 'Dalit'.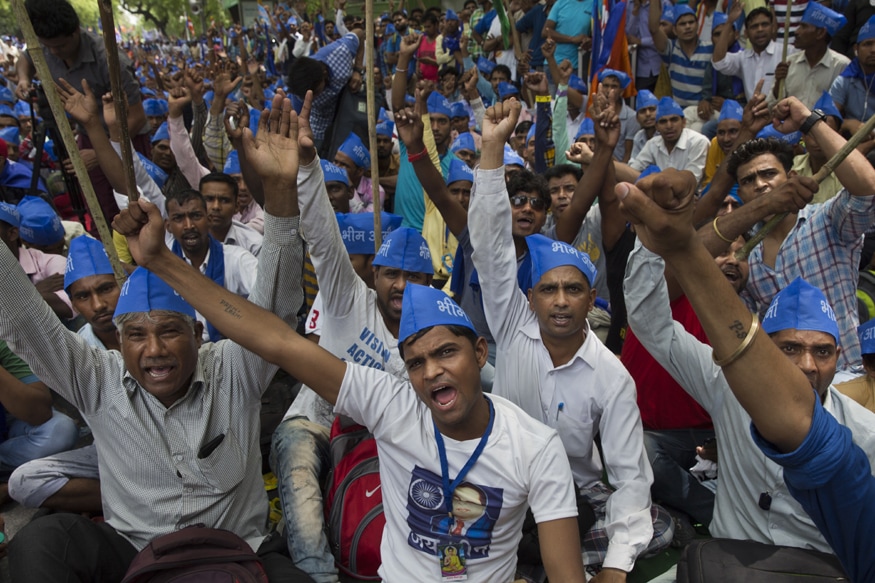 Dalit protesters raise slogans at a protest against caste violence (Representational photo: PTI)
New Delhi: The Information and Broadcasting Ministry on Monday issued a notice to private satellite TV channels asking them to comply with an order passed earlier this year by the Bombay High Court to not use the word 'Dalit' in reports.
Earlier this year, the Gwalior Bench of the Madhya Pradesh had also issued orders banning use of 'Dalit' earlier this year arguing that the word "does not find mention in the Constitution of India or any statute." Following this, the Union Social Justice and empowerment ministry directed state governments and autonomous institutions last month to use "Scheduled Caste" instead of "Dalit".
The controversy over using 'Dalits' is by no means fresh. It was an order issued on February 10, 1982, by the Ministry of Home Affairs that the Social Justice ministry referred to while issuing the ban on the word 'Dalit'.
It was argued, by the social justice ministry, that the home ministry too had had shot off a missive to the states to issue instructions to the authorities empowered to issue Scheduled Castes certificates, not to insert the word 'Harijan', but to only mention the caste to which the person belonged and which had been recognised as a Scheduled Caste under the Presidential Orders.
Two years after this on August 18, 1990, the Ministry of Welfare (now Social Justice and Empowerment) had requested the state governments to use 'Scheduled Caste' and its translation.
While governments and courts are of the opinion that the word 'Dalit' may not have a constitutional standing, what are the views of the community on the subject? Is there a sense that 'Dalit' is a pejorative reference that should be done away with or is there a larger opinion that 'Dalit' has historical connotations which had over time become associated with the identity and aspirations of a section of the society? News18 spoke to several people from within the community and those who've closely worked with the community to find out.
"Look Baba Saheb never referred to us as Dalits. He talked about 'depressed classes and sections' of the society and talked about scheduled castes and scheduled tribes. Dalit as a phrase is the preserve of those who've oppressed us. Like the identity 'Chamar'. We were given this by the Sawarns," said Sanjeev Dehelvi, a Bahujan thinker.
It is for this reason, he added, that when Kanshi Ram founded his party he named it Bahujan Samaj Party not Dalit Samaj Party.
"Dalit is for popular discourse. The aspiration is Bahujan and that is how we want to be identified because there are people oppressed in similar way who come from different backgrounds. 'Dalit' makes it sound as if just one particular community of our society has only faced oppression," Dehelvi added.
However that is not the view held by senior journalist and scholar Anil Chamadia. "Words for identities are borne out of circumstances and cases are different always when it comes to politics and governance. While scheduled tribes and scheduled castes are used in matters of governances, Dalits has been used widely by members of Dalit community to become a political force. I do not think that it is a pejorative term. Harijan was. Not Dalit."
The origins of the word are Marathi, and perhaps go long way back to Sanskrit, to identify someone who is oppressed. And was used by a lot of social reformers from within the Marathi speaking community.
Kuffir, who runs Round Table India, also says that the word 'Dalit' cannot be derogatory or objectionable to members of the community otherwise why would members of the community identify themselves with this word. "Phule and Ambedkar did use this word also. Press or the government shouldn't muzzle the freedom of anyone's speech and deny people to use this word to describe themselves," he said.
There are also those like Sweta Yadav, who has been reporting on Dalit atrocities and issues for several years now, and now runs her independent YouTube channel 'Tedhi Ungli', thinks that government is trying to erase from popular discourse to not let caste-based atrocities be reported for what they are.
"Words do matter. Today Dalit samaj is present everywhere and is sensitive to the words that are being used in reports about them. Till yesterday Hindi reports would say 'Dabangs beat up Dalits' today we go so far as to use the word 'Savarn'. This is a big deal for us. My hunch is that if the word 'Dalit' is masked in the term SC/ST, it will prevent people from talking in specific details about the community that was wronged and create some sort of deliberate public opinion about caste."
Get the best of News18 delivered to your inbox - subscribe to News18 Daybreak. Follow News18.com on Twitter, Instagram, Facebook, TikTok and on YouTube, and stay in the know with what's happening in the world around you – in real time.
Subscribe to Moneycontrol Pro and gain access to curated markets data, trading recommendations, equity analysis, investment ideas, insights from market gurus and much more. Get Moneycontrol PRO for 1 year at price of 3 months. Use code FREEDOM.
Read full article