Is Jammu and Kashmir Heading For Its Eighth Governor's Rule?
The immediate option available is to form an alliance between PDP and National Conference but the chances of them coming together seem bleak.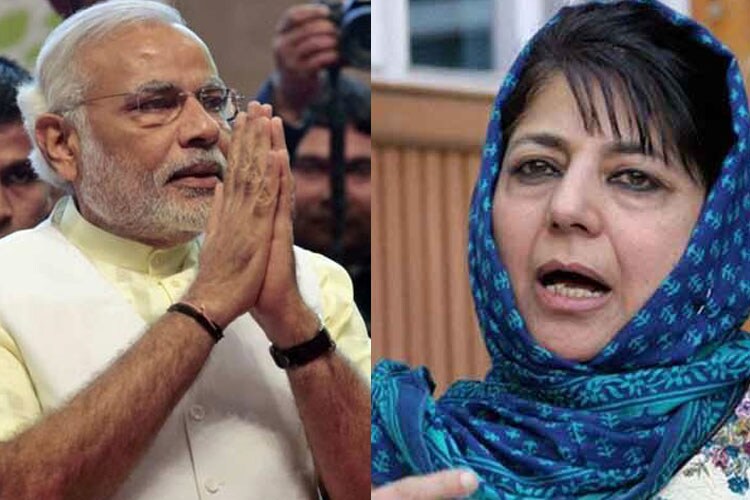 PM Narendra Modi (left) and J&K Chief Minister Mehbooba Mufti.
New Delhi: With the Bharatiya Janata Party (BJP) pulling the plug from its alliance with People's Democratic Party (PDP) in Jammu and Kashmir, the legislative assembly of the state now needs a new alliance to prove its majority.
The immediate option that the floor of the House has is to form an alliance between PDP and National Conference (NC). However, the likelihood of PDP's Mehbooba Mufti and NC's Farooq Abdullah coming together seems bleak because of unfavourable instances in the past.
Here is a list of past instances when Jammu and Kashmir had to face governor's rule:
March 26, 1977-July 9, 1977: For 105 days when Sheikh Abdullah led National Conference government bowed out after being reduced to a minority following withdrawal of support by the Congress Party.
March 6, 1986-November 7, 1986: For 246 days due to loss of majority on the floor of the House
January 19, 1990-October 9, 1996: For six years and 264 days due to insurgency and breakdown of law and order
October 18, 2002-November 2, 2002: For 15 days due to indecisive outcome of state elections.
July 11, 2008-January 5, 2009: For 178 days due to loss of majority following collapse of coalition. Then chief minister Ghulam Nabi Azad's decision to transfer land for Amarnath pilgrimage led to PDP pulling out of coalition government
January 9, 2015-March 1, 2015: For 51 days due to failure of government formation after fractured verdict in assembly elections. BJP & PDP reached an understanding to enter into an alliance to form government
January 8, 2016-April 4, 2016: For 87 days due to death of then chief minister Mufti Mohammad Sayeed
Get the best of News18 delivered to your inbox - subscribe to News18 Daybreak. Follow News18.com on Twitter, Instagram, Facebook, Telegram, TikTok and on YouTube, and stay in the know with what's happening in the world around you – in real time.
Read full article