'Is Jauhar Brave?' In Chittorgarh, Queen Padmini Isn't Everyone's Hero
Sprawled over 690 acres, the Chittorgarh fort that acts as a canopy to the entire city, is all about legends, bravery, valour and in turn, myths.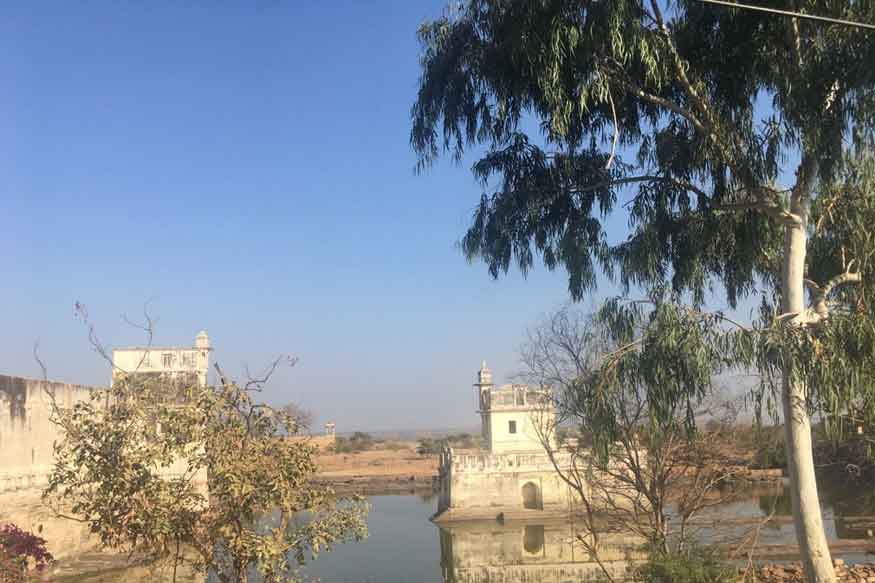 According to locals, this is the palace where Rani Padmini used to live. (Image: News18)
Chittorgarh, Rajasthan: A few miles ahead of the Chittorgarh fort, there are a bunch of men in khaki waiting, stopping every car that passes. "Tourist?" one of them peeps in through the window to check.
The past few days have been rough. On the 69th Republic Day, the fort had opened its gates to visitors after staying shut for three days following the threats of attack from men and women who vowed to commit jauhar.
Sprawled over 690 acres, the fort that acts as a canopy to the entire city, is all about legends, bravery, valour and in turn, myths.
Sunil, the guide, starts with the story of jauhar. "This fort has seen jauhar thrice," he says as he shows a garden, surrounded by barricades. He points at the elevated structure from where queen Padmini had apparently jumped into the fire with 15,999 other women—to save themselves from the lustful eyes of Alauddin Khilji.
There's a jauhar mela that happens every year inside the fort. Sometime in February, Rajput women come together to walk around the city to commemorate Rani Padmini's jauhar. It's a celebration to honour and respect the brave act of the queen.
"The Mughals destroyed everything," he said. Sunil then goes on to describe the beauty of Ratan Sen's second queen. "You could see the food pass through her throat," he said, indicating how fair the queen from Sri Lanka was.
By the time I finished taking a trip of the fort that had a twisty road leading to seven gateways guarded by a watch tower and iron-spiked doors, I had heard the words "Padmini, Padmavati, jauhar and bravery" multiple times.
For the people in this Rajasthan city, that's about 300 kilometers away from Jaipur, Padmini, who became Padmavati through a poem written by Muhammad Jayasi in 1540, is very real — no matter what the historians say.
For 29-year-old Gayetri*, who has grown up inside a one-room apartment inside the fort, Rani Padmini's jauhar isn't her idea of bravery. "I know she was very beautiful, but I don't think she was brave," she said. Gayetri cannot walk, she has never been able to. "When the doctors found out I had polio, I was about 3 years old," she said.
She was married to a deaf and dumb man when she was barely 13 years old. When her parents forced her, she laid down one condition—"I wanted to study." And, she continued studying with very little help either from her parents or her in-laws. When she was 19 years old, her husband married another woman. This is when she decided that she didn't want to live with him. She filed for a divorce. Despite her parents and neighbours telling her that she won't be able to find a husband, Gayetri was sure. "I didn't need to be someone's wife to live my life," she said.
Ten years later, Gayetri has a part time job at a computer training centre and sells purses and churni to take care of parents and her two elder brothers. In Gayetri's dictionary, being brave is to step out of the four walls.
Gayetri, too, like any of those women from the Kashatriya community in Chhitorgarh who threatened to perform jauhar if Sanjay Leela Bhansali's movie wasn't stopped, have heard the stories of Padmavati and her bravery all through her childhood. But, she has questions.
"Wouldn't it be braver of her to fight Khilji's warriors instead of committing suicide?" she asks. Before I can say anything, she responds to her own question. "But back then, it may not have been easy. Women were supposed to live inside and not step out. Ghoonghat was the norm. Maybe this was the only step Padmini could have taken," she said.
Months before the Deepika Padukone-starrer was released, and Padmavati became Padmaavat, the Rajput Karni Sena and other fringe groups in Rajasthan had blocked the entrance of the fort and shots were fired. And months before that, a bunch of men vandalised the fort and broke mirrors installed at the Padmini Palace. They were not ready to see any portrayal of Rani Padmini that wouldn't glorify her act of 'bravery'.
Shazida, who lives in Suwawa, with her husband and her two children—a daughter and a son—has become an education campaigner of sorts in her village. "For a long time people felt that girls don't need to study, but things are changing now," said the 36-year-old woman.
Two years ago, after she received a formal training from CUTS Centre for Human Development, an NGO that works on improving education conditions and women empowerment, she went around door to door encouraging people to send their daughters to schools. "It was often humiliating. But I knew I had to talk to these families who have a very rigid mindset and wouldn't send their daughters to school," she said.
When she starts talking about her own daughter, she can't resist smiling. Her voice gets louder, probably trying to get the attention of everyone else in the room. "My daughter is in her first year of college now. Bohot hoshiyar hai who (She's very smart)," she declares. She then goes on to list the number of awards her daughter has won. Shazida has never had any formal education. "My parents never sent me to school," she said. Probably that unfulfilled dream of wearing a school uniform has made Shazida campaign for girl's education.
For Shazida, bravery is when more families fight the age-old belief that daughters are 'burden' and send them to school. "Rani Padmini may have been brave back in those times. But now, in this age, we cannot hold on to that bravery. Things have changed. We need to change too," she said.
Beena* has very strong opinions on jauhar. "Now these women are saying they will perform jauhar. Kyon bhai? Why should women die to save their dignity?" she asked. Beena, who earns Rs 8,000 a month by stitching blouses, then goes on to give a lesson on women empowerment.
"For centuries, women have been told that they are not supposed to talk to men or make any eye contact. They are supposed to eat only after the men in the family finish their meal. Well, those days are over," she said, as the room full of brave women cheer in approval.
"Even if our husbands can pay for our food and clothes, we need to go out and work on our own," added Shazida.
Back in the capital city, where Karni Sena leaders and their supporters threatened theatre owners and forced them to not release the movie, because they felt Bhansali has ruined the reputation of their brave queen Padmini, a group of women who work to fight cases of domestic violence have their shelves filled with files.
"Every day we get about 3-4 cases of rape and domestic violence," said Meenakshi Vindoriya. Meenakshi, who works out of a 10x10 room inside the SP's office in Jaipur, has some harrowing stories to tell about the crimes against women in the Pink City. As we talk about women and bravery, she points out that even in 2018, women from lower caste are often accused of being witches and they are beaten up.
"When you fight against the society, that is being brave," said Sandhya*. Sandhya is a rape survivor whose accuser is still out on bail. Months after she was raped, Sandhya's brother forced her to leave the house for bringing "bad name" to the family. While living in a shelter for women, she is now fighting a case against her rapist and preparing to get into a nursing college. As she breaks down while narrating her story, Meenakshi looks at her and says, "tum bohot bahadur ho (You are very brave)".
By the time I left the city, I had a bagful of stories of bravery and none of them were about jauhar.
*Names have been changed to protect their identities.
Get the best of News18 delivered to your inbox - subscribe to News18 Daybreak. Follow News18.com on Twitter, Instagram, Facebook, Telegram, TikTok and on YouTube, and stay in the know with what's happening in the world around you – in real time.
| Edited by: Puja Menon
Read full article