Move Over IT, Pharma Emerging as Top Job Generator in India
An overwhelming proportion, almost 78 percent, of colleges approved by All India Council for Technical Education (AICTE) this year offer courses in pharmacy.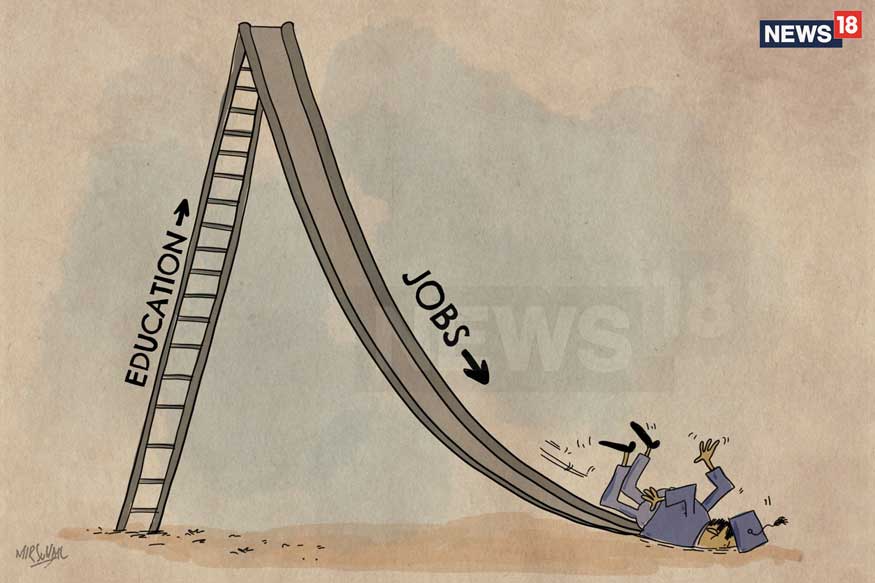 News18 creative by Mir Suhail
New Delhi: There was a time when almost every student who opted for science in their school went on to become an engineer. It was not long ago when 70 percent of the technical institutes in India offered engineering degrees.
But a decisive shift against engineering, which once was a preferred, high-return-on-investment profession, is visible today. Not just in public sentiment but in government action as well.
An overwhelming proportion, almost 78 percent, of colleges approved by All India Council for Technical Education (AICTE), the government regulatory body for technical education, this year offer courses in pharmacy.
Rapidly ageing population and sharp increase in lifestyle-related diseases are some of the factors contributing towards a huge demand for healthcare executives in the country, which in turn is driving up the pharma sector, experts say.
The chairman of AICTE, talking to News18, said that rising demand in pharmacy courses has meant that more pharma institutes are now seeking and securing approvals, while on the other hand, the regulatory body was making "conscious efforts to reduce the number of engineering colleges in India".
The rise in institutes is translating into pharmacy graduates finding jobs in insurance companies, medical transcription and clinical data entry and processing among others.
The decisive shift from engineering towards pharma can be understood through these numbers:-
a) Out of the 552 newly approved colleges by AICTE this year, only 18 percent colleges were those providing engineering degrees and diplomas.
b) Lack of students forced management of 151 engineering colleges to apply for closure this year.
c) 2.6 lakh fewer engineering seats are on offer this academic year because colleges and departments teaching engineering have shut down in the last few years. Pharma seats on offer, on the contrary, have seen a rise of 13.39 percent.
d) In the last financial year, 34 engineering colleges were shut down compared to just three colleges teaching pharmacy. Over the last three years the maximum number of colleges, 148, shut down taught engineering; colleges that were shut down fewest times, 21, taught pharmacy.
e) According to multiple recruitment consultancies, jobs in corporate hospitals have spiked up by more than 20 percent in the last two years.
In recent weeks, eight states — Maharashtra, Kerala, Telangana, Andhra Pradesh, Chhattisgarh, Haryana, Rajasthan and Himachal Pradesh — have written to AICTE asking it not to grant approvals to any more engineering colleges.
Talking to News18, Anil Sahasrabudhe, chairman, AICTE, said, "The increase in pharmacy colleges is a direct result of a huge interest in this sector. We have observed that most of the seats in this department are being occupied. This rising demand has created a huge spike in requests for approval to open new pharmacy colleges."
Sahasrabudhe added that there was a "conscious effort to reduce the number of engineering colleges in India". "Most of the states we consulted on this topic were against the idea of starting new engineering colleges," he said.
Pharmacy on the other hand has seen a progressive surge. Recruitment consultants unanimously voiced this opinion when contacted by News18.
"There has been a 25 percent rise in recruitment in corporate hospitals in the last two years. The demand is high which can be deduced from the fact we have seen a surge in enquiries in the healthcare sector," said Kris Lakshmikanth, chief executive officer, Head Hunters India, a recruitment consultancy.
Lakshmikanth explained that the rapidly ageing population of India has created huge demand for nurses. Nurses who earlier used to travel to Middle-East countries for better jobs are now finding better employment opportunities within the country.
Tamil Nadu, Maharashtra and Telangana have seen the sharpest rise in number of pharmacy institutes.
As more sectors are getting into hiring pharmacy graduates, the trend is translating into students shifting from engineering to pharma. "With better job opportunities for pharmacy graduates, fewer students are opting for engineering," said T Ilango, Registrar of the Tamil Nadu Pharmacy Council.
Change in syllabi for Bachelors in Pharma and Masters in Pharma is also a contributing factor towards more students opting for the course.
The new syllabi, formulated by a committee whose members include academicians as well as representatives from pharmaceutical sector, have come into force from the ongoing academic session.
"The pharma sector is thriving because there is a rise in lifestyle diseases," said Krishna Iyer, a professor at Bombay College of Pharmacy and chairman, board of studies for pharmacy at the University of Mumbai.
According to a recent report by World Health Organisation (WHO), 61 percent of all deaths in India are due to lifestyle related diseases.
Iyer said that many graduates find employment in allied industries such as insurance companies, medical transcription and clinical data entry and processing.
"Marketing of medicines has become more cut-throat, thereby generating more jobs," he said.
What's snatching away engineering jobs? Automation
The major reason behind IT reducing the number of intakes is automation.
Experts are of the opinion that four out of every 10 jobs globally would be lost due to this by 2021.
According to PeopleStrong CEO and founder Pankaj Bansal, there will be a visible change in the next 3-4 years and the first major effects will be seen in sectors like manufacturing, IT and ITeS and security services and agriculture.
"We predict that by 2021, four out of every 10 jobs globally would be lost because of automation. And of these, one in every four will be from India. That sums up to 23% of job loss in India," Bansal said.
Experts are of the opinion that while laid off employees will find jobs in ancillary units generated post automation, most of them will have to reskill or settle for meagre jobs.
The lack of good infrastructure in colleges was elaborated by Nasscom President R Chandrashekhar.
"There is a perennial problem about the quality of (engineering) students. Over a period of time, the linearity between revenue and headcount growth in the IT sector has disappeared. Apart from global factors like changes in the economies of many countries and protectionism, there has been an increase in the levels of automation, and companies need to respond to these changes and hire accordingly."
Information Technology (IT) emerged as a mass employer post liberalization in 1991. According to historical Nasscom data, IT alone used to employ 4,00,000 to 5,00,000 engineers annually till 2010. The number drastically reduced to 1,00,000 recruitments in the last financial year.
"The largest recruiter for engineering in the last fifteen years was IT. With IT now hiring less than half of what it used to, naturally the number of jobs have come down. There are jobs elsewhere, but engineers wanted to take up IT jobs. The natural inclination was because IT provided opportunities abroad with handsome salaries. This has also resulted in less students taking up engineering," said Senapathy 'Kris' Gopalakrishnan, former Chief Executive Officer and Managing Director and co-founder of Infosys.
(The story is part of News18 series ##onthejob. The second part of the series will focus on future of education and how automation is shaping market forces)
Get the best of News18 delivered to your inbox - subscribe to News18 Daybreak. Follow News18.com on Twitter, Instagram, Facebook, Telegram, TikTok and on YouTube, and stay in the know with what's happening in the world around you – in real time.
Read full article