Isner stuns Djokovic to make Indian Wells final
John Isner fbeat top-ranked Novak Djokovic 7-6 (7), 3-6, 7-6 (5) in the BNP Paribas Open semi-finals.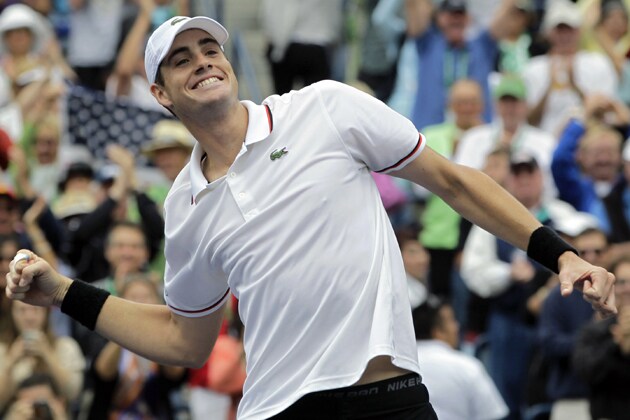 John Isner fbeat top-ranked Novak Djokovic 7-6 (7), 3-6, 7-6 (5) in the BNP Paribas Open semi-finals.
Indian Wells, California: John Isner fired 20 aces, including one at 135-mph on his fourth match point, to beat top-ranked Novak Djokovic 7-6 (7), 3-6, 7-6 (5) in the BNP Paribas Open semi-finals on Saturday.
Isner will play No. 3 Roger Federer in Sunday's final. Federer overcame Rafael Nadal and the rain for a 6-3, 6-4 semi-final victory, acing Nadal on a match point that was delayed a couple minutes by rain drops. They played for the 28th time but the first at Indian Wells, although rain began falling shortly after Isner left the court on a cool, cloudy day at the Indian Wells Tennis Garden.
Victoria Azarenka and Maria Sharapova will meet for the women's title on Sunday.
Djokovic, the defending champion, fell to 14-2 this season, having lost to Andy Murray in Dubai this month.
Isner's victory guaranteed he will break into the top 10 for the first time in next week's ATP Tour rankings at No. 10. A victory in the final would move him to No. 8, passing countryman Mardy Fish who is currently in that spot.
Isner needed nearly three hours to reach his first Masters series final after 25 tries. He didn't get past the round-of-16 in his first 23 events until making his first semi-final in Paris last autumn and now the final in the desert.
Isner threw his arms up and soaked in the applause from the crowd that was squarely behind him throughout the match.
The 6-foot-9 American towered 7 inches over Djokovic, giving Isner an easy advantage with his serve-and-volley game. He played a few loose points in the 12th game of the final set, sending a forehand past the baseline on his first match point, and Djokovic held to force the second tie-breaker.
Isner aced Djokovic with a 143-mph (231-kph) serve to lead 3-2, then hit a forehand winner down the line to go up 4-2. Isner's 144-mph (232-kph) serve forced Djokovic into a netted return that set up Isner's second match point. Djokovic served up a rare ace of his own and Isner committed an unforced error before closing it out with his 20th ace.
Isner's height and power had him tabbed as a future American star since he turned pro in 2007, but success has come irregularly. He reached his current — and best — career ranking of 11th just last month, when he notched his previous biggest win over Federer in a Davis Cup match on the Swiss star's home turf.
Casual fans may know him best for a marathon win over Nicolas Mahut at Wimbledon in 2010. They played the longest ever pro match, stretching 11 hours, 5 minutes over three days.
Get the best of News18 delivered to your inbox - subscribe to News18 Daybreak. Follow News18.com on Twitter, Instagram, Facebook, Telegram, TikTok and on YouTube, and stay in the know with what's happening in the world around you – in real time.
Read full article