ISRO's PSLV-C38 Takes Off from Sriharikota With Cartosat-2 Satellite, 30 Co-passengers
PSLV-C38 will be launched from the First Launch Pad of the Satish Dhawan Space Centre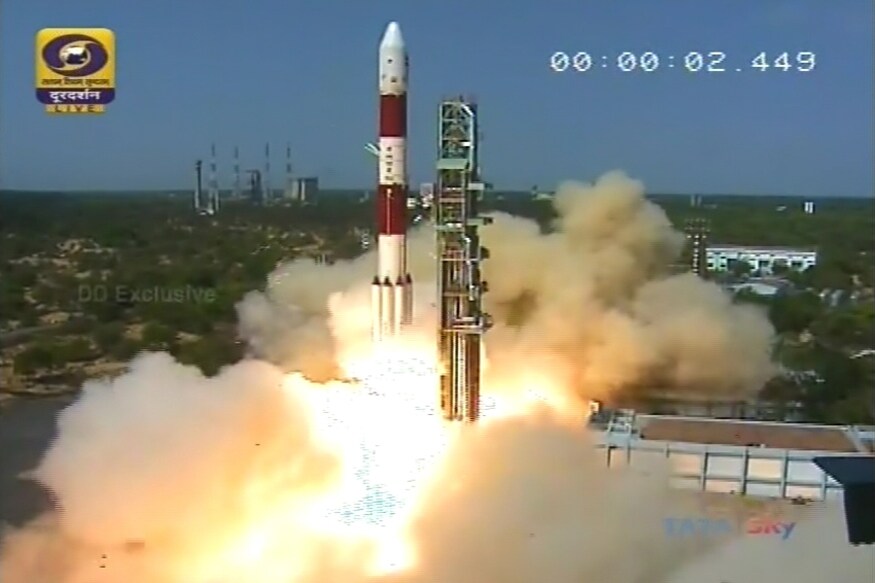 The PSLV-C38 launches with the 712 kg Cartosat-2 series satellite for earth observation and 30 co-passenger nano satellites. (TV Grab)
New Delhi: The Indian Space Research Organisation's (ISRO) Polar Satellite Launch Vehicle (PSLV-C38) successfully took off on its 40th flight and is carrying the Cartosat-2 series satellite along with 30 co-passenger nano satellites from Sriharikota in Andhra Pradesh on Thursday.
The PSLV-C38 launched with the 712 kg Cartosat-2 series satellite for earth observation and 30 co-passenger nano satellites together weighing about 243 kg at lift-off into a 505 km polar Sun Synchronous Orbit (SSO) at 09:29 am on Friday, ISRO said.
The co-passenger satellites, comprise 29 nano satellites from 14 countries - Austria, Belgium, Chile, Czech Republic, Finland, France, Germany, Italy, Japan, Latvia, Lithuania, Slovakia, the United Kingdom and the United States of America besides a Nano satellite from India.
ALSO READ | ISRO Creates Big World Record, PSLV Takes Off With 104 Satellites
PSLV-C38 was launched from the First Launch Pad of the Satish Dhawan Space Centre. This is the 40th flight of PSLV and 17th flight of PSLV in 'XL' configuration (with the use of solid strap-on motors).
The space agency said the 29 international customer Nano satellites were launched as part of the commercial arrangements between Antrix Corporation Limited (Antrix), commercial arm of ISRO and international customers.
Cartosat-2 is a remote sensing satellite and it is similar in configuration to earlier satellites in the series with the objective of providing high-resolution scene specific spot imagery.
PSLV-C38 mission will is also special for Tamil Nadu as it carries a satellite indigenously developed by students of a university in Kanyakumari district.
ALSO READ | India to Avoid Foreign Rockets to Launch Communication Satellites: ISRO Chief
NIUSAT satellite, developed by Noorul Islam University in Kanyakumari district, is riding piggyback with 29 other satellites of various countries.
The satellite is built to provide multi-spectral imagery for agricultural crop monitoring and disaster management support applications, the ISRO said in a release. Following the launch, a dedicated mission control centre with UHF/VHF antenna for Telemetry/ Telecommand operations and S-Band antenna for Payload data reception has been set up at the university.
Get the best of News18 delivered to your inbox - subscribe to News18 Daybreak. Follow News18.com on Twitter, Instagram, Facebook, Telegram, TikTok and on YouTube, and stay in the know with what's happening in the world around you – in real time.
| Edited by: Aditya Nair
Read full article