'Jaadui Machchi' review: Real, moving film that'll stay with you
Set in Bhilpura on the banks of river Narmada, the 37-minute film does not have one single director.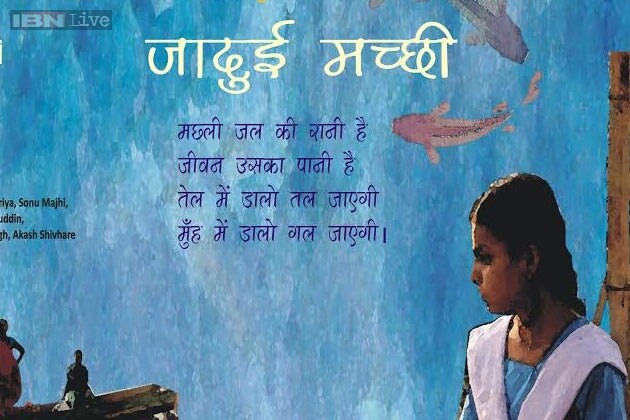 Set in Bhilpura on the banks of river Narmada, the 37-minute film does not have one single director.
Rarely, if at all, does one get to see a film as precious as 'Jaadui Macchi (The Magical Fish)'. Film-maker Mira Nair often says, "If we don't tell our stories, then no one else will". You see the truth of this statement when you see 'Jaadui Maccchi', for it captures the peculiarity of the world it is set in, in a way no one else can.
Set in Bhilpura on the banks of river Narmada, the 37-minute film does not have one single director. It is a collaborative effort between the people of Bhilpura and a group which calls itself Ektara Collective.
The Ektara Collective is an independent, non funded group based in Bhopal who collaborate with local communities to make films. They do not take stories to people, the stories and aesthetics emerge from within the context. The script, dialogues and music are shared and discussed before being finalized. 'Jaadui Machchi' was made through such a process in 4 months. The actors too are from the community itself.
Based on a story written by Rinchin, the film is told through the eyes of three kids- Jyotika, Golu and Adil. One day a woman visits their basti and tells them the story of a magic fish which brings happiness. At the moment that the film is set in, there is a tussle in the village about privatizing fishing. The Narmada region also has displacement occupying a central part in its history. Perhaps these uncertainties of the adult world hover around the kids' lives, maybe that is their attraction to the idea of this fish.
In one poignant moment, Jyotika rushes home on hearing of a police raid. A day ago, her father had caught a fish which seems to be the reason for the raid. Jyotika had believed that fish was the elusive magic fish. Since catching the fish can bring bad luck, she had secretly freed the fish.
On reaching home her grandmother (Revati Santore) tells her that her father is safe. The disappearance of the fish actually helped her father because now there is no evidence for him to be arrested. There is a flash of relief on Jyotika's face (enacted beautifully by Anshu Manjhi) who had been living in guilt till then. The implication of this sequence is stark. It tells us that for Jyotika and her grandmother police harassment is not unusual, even their house being toppled over during the raid is probably a normal occurrence for that is not a reason of concern. Instead, what is of importance is that her father will not face arrest. Through its deceptively simple story, Jaadui Machchi says so much about the lives lead by the people of Bhilpura. Anshu Manjhi as Jyotika, Bjolaram Tawadia as Golu and Nitin Kewat as Adil are expressive, and play their roles beautifully.
At the moment that the film ends, as in real life, so in the film, the community is resisting privatization of fishing. The act of translating their lives on film is about talking back to history which cruelly erases those who do not live lives of modern progress and development. Jaadui Machchi is a must watch.
(To get access to the film, contact ektaracollective@gmail.com)
Read full article
Countdown To
Elections Results
To Assembly Elections 2018 Results